Chris Evans has stepped down as the presenter of Top Gear after just one series as its main host.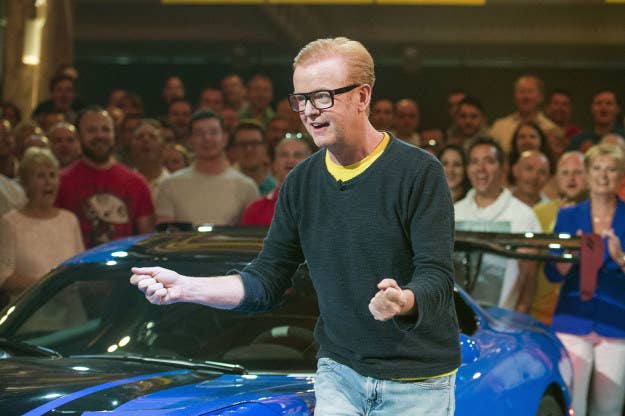 In a statement released by the BBC, Evans said:
I have never worked with a more committed and driven team than the team I have worked with over the last twelve months. I feel like my standing aside is the single best thing I can now do to help the cause. I remain a huge fan of the show, always have been, always will be. I will continue to focus on my radio show and the allied events that it encompasses.
He announced his departure in a tweet.
In an exclusive interview with BuzzFeed News just last month, Evans defended the show's poor ratings, claiming that millions of viewers would watch the programme on-demand.
Once last week's episode fizzles away into the universe, because that is the only way it is going to disappear is when the planet disappears, it would have been watched by hundreds and hundreds and hundreds of millions more people than when it was first broadcast. So now the initial broadcast of a programme like Top Gear is the seed, and it will grow into a forest for just the one episode afterwards. It is that inaccurate to judge a programme from its first broadcast.

I didn't catch up with Breaking Bad until halfway through the final series, I started to watch. I was five years late to that, and then it had its whole resurgence. That's the way it is now! Programmes got to be good. Don't get me wrong – as long as the show is alright.
Evans also received criticism for his Top Gear presenting style, to which he responded:
I find it hilarious that people who have never made a show in their lives then presume what is right and what is wrong with the making of a television programme. Everyone is entitled to their opinions, course they are… Those people have a loudhailer and that's fine, and by the way, bring it on. That's what I expected.

I've got enough feedback back to know that enough people like it and love it, actually.
In a statement, Mark Linsey, director of BBC Studios, said:
Chris is stepping down from his duties on Top Gear. He says he gave it his best shot doing everything he could to make the show a success. He firmly believes that the right people remain, on both the production team and presenting team, to take the show forward and make it the hit we want it to be. The new series has so far notched up over 30 million views in the UK alone and has already been sold to 130 territories worldwide.
Representatives for Evans and his co-host Matt LeBlanc have been contacted for comment.