Women working in warehouses are losing their jobs after telling their employers they have become pregnant, union leaders told MPs holding an inquiry into working practices on Tuesday.
Hannah Reed, senior policy officer at the Trades Union Congress, told the opening session of the Commons business select committee's "future world of work" inquiry of cases where women "have come into work pregnant, and have come into work to notify the employer, and are simply told either to leave immediately or are not contacted the following day or offered any future work. That is clearly sex discrimination in breach of the law."
She added: "We think all workers in the workplace should be offered decent treatment and not be able to be fired on the spot."
The inquiry was announced last year following a series of media reports into working conditions at companies including Asos, Hermes, Amazon, Uber, and Deliveroo. The committee will explore whether "the balance of benefits between worker and employer [is] appropriate".
Under current employment law, people with "worker" status – i.e. casual workers – have fewer rights than employees, and typically have no protection against unfair dismissal.

Reed told the committee that companies that use agencies to provide workers should also take ultimate responsibility for those who work for them rather than "outsourcing" responsibility to the third party.
While flexible working arrangements such as the use of agency and zero-hours contracts did have a "very legitimate role to play" in business, Reed said, companies should act with "greater transparency" and publish a breakdown of the types of workers they employed in order to have a "genuine debate".
"The TUC's overall concern is we have a growing insecure workforce and that the power balance has become out of balance, with employees bearing the risks of new types of working with businesses reaping the financial benefits," she said.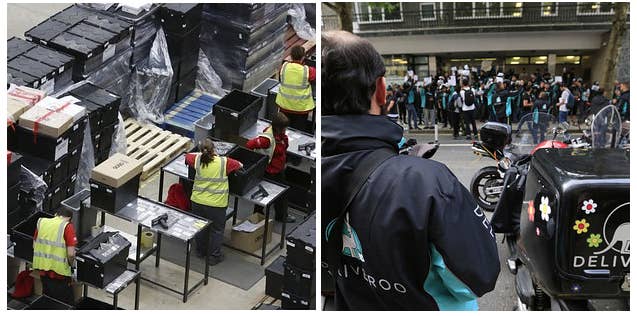 The committee of MPs, led by chair Iain Wright MP, also heard evidence from experts including the Employment Lawyers Association, the Office of Tax Simplification, the human resources company HR Dept, and the New Economics Foundation think tank.
Sue Tumblety, founder of HR Dept, which provides outsourced HR to 6,000 small and medium-sized businesses, said she would like to see the "worker" status for casual workers scrapped altogether because it causes confusion.
She said small and medium-sized businesses generally tended to rely on, and properly use, flexible working arrangements, but warned that some companies, such as cleaning firms, did misuse them. This ultimately controlled the working patterns of staff and could end working arrangements at any time, Tumblety said.

The New Economics Foundation said it would like to see greater union participation, and the Employment Lawyers Association said it would like to see a greater levelling of workers' rights across the different categorisation of employment types. The Office of Tax Simplification, meanwhile, said the issue of employment status, and how that related to tax, was "very complicated".
After the session, Iain Wright told BuzzFeed News: "There are common things emerging, even at this early stage, which is that the whole employment protection landscape is very complex and there is a need for simplicity."

"There is," he added, "a need for much sharper enforcement of existing legislation and that session was really important to set the scene. We're going to try and make a real difference with this major inquiry."
The committee would, he said, invite businesses to give evidence over the course of the inquiry, which BuzzFeed News understands will run over several sessions into the spring.

The committee had has not disclosed which businesses will be called, but the Hartlepool Labour MP previously told BuzzFeed News that Asos "should be looked at" as part of the inquiry.
He was responding to a three-month BuzzFeed News investigation into working conditions at the fashion retailer's Barnsley warehouse that uncovered allegations of exploitative contracts, onerous working targets, pay docking, and intrusive security searches.
"When I read the article," he said at the time, "the reaction from me was this was ominously and depressingly familiar. We really want to eliminate this sort of working practice in Britain."
In December, Wright told Channel 4 that he would also like to question JD Sports over allegations of "undignified" working conditions, which the news channel reported following an undercover investigation at the sportswear brand's Rochdale warehouse.

Pressure has been increasing on businesses following allegations of poor working practices and concern that government could be missing out by having to foot the bill for those in insecure work who do not typically get awarded sick pay or pensions.

The government is set to publish an independent review, written by Matthew Taylor, CEO of the RSA, into modern ways of working. The work and pensions committee, in addition, is also running a separate inquiry into workers' rights and the gig economy.