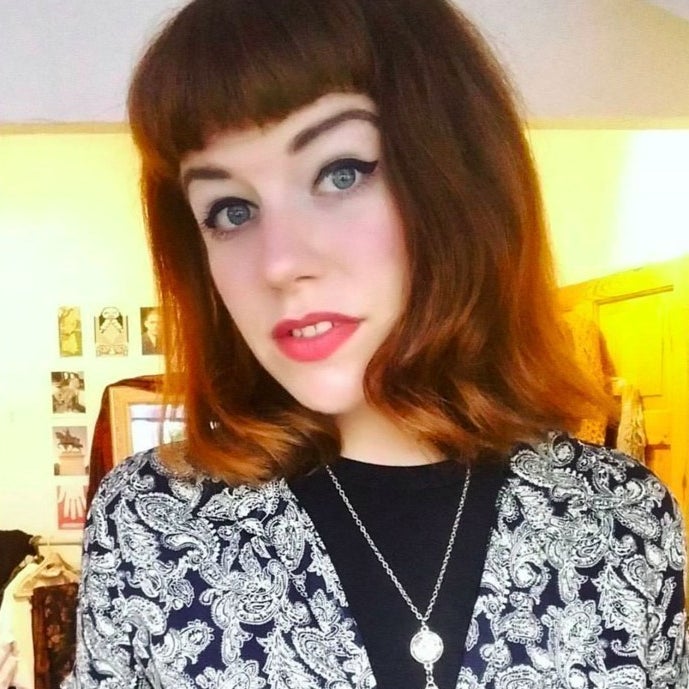 This photo of a student trying on a pair of what she says are size-16 jeans in H&M has gone viral, with more than 8,000 shares and 68,000 comments.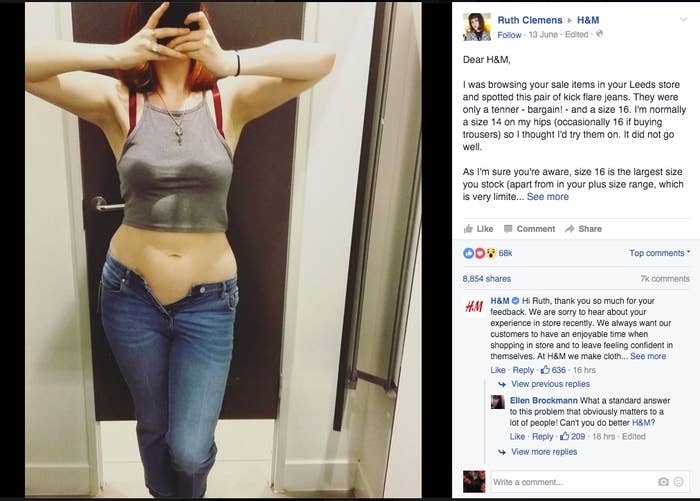 Ruth Clemens, who tried on the jeans in a Leeds branch of the high street chain, claims they were "unrealistically small" and that she is normally a smaller size in clothing.
"I'm normally a size 14 on my hips (occasionally 16 if buying trousers) so I thought I'd try them on. It did not go well," the 25-year-old wrote on H&M's Facebook page.
"As I'm sure you're aware, size 16 is the largest size you stock (apart from in your plus size range, which is very limited in store and does not offer the range of styles for the fashion-conscious that are available in smaller sizes).
"I am not overweight (not that that should matter) and although I'm 5 foot 11 my body is pretty average shape-wise. It's already difficult enough for me to find clothes that fit well because of my height, why are you making jeans that are unrealistically small?"
The message, which she posted on Monday, has since gone viral, racking up thousands of comments in support with many claiming that H&M clothes fit smaller than in rival stores.
"I decided to take a photo of how ridiculous the jeans looked and posted it to Facebook just to rant about with my friends," she told BuzzFeed News.
"My friend Kay suggested that I post the image to H&M's page and I did it without thinking, really. I just expected it to get swallowed up in a sea of complaints – I was very surprised when it went viral!"
Clemens said many people who were a size 4 or 6 had commented to say they liked to shop at H&M because they catered to their size. Some people defended the chain and said it was not up to a business to cater to a wide variety of sizes.
"If H&M do size their more fashionable [and] high-end clothes smaller then they are isolating a really big part of their customer base," she said. "I'm no economist but I don't see how this can be sensible business practice.
"It just feeds into the wider fallacy that people who are tall, short, big, small, or just generally wonky should not wear fashionable clothes. Which is ridiculous because there are about a million different versions of people and some of the wonkiest people I know are also the most fierce."
Clemens said H&M's defence – that sizing can vary depending on the fabric cut – was unsatisfactory and called it a "cop-out". She added: "If H&M thinks I'm too fat, too tall, that I take up too much space to wear their clothes, they're the ones who need to change."
One commenter on the post claimed she was a manager at the retailer and that H&M did in fact manufacture its clothing sizes smaller than other retailers.
BuzzFeed News asked H&M if this was the case but the fashion chain declined to comment.
We also asked the retailer to respond to criticisms claiming H&M's clothing isn't aimed at people who wear larger sizes, and whether it felt it had any responsibility to cater for them.
A spokeswoman said "everyone is welcome at H&M and we value all feedback".
"H&M works with the same measurements and sizes within all concepts, across all 62 markets and online, however the fit of a garment may vary depending on the style, cut, and fabric," she added.
Earlier this month, BuzzFeed News tried to find an XXL outfit at the fashion chain Zara after a student in Spain launched a 100,000-signature petition to convince the retailer to stock larger sizes.
After a spokesperson insisted the chain already stocks XXL clothes in the UK we went to three of Zara's stores in Oxford Street, Regent Street, and Bond Street in central London but were able to find just one T-shirt that went up to the size.