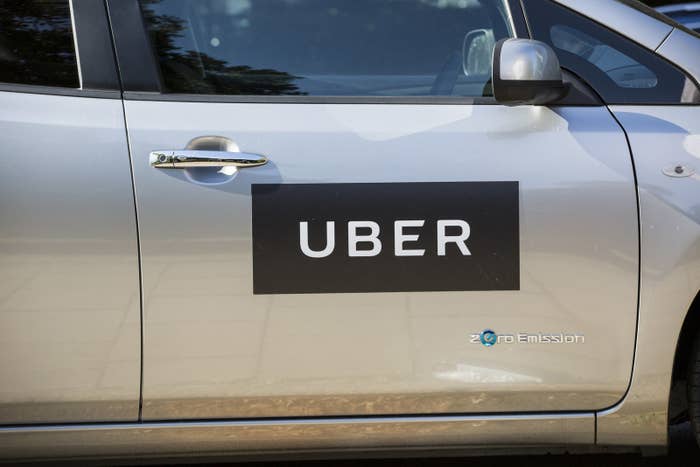 Uber is facing yet another legal challenge after a crowdfunded initiative called the Good Law Project announced plans to take the company to the High Court.

Barrister Jolyon Maugham, director of the Good Law Project, is seeking to raise £75,000 to "make Uber pay the tax it owes", he claims.

He will seek to prove that Uber should charge customers 20% VAT – a tax that must normally be paid on sales made to consumers. Uber currently does not charge VAT. It says its drivers are self-employed and that the company simply connects drivers and customers, rather than providing the service itself.
Uber told BuzzFeed News in a statement: "Drivers who use the Uber app are subject to the same VAT laws as any other transportation provider in the UK."
Maugham said he wanted the court to decide whether the company should be forced to charge VAT, which is then in turn paid to HMRC.

He said he notified Uber of his intent to take action on Monday – after hand-delivering the notice from an Uber taxi.

The notice states his intention to ask the High Court to order Uber to provide a VAT receipt for a separate journey he took last week, if Uber does not provide one. It would then be for Uber to argue in court why it does not feel it should provide the receipt.
"They can't give [the receipt] to me because if they give it to me they are accepting they are liable for VAT. It's not going to happen," he told BuzzFeed News. "If they don't give it to me I can, and will, issue proceedings to compel them to."
Uber is, Maugham claims, itself "providing services to consumers" rather than merely facilitating communication between drivers and customers and should therefore charge the tax.

"They are providing services to consumers, as their branding suggests. If you look at the very first page of their website you can see exactly how they present themselves to the public," he added.
"If HMRC isn't going to collect tax from Uber or fill us with confidence that it will, we will do that job for it."
Should Maugham's case go ahead and be successful, any changes could have "profound" ramifications for the business, he said. For example, Maugham claimed, the company could be asked to backpay tax to HMRC, or be forced to raise prices by as much as 20% or cut driver pay.

BuzzFeed News contacted HMRC. A spokesperson said it "makes sure all businesses pay the taxes due under the law" but does not comment on current litigation.

He added that HMRC had brought in a "record" amount of tax for public services according to its most recent figures, and that billions of that had come from some of the "largest and most complex businesses in the UK."

In October, Uber lost a key employment tribunal in the UK, which ruled that a group of 19 drivers were not self-employed but were actually employed as workers, and were therefore entitled to rights including the national minimum wage and holiday pay.

While the case related to a small number of drivers, the solicitor who represented the drivers told BuzzFeed News the ruling meant Uber could face similar claims from other drivers.