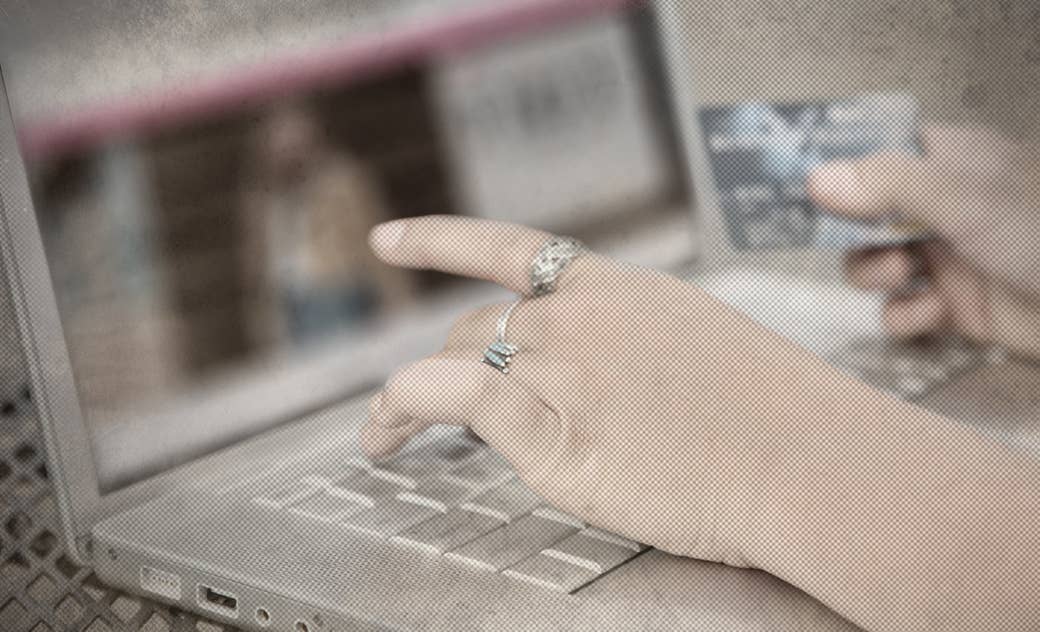 Customers of online fashion site JustFab feel they have been "conned" into paying out for a monthly subscription after buying a £9 pair of shoes, in some instances racking up bills of hundreds of pounds, and some say the company has refused to refund the money.

The site is owned by US company TechStyle Fashion Group, formerly JustFab Inc, which is also parent company to Kate Hudson's Fabletics sportswear and the Kim Kardashian-associated brand Shoedazzle, and operates a subscription model that enrols customers into a £35 monthly rolling "VIP membership" in exchange for credits to be spent on the site.
BuzzFeed News interviewed more than a dozen customers, the majority of whom said they were unaware they had opted into the subscription until they had been charged.
Those who said they had knowingly opted in to membership said they subsequently had difficulty cancelling accounts and that dealing with the firm's customer services, which are in part based in the Philippines, was a "nightmare".
"We can assure you that JustFab is not a scam" remains one of JustFab's most frequently used replies on Twitter, as is: "We strive to be transparent." Its Twitter feed is full of replies to angry and confused customers.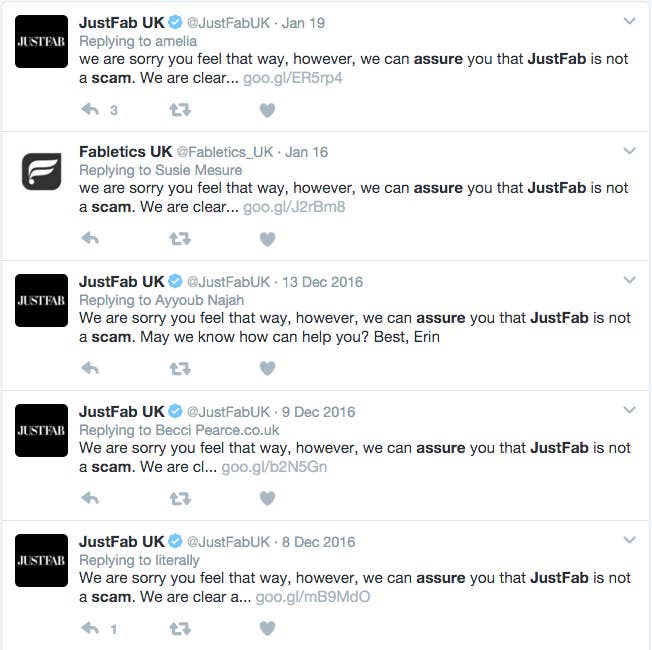 "I'm absolutely furious [at] how this company is allowed to get away with this scam," one customer told BuzzFeed News. "I am always careful and at no point throughout the process did I see that there was a £35 monthly subscription. Having done my own research on this company, it is apparent that many others have been caught out too."
Search "JustFab" online in the UK and scores of recent complaints on Twitter, Facebook, and Instagram come up from UK customers who say they did not realise they were signing up to a rolling "VIP member" subscription, which charges £35 per month to be redeemed as "credits" against items on the site, sold at a promotion price for members.
JustFab pitches its promotions as "VIP exclusive - YOUR FIRST STYLE FROM £9", with sometimes just a 60-minute window for customers to make the purchase.
When the customer visits the site they are prompted to create an account and asked to tick to confirm they have read the terms and conditions, which, when opened, do state the membership charge. In order to secure the promotional price, the customer must then finish the transaction as as a "VIP member", which enters them into a rolling contract that the company said the customer can cancel any time.
At the checkout, the VIP membership option is auto-selected. Those who choose instead to switch to "guest" at the checkout lose the promotion, with the price revised to, in some instances, more than five times the discount amount.
The Advertising Standards Authority told BuzzFeed News it had fielded 69 complaints in total about JustFab or Fabletics since 2013 and had banned three adverts. It is currently investigating a further complaint and assessing whether to take action.

Separately, the regulator said, it is gearing up to launch a review into current rules around the marketing of subscription services.
That volume of complaints to the ASA is not high for a retailer, as the ASA pointed out to BuzzFeed News, but it is not the first time the company has come to the attention of a UK regulator. Trading Standards told BuzzFeed News it had also "dealt with this company in the past following a number of complaints and have advised them on their legal requirements to provide consumer information".
Trading Standards would not reveal the nature of the complaints, when they took place, or the nature of the advice given to the company, in response to questions about what action it had taken to protect consumers.

But it would appear that any intervention has done little to stem the tide of people still claiming to have unknowingly signed up to the subscription service.
A spokesperson for JustFab pointed BuzzFeed News to a 17-page document that shows where the website does state the terms of membership and said: "We make it very clear during the JustFab shopping experience, and in many other places on the site, that if you choose to check-out and pay the VIP price, rather than the Guest price, you are joining our VIP membership programme."

They added: "Generally, our members understand the programme that they agree to join upon making their first purchase as a VIP member." Customers enrolled in the membership programme are told they can also sign in and "skip the month" if there is nothing they want to buy that month, before incurring the charge, she said.

The company also says on its website that it has 4 million "happy" members.
But it also has, as its own marketing chief, Shawn Gold, admitted in a blog post published in May last year, around 250,000 "angry" customers who "really hate us".
JustFab Inc paid $1.8 million in 2014 to settle a Californian lawsuit brought by the Santa Clara and Santa Cruz district attorneys that alleged the company had not "clearly and conspicuously" explained the monthly fee.

In September 2015 a BuzzFeed News investigation revealed the company had racked up more than 1,400 complaints to consumer bodies in the US. It also linked the company founders to several controversial products including cellulite cream and a diet powder that means you can "eat yourself skinny!".

In October 2015, it pledged to review its customer service practices in response to criticism, and says it has since made a number of changes and improvements to the site.
But 18 months on, the complaints are still flowing in, and it would appear those changes have not gone far enough to reach consumers who still feel caught out.
Another customer, 26-year-old Gemma Dawson, told BuzzFeed News she was tempted in by the promise of low-cost shoes only to discover she had been charged £385 since December 2015. She said she had signed up twice to take advantage of the first purchase promotion, but unknowingly entered into the subscription.
JustFab agreed to refund Dawson £210 but refused to pay back the full amount because it was not company "policy", she said. The remaining amount remained as credit in her account, some of which she has now spent.
"I wanted it all back but they said no," she said. "I know it's only £175 but that's my money. If I wanted a contract I would have signed for it. They call it 'VIP member' but you don't think of it as a contract. I think it's a con."
When BuzzFeed News contacted JustFab about Dawson's case, the company initially claimed she'd had four accounts, three with JustFab and one with Fabletics, and that she has on multiple occasions used the "skip the month" feature.

They suggested Dawson had successfully skipped the month multiple times, and had set up all four accounts "in response to a new member promotion".

"It is clear therefore that she understands," the spokesperson said, "that as a VIP member she has the option to skip the month each month. She also seems to understand that she can change the status of her membership."

Dawson challenged this. "They are not telling the truth," she said. BuzzFeed News asked the company to confirm it has the correct records and a spokesperson later responded to say they had made a mistake as a result of "human error". Dawson was issued an apology and a refund.
In an interview with BuzzFeed News, Gerrit Müller, international president of TechStyle Fashion, defended the error with Dawson as an easy one to make, driven in part by the fact "people game our system and [create] 5,10,20, 50 accounts".
"As a company, you need to make sure the fraudsters don't [get] you too hard," he told BuzzFeed News, adding all refunds must be assessed on a case-by-case basis. He did say in some instances refunds were "the right thing to do" and insisted "we would not be where we are today if we were a scam".

There are people who take advantage of the offer to immediately cancel before incurring the first £35 charge.
One user told BuzzFeed News she signed up explicitly to take advantage of the deal. She said she had little sympathy for anyone who was caught out. "If people don't read the details that's their problem," she said.

"I was aware of the monthly charge, I always read the small print with these things. The purchase was always going to be a one-off and I always had the intention of cancelling before the charge was implemented."
Müller said it would not make business sense to "trick these people into a membership".
But customers who did feel they had been left out of pocket insisted they had not knowingly entered themselves into the rolling membership.
"They literally left me with nothing in my bank I had to spend two evenings sat in my neighbours with my daughter [and] niece as I had no electric all weekend," one woman wrote on a Facebook page called JustFab Complaints, set up by customers who felt aggrieved.
There are other Facebook pages too, including JustFab UK Warning! and JustFab Scam, set up in 2014. JustFab's Twitter account has also been regularly flooded by other people who feared they too had fallen victims of a scam when they noticed payments being taken from their bank accounts.
Ashley Bonia, a 33-year-old from Leeds, said she was charged £105 over three months. Abigail Morris, an 18-year-old from Hertfordshire, said she made a purchase after seeing an advert for JustFab, only to realise she'd been charged £44 for what she said was a £9 pair of shoes. She said she felt "scammed into joining a membership".

Another customer said the 60-minute countdown for the £9 shoe deal "made me feel like I had to purchase quickly". Another added: "The timer definitely made me feel like I had to purchase quickly."

Another customer, Paula Emery, said she had felt "duped into a defaulted subscription that I did not request" and contacted customer services for a refund.

In an emailed response, a customer service representative said they could "understand how it must have been upsetting to see an unexpected transaction going out" but reminded her, "You agreed to the terms and condition of the program," and concluded: "VIP credit can be only redeemed towards a purchase."

Emery, who did later manage to get a refund, shared bank statements with BuzzFeed News that showed money being debited from her account on three occasions.

"I sent emails [to customer services] back and forth about four or five times asking for refund. I then made a phone call where I had to argue for 20 minutes with one of their consultants who over and over again said no to a refund, and like a broken record repeated the same party line over and over again," she claimed.

"Eventually after telling her I had two children to look after, and that £70 was a week's shopping and that she was taking food out of my children's mouths, she put me on hold to speak to her boss. She came back and said they would refund me half. I said it wasn't good enough and that I would take it further with the authorities, and with that she agreed to refund the £70."

Emery added: "I just wanted to buy a pair of boots at a good price ... I would never subscribe to something like that knowingly. If it was clear there wouldn't be so many complaints in my opinion … I didn't notice the contract at all."

In response to questions from BuzzFeed News, the company defended the subscription model and said terms are made "very clear". It also said in a blog post that the terms and condition do appear 14 times during the shopping process.

For example, if a user scrolls to the bottom of the homepage, they will find a "how it works" feature. Another section that describes how VIP membership works pops up at the checkout and is displayed on the right-hand side of the screen.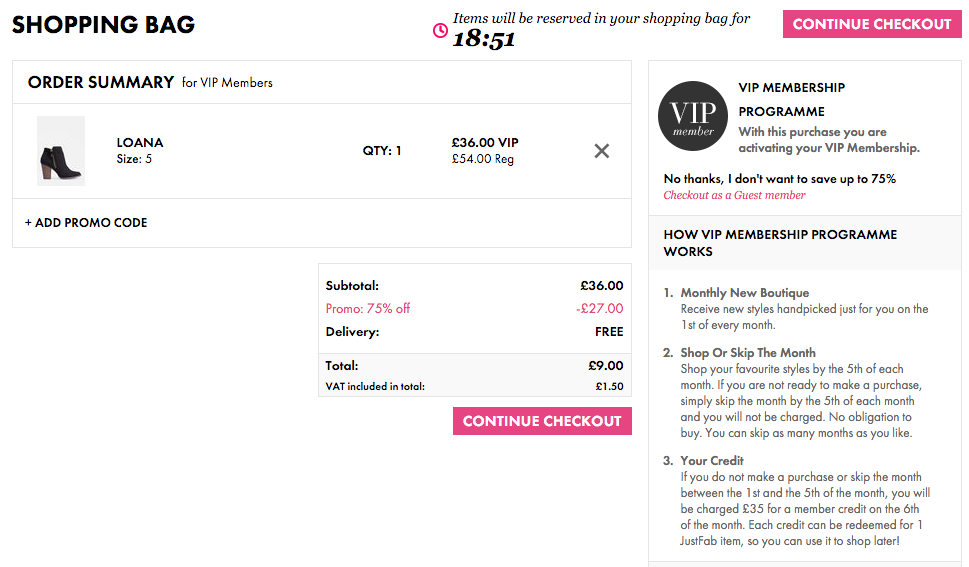 There is a also a 40-second video on the JustFab site, titled "How It Works", which BuzzFeed News watched and found does explain the membership charge, 30 seconds in.
Müller also insisted customers can cancel any time they choose.
To test the service, BuzzFeed News created an account and made a purchase. We found we that we were able to cancel the membership immediately before being charged the £35.

We then made another account on 31 October, but did not make a purchase.
Over a period of five days, the brand sent seven marketing emails with subject lines including "Hurry Girl, Get Your First Item From £9 - TODAY ONLY!", "What's That? 50% OFF + £10 Credit - NO WAY!", and "Cinderella, Your £10 Credit Expires At Midnight!".
By January 2017, we had been sent more than 50 promotional emails marketing its £9 offer or other multi-buy deals, such as two pairs of shoes for £35.
All the marketing emails offered tempting promotions, but explicitly mentioned the terms of membership only in smaller print at the bottom. In one email, the words "To become a VIP, select VIP membership at checkout. It's free!" appeared before the message.

In a statement, JustFab reiterated that there was no obligation for customers to make purchases.
"JustFab has millions of members worldwide who love our brand and business model," a spokesperson said.

They added: "If a member finds that she doesn't want to make a purchase, she can use the 'skip the month' feature by the 5th of the month and not be charged [or] be charged a credit of £35 that she can use at any time, redeemable for items on our site."
The spokesperson said: "We constantly strive to improve our messaging for the benefit of our members and non-members and take on board any advice given by bodies like the ASA."
The government's Department for Business, Energy, and Industrial Strategy urged people who felt they had been treated unfairly by any business to report it to Citizens Advice or Trading Standards.
"We are clear that all businesses should be transparent with consumers on pricing and terms. This includes providing all the information consumers need to make an informed decision before buying or signing up to a service," a department spokesperson said.
"If a customer thinks a business is hiding terms and conditions or applying unfair contract terms, they should use the Citizens Advice helpline to report it. Citizens Advice will then work with Trading Standards to decide on next steps."

But customers who spoke to BuzzFeed News feel let down and want tougher action. One customer said the the subscription "was not made clear at all" and said she found it hard to find. Another said: "I definitely think there should be some law against that."
"They insisted [terms and conditions] were clear with me, but there are many people like me who have been caught out."