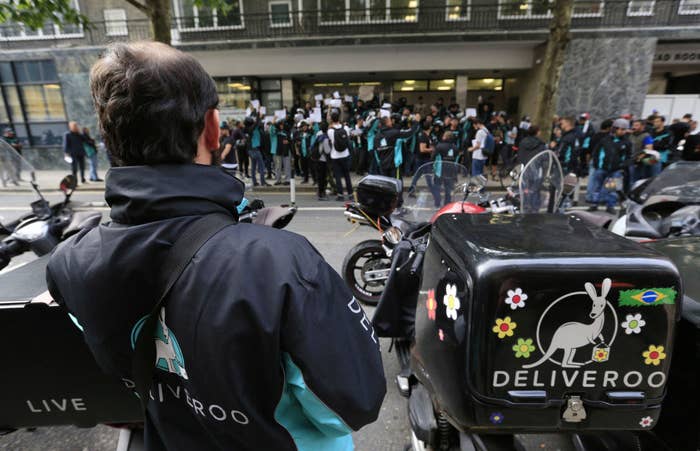 Deliveroo, the takeaway courier company, has remained tight-lipped on calls for it to recognise a union for riders in London but says it has a "fair and rewarding" payment model.
The Independent Workers Union of Great Britain wrote to CEO Will Shu on Monday asking for voluntary recognition of the union, but the company has declined to comment on whether it will open talks.
The founder of the union, Jason Moyer-Lee, told BuzzFeed News he is calling for Deliveroo to classify drivers as "workers" and not "independent contractors", as they are currently.
He is pushing the company to recognise the body as a union for drivers in the "Camden zone" first, as a test case.
"We're doing this to achieve better pay, terms and conditions and rights for workers," he said. "We expect Deliveroo to ignore or reject our request, in which case we'll apply to a central arbitration committee for a decision."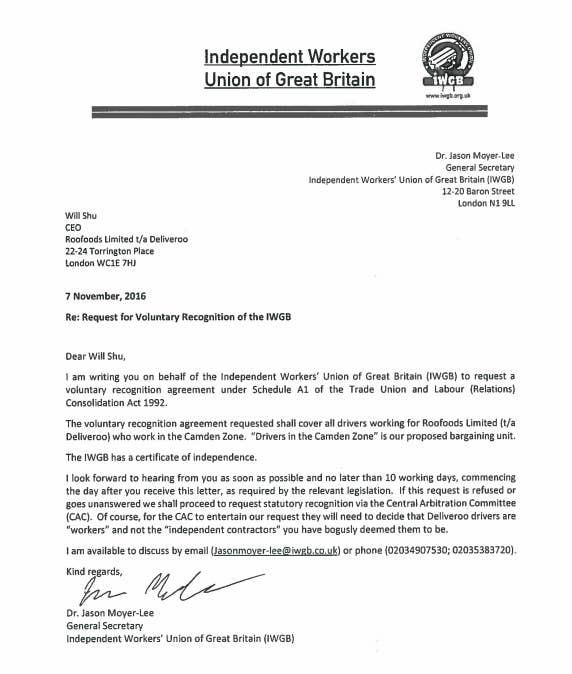 Similar to Uber, Deliveroo's business model uses self-employed drivers rather than workers or employees, which have a different legal status and are entitled to sick pay and holiday pay.
But the union, which declined to confirm how many members it has, said the classification of drivers as self-employed was "bogus".
"We are seeking union recognition for the Camden zone and we are also seeking to overturn the classification of 'independent worker', which allows them to exploit us," said Ben Geraghty, the 24-year-old chair of the food and logistics branch of the union who has worked for Deliveroo over a year. He is also a mature student at university.
"Deliveroo has a skeleton model where they claim they don't really employ anybody, and they put all of the risk on to the drivers", he said.
"It's crazy when you say it out loud – but technically Deliveroo is not our employer, they are our client, and we are our own employer... We don't get holiday pay, we don't get sick pay, we're not even entitled to the national minimum wage.
"[Deliveroo] says flexibility is the most important thing for our drivers but I don't think that's true – I think the most important thing to someone is getting a decent amount of money, people don't [work] for fun."
He was also critical of a new pay trial across 10 areas in the UK, which began in August leading to a seven-day strike.
Under the terms of the trial, drivers are not paid an hourly rate but are instead paid £3.75 per delivery, something Geraghty said was "dangerous" because it effectively encouraged riders to drive or cycle faster to earn more money.
A spokesperson for Deliveroo did not comment on the union activity, but said that particular trial would soon come to an end.
Deliveroo had received "overwhelmingly positive" feedback from drivers, she said, though the company declined to confirm if it would roll out the model across the business.
"As Deliveroo continues to grow, we are committed to providing great opportunities for UK riders, with the flexible work riders value, and a payment model which is fair, rewarding and better matches riders' time with our customers' orders," the company said in a statement.
"We welcome the opportunity to further engage with riders, policymakers, and the unions as the sharing economy in Britain continues to grow."