Most UK Supermarkets Won't Say If They'd Sell Chlorine-Treated Chicken From The US
Only Tesco, Asda and Waitrose responded to questions about the product, which US farmers hope will be allowed into the UK under a post-Brexit trade deal.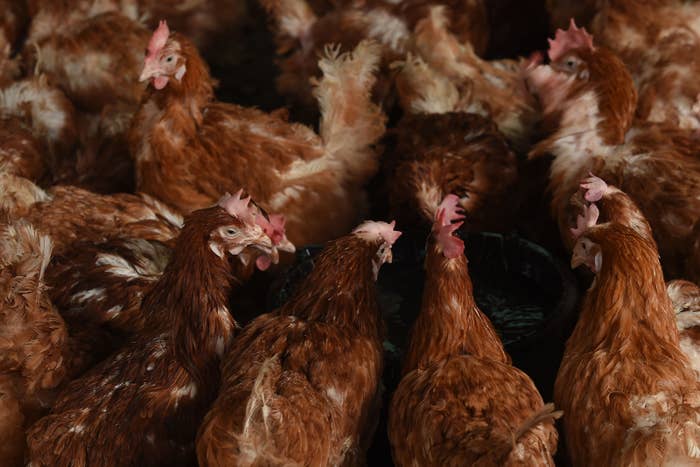 Tesco, Asda and Waitrose are the only British supermarkets to say they won't sell chlorine-treated chicken, after the biggest US farm lobby group told BuzzFeed News it saw post-Brexit UK as an "opportunity" for food currently banned under EU rules.
Amid growing concern that a trade deal with the US could see food safety regulations being relaxed or removed, BuzzFeed News asked the UK's biggest supermarkets if they would rule out selling chlorine-treated chicken in future.
The retailers were also asked to comment on the potential for future trade deals with the USA to allow the import of ingredients and methods currently banned under EU regulations.
These include, as BuzzFeed News reported on Wednesday, chlorine-washed chicken – a method used in the US used to disinfect meat after slaughter, but which has been banned in Europe since the 1990s – as well as genetically modified ingredients, and hormone-treated beef.
A spokesperson for Tesco told BuzzFeed News: "I can confirm that we have no intention of introducing chlorine-treated chicken into our supply chain."

Asda, which is owned by US giant Walmart, also said it had "no plans" to stock chicken that had been treated with chlorine, as did Waitrose.
However, the other major supermarkets – Sainsbury's, Morrisons, M&S, Aldi, and Lidl – either did not respond or declined to comment.
The American Farm Bureau Federation, the main industry body, says it is lobbying trade negotiators in the hope that Brexit opens the UK to their products. The group said US farmers wanted a chance to compete in this country, describing consumers' distrust of modern farming technologies as "irrational".

Labour has warned the UK could face a "race to the bottom" on food standards in post-Brexit Britain, unless the government acts now to "unambiguously" commit to upholding regulations that ban certain USA food products from the EU.
Rachael Maskell, who was the party's shadow environment, food and rural affairs secretary until resigning over the Article 50 vote on Wednesday, said the government had failed to make firm reassurances that the "high food standards we currently enjoy will be preserved when we leave the EU."

"As we prepare to leave the EU it is absolutely vital that, at a minimum, these current standards are maintained," she told BuzzFeed News.

"If anything we should be thinking about how these rules could be strengthened, not watered down... The continued failure of ministers to provide such a reassurance is deeply troubling. It will be British consumers – and voters – who will ultimately pay the price if this race to the bottom on food standards continues.'
A spokesperson for the UK Department of Environment, Food and Rural Affairs (Defra) said in response that any future trade deal "must work for UK farmers, businesses, and consumers", and said any new products wishing to enter the UK market "must comply with our rigorous legislation and standards."
"We will not compromise on animal welfare and food safety," the spokesperson said.

No trade deal is expected to be brokered until the UK leaves the European union, which is not expected to be until 2019.

But prime minster Theresa May and the USA president, Donald Trump, are understood to be discussing "how we can establish a trade negotiation agreement [and] take forward immediate high-level talks," in order to "lay the groundwork for UK–US trade agreement."

The food and drink industry is scoping out what this could mean for businesses in the UK.

The Food and Drink Federation (FDF), which represents the UK food and drink manufacturing industry, confirmed to BuzzFeed News it had begun making representations to the UK government on future regulation and trade policy.
It was "premature to comment in detail on any post-Brexit trade deal", FDF director Ian Wright said. However, the "top priority" of the food industry was to maintain the "high standards of quality, safety and supply, of which we are proud," he added.

The National Union of Farmers told BuzzFeed News it "would be wrong for imported food to be produced to different standards than those adhered to by British farmers".

The body, representing the farm industry, urged that "future trade negotiations should be to ensure a level playing field for British farmers in order for them to be competitive, profitable and productive in the future."
"Trade is an important issue for the farming sector," director of strategy Martin Haworth said.

"New markets for British food across the globe could further farming's contribution to the economy but we do not believe the British public would want our own farmers to be put at a competitive disadvantage by allowing the import of food produced to different standards and using methods which are not allowed in [the UK]."