1.
At the very least, this guy is drug free

2.
No fireplace, but this guy seems hot enough for you

3.
Here's the type of guy who knows how to start a conversation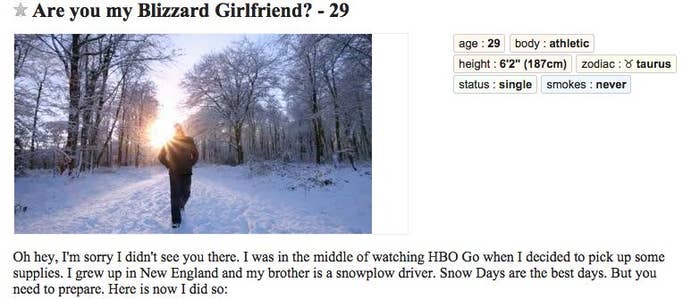 4.
Our bachelor #3 was so eloquent and so eligible he earned a spot as #4 too!

5.
In case you want your #Juno to remain rated-G, we've got a guy for that too

6.
Bachelor #6 could be a stud, so hit him up for a good Juno rub!

7.
Post Instagram pix from this bachelors indoor pool!
8.
If you're a freaky clean drug free lady, this bachelor is for you!
9.
He has a puppy, no additional information needed

10.
Already married, don't worry! This Bachelor doesn't mind!

At the end of the snow day, aren't we all just looking for love?