A couple of advertising spreads into Vogue's bumper September issue, there she is. Karly Loyce donning a super soft looking blue leather coat for Celine.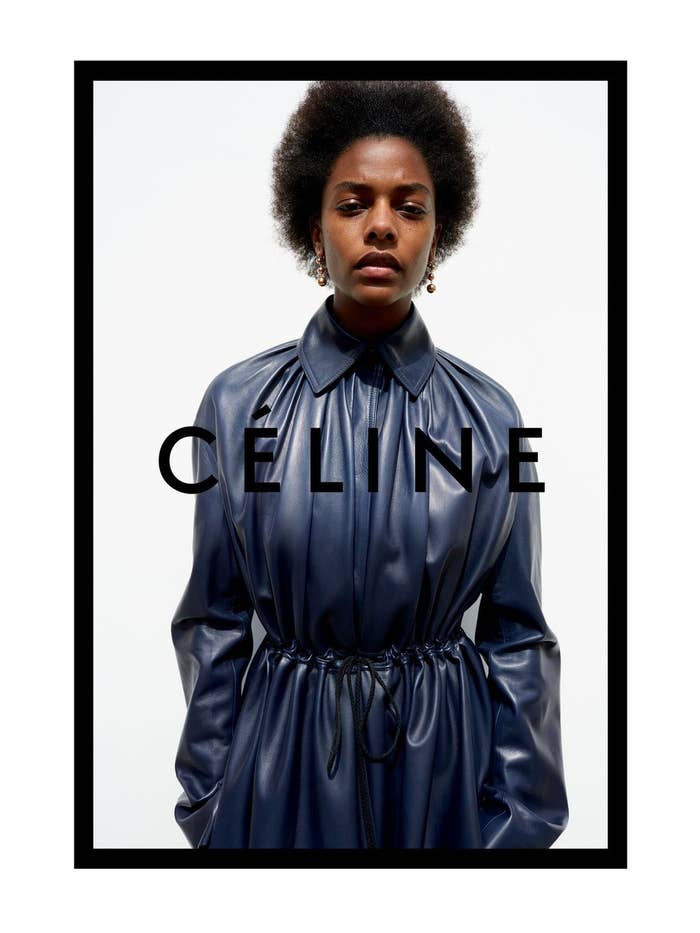 The minimalistic French label has tapped relatively unknown but buzzed about models to show off its Autumn 2015 wares. (Agnes Nieske, Irina Djuranovic and Lisa Helene Kramer feature in their own ads wearing various ostentatious takes on fall classics including fox-fur trimmed coats and delicately patterned silk button-ups.) Loyce squints down Jurgen Teller's stark lens, her afro framing her head like a halo, its ends taut and frizzy just like mine. Her hair, her presence are all the more striking given that Celine has gotten flack in the past for its failure to work with black models.
Iman talked of boycotting the fashion house in 2013 after its string of all-white runaway presentations. The former model told the Evening Standard "I can get another It bag, I have my wallet. I make a conscious decison not to buy that stuff."
This year however black women and particularly their afros are having a moment. In March Lineisy Montero walked in structured pastels for Prada wearing her neatly rounded fro.
She also features heavily in the house's Steven Miesel shot Autumn/Winter campaign - the second black model they've used in 20 years.
Malaika Firth sported an afro - though not hers - on the March cover of French Elle. Loyce in close-up, with an angular do was one of i-D's 18 cover stars for 35th anniversary issue. A dark palleted, heavily pattered editorial in March's Vogue Italia put big 'fros on Riley Montana, Cheyenne Carty and Leila Ndabirabe. Six models - Ajak Deng, Amilna Estevao, Anais Mali, Aya Jones, Binx Walton and Tami Williams - appear in a multi-toned W spread rocking a variety of natural 'dos.
Though a 70s look is currently de rigueur - a-line midi-skirts, denim dungarees, high street sales racks weighed down with suede - these afros aren't merely used as retro accessories. They are modern afros, kinky, not primped to look like costumes, worn with sharp contemporary clothing.
So, what has led to the prominence of the afro in fashion this season? It could be as simple as the Lupita effect. The Kenyan-born actress sashayed down a ton of red carpets last year on the road to Oscar always rocking a natural do. She's been People's Most Beautiful and popped up on a host of fashion magazine covers including US Vogue (twice), Dazed and Confused and W. Harper's Bazaar UK declared her 'the new face of beauty', though she's actually the fresh representative for a beauty that seems new only because it is so wearyingly under-appreciated.
I spoke to beauty blogger Gina of NaturalBelle and as well as noting the influence of super stylish celebrities such as Lupita and Solange Knowles she thinks the rise and rise of the natural hair movement online should get a lot of credit. "Until a few years ago there was only a certain type of look that you would see in high fashion" she said "either a completely bald model of colour [think Alek Wek] or the weaved glamazon [think Naomi or Jordan Dunn] with the growth of the natural hair community and social media it's hard to ignore natural hair."
There are of course downsides to trending - worse than not being celebrated at all is becoming a fleeting fancy. Dealing with the hurt that comes from an industry casually deeming you 'in' and then swiftly 'out'. Though this isn't something that's likely to bother longstanding afro wearers or members of the natural hair community, as Gina put it bluntly. "Natural hair isn't a trend within the black community."
To be black and female and fond of high fashion is to sign up to play a game of big slights and small gains. Every season, it seems we fight the same battles - all white catwalk shows, designers of colour underpresented at fashion weeks racist designs, wilfully obtuse fashion press. I recently watched Dior and I as moved as I was by Raf Simons work and the poetry that is couture clothing I was equally frustrated by how white the taste makers and final fashion show attendees were. Especially because the essential labour that it takes to run an atelier is not at all all white.
So, it is and it isn't a big deal to see afros in high fashion. Because I like many black women don't hold out for representation. But then it happens and it is hard to resist, a joy to rest your eyes on, difficult not to get giddy seeing skin and hair exactly like yours - all thick and coiled and strong and soft - on glossy pages.