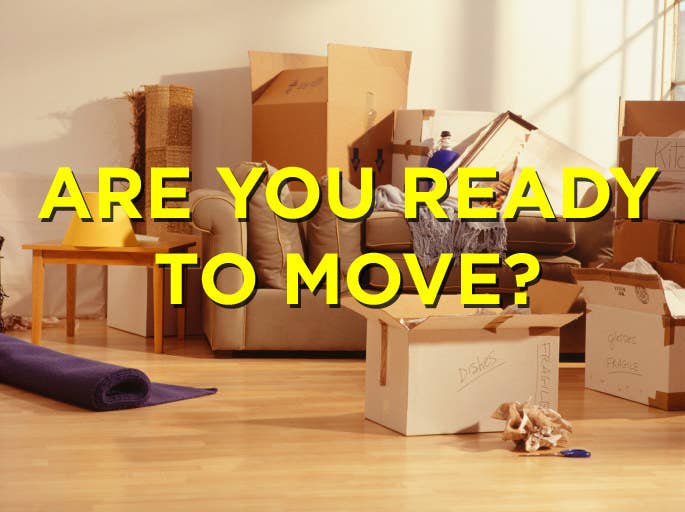 How many of these tasks have you completed?

Cover your furniture in plastic wrap to prevent scratching in transit.

Fold your clothes neatly, run out of space in your boxes, scream in frustration, then violently stuff in all your clothes to make them fit.

Smash all of your glassware in your tub to leave for your home's next occupant.

Secure any dogs or small children in safety crates.

Clearly label all your boxes either "Fragile" or "Please Break."

Rip up your home's floorboards and pack them up. They belong to you.

Set cobras loose (three per floor) to clean up any lingering vermin problems.

Strip your current home of copper wiring. It'll go a long way toward paying for your move.

Separate any remaining waste into distinct, recyclable piles of glass, paper, and trash, then dump them all in a single heap in the backyard for the raccoons to get into.

Have sex in every room of your house before you move out.

Hire a shaman to cleanse any spirits.

Hire a second shaman to put in some new spirits.

Cover up any holes in the walls with spackle or Band-Aids.

Deep-clean your oven, microwave, and living room pit of cooking sand.

Get rid of unwanted furniture by flinging your windows open and shouting, "Have at it!" to alert nearby freeloaders.

If you're hiring movers, set aside some dollar coins to tip them with.

Cancel your cable, internet, heat, electricity, and oxygen services.

Eat any frozen food that won't survive the move. Then buy more frozen food. Eat that too. In fact, even after you move, continue to eat. This isn't really even a moving tip, it's just a smart way to keep living.

Take a few hours to stare at yourself in the mirror. It'll be the last time you can do that with your current mirrors.

Start your new life with a bang by blowing up your old home.