Bathhouses have been surrounded by negative and inaccurate stereotypes from police raids to serving as a kinky sex havens, these stigmas have turned bathhouses into somewhat of a taboo and scared off spa-fantics. However, I learned from my grandmother and the internet, that Turkish Baths or "Hamam" have served as a space for (literal) bridal showers for future newlyweds to get some serious pampering before their big day.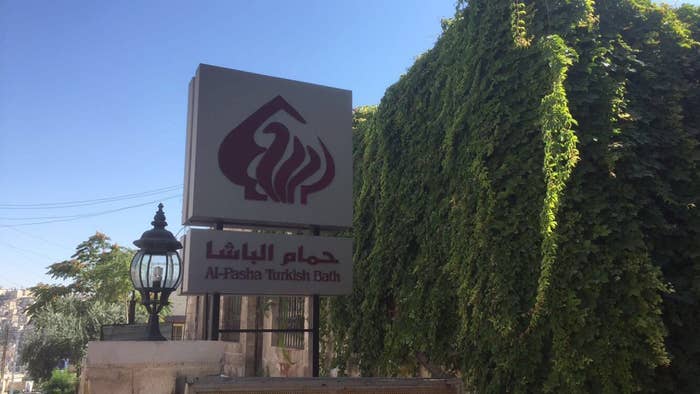 I wasn't getting married I need some I wanted to treat myself so I headed to Al-Pasha Turkish Bath in Amman, Jordan to see what all the hype was about. The main room consisted of traditional wooden tables that circled a water fountain in the center of the room that was illuminated by sunlight beaming through the glass dome ceiling. A door on the side of the large waiting room led to locker room which opened up into the actual bath.
The way bathhouses work is
1. Shower
2. Loosen up in the steam room
3. Chill in hot tub
4. Get bathed (weirder than it sounds)
5. Finish off with a massage
Of course no one told me any of this, so when I walked into the steamy hall all I saw was a bunch of naked people laying around. I was a bit dumbfounded and began wondering around like fool until one the bathhouse employees gave me some direction and hibiscus juice, haaaaay.
I took a rinse then headed to hell on earth steam room, which had no lighting other than pockets of sunlight coming from the small stained glass dome. After I melted for what felt like three hours, I hung out in the hot tub till it was my turn for scrubbing (wait for it). I was brought another glass of hibiscus juice and zoned out to the melodies of Fairouz (think the Arab Adele of the 60's) echoing through the large stone room.
Eventually it was my turn for a bath, still sounds bizarre, I laid on a long flat marble table, swim top off and my bottoms half off, awkward AF, right? Then the scrubbing began. My…cleaner (?) used a thick black cloth, olive oil soap, and warm water to vigorously scrub my entire body from head to toe. Literally, in between my toes, behind my ears, and even my butt cheeks. Yes, I had my cheeks aggressively exfoliated by a grown ass woman the size of Miley Cyrus, with the strength of a Sumo wrestler. I was walking into the bathhouse expecting a relaxing spa day, but there is absolutely nothing relaxing about being butt naked while another person bathes you, it was like I was a toddler again, except I'm an adult.
After 40 minutes of intense scrubbing front and back I was finally done! She insisted I look around me at the grey shedding that was apparently on my body. She had shed 25 years of dirt, oil, and dead skin; it was disgusting and awesome all at the same time. My skin was as smooth as a newborn's bottom it gave me the urge to want to run around naked…I pretty much was at that point, but it was time for a 20 minute massage in essential oils and boom I was out.
Turkish baths are awesome for a girls spa day, if you're peeling from a recent tan, or if you've never been, because apparently exfoliating ain't got sh*t on someone giving you a bath (still weird). Turkish baths are definitely not for you if you can't handle saunas, steam rooms, hot tubs, or nudity.