1.
A bug bite suction tool to help get rid of itchy bites. Kinda rude that little buggies get to munch on our skin and blood and we have to deal with itchiness after.
This works by suctioning up insect venom, saliva, and other irritants under the skin, which in turn prevents your body from producing a reaction to said irritant.
Promising review: "I am a magnet for bites of all kinds and carry topical and medicines with me at all times — so I figured this would be a good product to see if it really works. It arrived on Monday and on Tuesday morning I woke up with a bug bite on my arm. I used this little tool (3x per the instructions) and documented with photos. Immediately after using, it stopped itching! And less than 24 hours later the bump/bite was gone! There is a very faint red mark from using the thing but a small price to pay IMO. Bottom line: it's awesome. I'm carrying it with me everywhere!" —Rebecca
Get it from Amazon for $9.90+ (available in four colors and in multi-packs).
2.
The Comfy — a combination of a sherpa blanket and a hoodie that'll keep you feeling so warm, cozy, and — you guessed it — COMFY. Good luck! You're never gonna wanna take this thing off.
I bought my mom The Comfy a few years ago as a Mother's Day gift. My mom is a HUGE Shark Tank fan and loves a good Friday/Saturday night snuggled up on the couch with a blanket, our dog, and a glass of wine — #same. One night when I was at my parents' house and FREEZING cold, I asked if I could borrow it. It's incredibly soft and warm, like seriously this thing warms me up in no time, I love it so much. Somehow after that night, The Comfy never left my room and became mine — oops. I think I'm due to buy my mom another one soon. I can't recommend this thing enough.  
Get it from Amazon for $49.99+ (available in 12 styles).

3.
And a pair of Feejays to complete your cozy loungewear look. They're sweatpants featuring built-in fleece-lined feet so you can keep your legs and feet extra toasty. 
Promising review: "These are so comfortable and cozy around the house. I am not a big sweatpants person but could wear these all day (and sometimes do)! They have a lighter material on part of the foot so they don't get too hot or confining. Would definitely recommend." —Amazon Customer
Get them from Amazon for $39.98 (available in five colors and unisex sizes XS—XL).

4.
A natural all-purpose cleaner to safely wipe away messes and stains around your home with ease and peace of mind knowing you're not harming your kiddos or pets.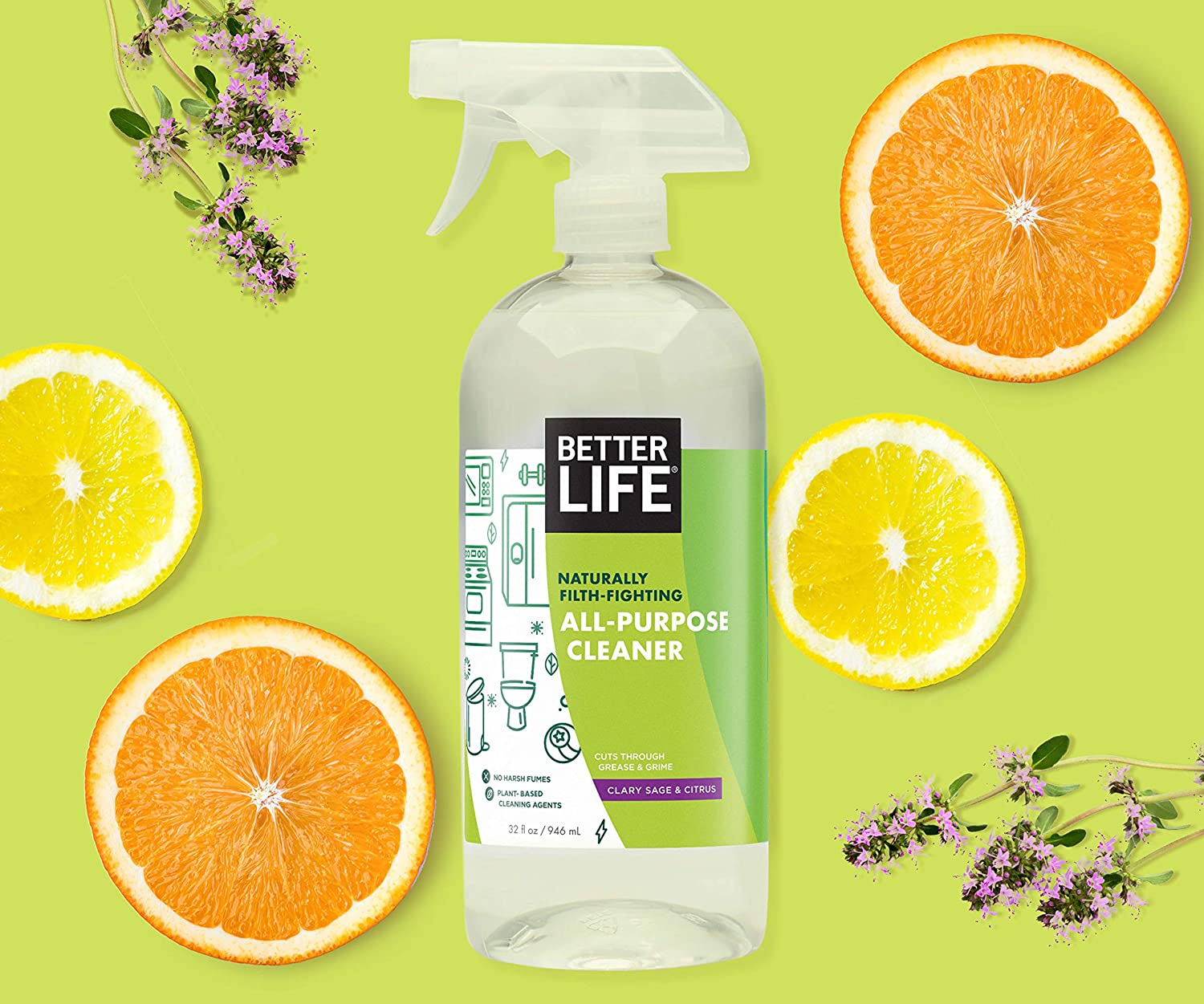 Free of VOCs, alkyphenol, surfactants, and petroleum. Plus, you'll be happy to know it's not tested on animals.
Promising review: "I was looking for a safe natural product that didn't have any ingredients requiring a hazardous waste disposal label. A lot of so-called 'natural' cleaners have ingredients that need an EPA use-and-disposal label. This doesn't. It is strong enough to really go through grease and grime like a clear organic tornado. I haven't found anything that can't be cleaned with it yet. Plus it's odor-free. I feel comfortable spraying it in places where pets, children, or myself in bare feet might absorb it by stepping in the residue. It's hard to get excited over cleaning spray but this deserves a level of excitement in my home." —Mark O.
Get a pack of two from Amazon for $12.99+ (available in three scents).
5.
A Scrub Daddy that'll get your cookware and surfaces nice and clean without you having to worry about scratches and damage.

Promising review: "I used to save these little gems for 'special projects' (what projects, I don't know because I ended up not ever using them!). Then one day I decided 'what the heck, just use one in the sink for dishes, you can always buy more.' Lo and behold, I LOVE them! They remove food off of dishes more easily than a sponge and I just throw them in the top rack of the dishwasher and they come out spotless! They never smell and always rinse out nicely in between washings. These little gems even take off hard water build up from my shower doors! (I also use regular cleaners with them to do the trick.). I love these so much I bought a bunch and used them as stocking stuffers last Xmas! Everyone loves them!" —DivaGranny
Get three from Amazon for $9.98.
6.
Vibes — high-fidelity earplugs you can wear to reduce decibel levels without compromising sound quality.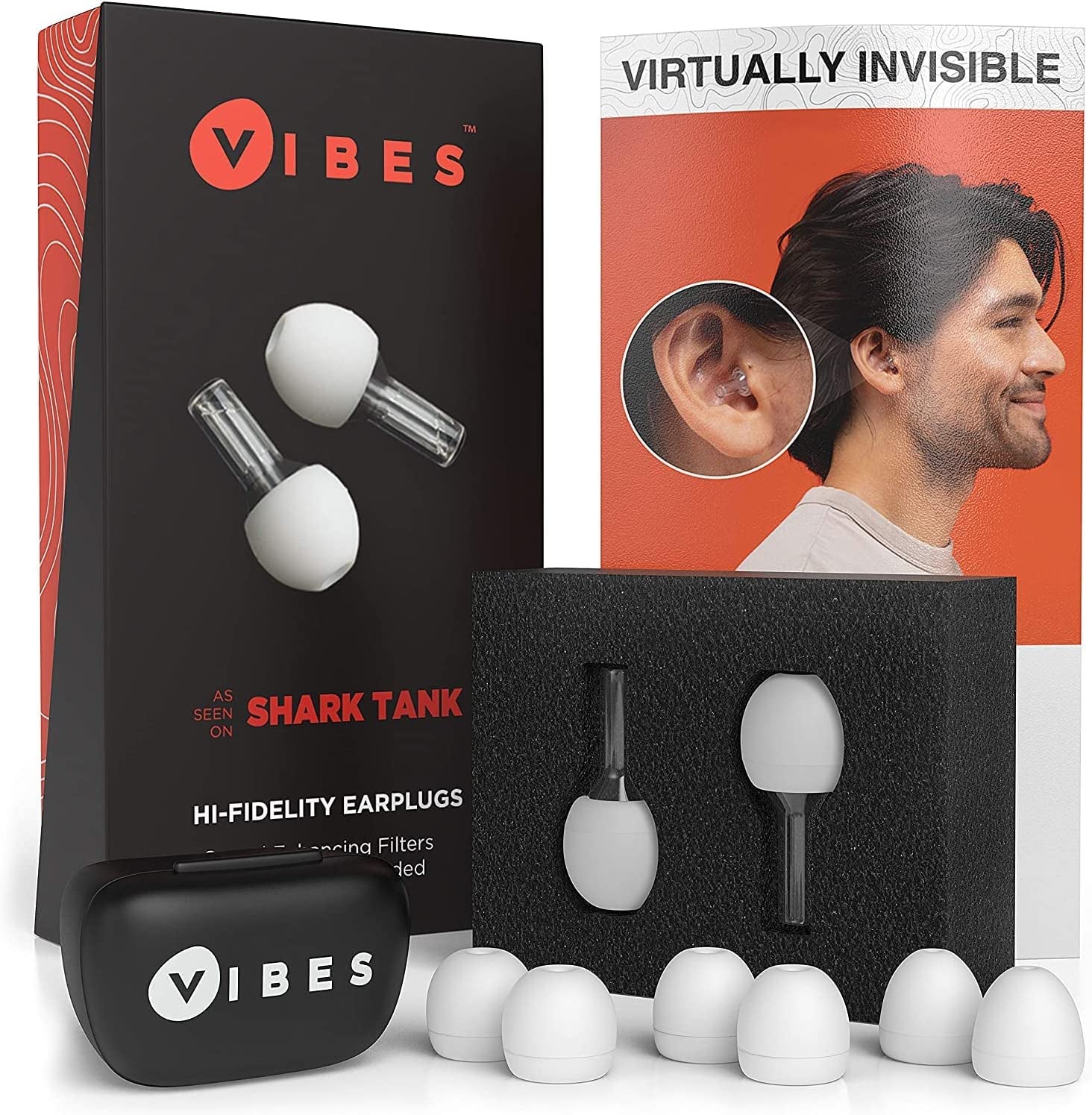 If it weren't for amazing BuzzFeed readers like you, I wouldn't have known these babies existed, and I'm so glad they do. Be sure to check out even more reader-loved Shark Tank products. 
Two years ago I was diagnosed with tinnitus and hyperacusis. At 26 years old, I found myself sensitive to loud noises for the first time in ways I never used to think twice about — going into loud places (especially when I don't expect them to be that loud) started to make certain public situations a little difficult for me and made me super anxious. I had featured these earplugs in articles in the past and decided to buy them for myself and I'm so glad I did. They really bring noise down to a comfortable level and make handling unexpected loud noise situations so much easier. Now, I will say that a few months after my diagnosis I went to a tinnitus specialist who fit me for much pricier, custom earplugs so I primarily use those at concerts and loud clubs, but I highly recommend these if you're looking for a high-quality earplug solution at a fraction of the cost of custom plugs. In terms of sounds being muffled, I find these are a tad more muffled than my custom earplugs, but if I didn't have anything to compare these to, I would simply say these are excellent at delivering high-quality sounds just at a lower, safer decibel — and compared to foam earplugs you can buy at the pharmacy are a million times better. In fact, I still carry these around with me because sometimes I don't want to risk bringing my expensive custom ones on-the-go and they work really great! 
Get them from Amazon for $28.95.

7.
A bag of cookie dough drops that are perfectly safe to eat raw (aka the best way to eat it), but can also be baked into cookies if you'd prefer! 
Doughp is woman-owned!
Calling everyone who knows cookie dough is far superior to actual cookies! The increase of safe-to-eat cookie dough options over the years is my favorite trend and I hope it never stops. I tried Doughp cookie dough about a year ago and absolutely loved it, so when they surprise sent me these new cookie dough drops, I was very excited. They're super yummy and the perfect little pick-me-up treat — if you don't end up eating the entire bag in one sitting which is very, very easy to do. 
Get them from Doughp starting at $8 (available in five flavors). And check out Doughp's edible cookie dough pints. 
8.
Water bottle-cleaning tablets for getting your beloved drinking bottle back to the condition it was in when you first fell in love with it. Not to mention the fact that you should only ever consume water from a CLEAN bottle.
Tablets are biodegradable, chlorine-free, all-natural, and environmentally safe. They're individually packaged, and don't require any additional brushing or scrubbing. Good for use on stainless-steel bottles, mugs, hydration reservoirs, coolers, dishes, and hard-to-clean plastic containers and bottles.
Promising review: "In all fairness, I first heard of this product while watching Shark Tank, and their pitch was impressive so I gave the underdog a try. Now, I'm on my fourth reorder. My whole family drinks out of various name brand bottles, coffee mugs, etc. The fact is, they are rarely cleaned because they are a part of our daily lives and they are a pain in the arse to clean, because of the inconvenience that they are not dishwasher-safe or don't fit. The answer is these tablets. They work and they're simple to use." —K.R.
Get them from Amazon for $8/12 tablets, $22/36 tablets, or $39/78 tablets.
9.
Fresh Patch, a super easy way to train your pup to go to the bathroom on grass, so your pup who can't go outside is able to do their business on the right surface, and not, like, your carpet.
Promising review: "This is an awesome product! I recently adopted a 2-year-old small dog and was told at the shelter that he was surrendered because he 'soiled in the house.' I was determined to find a solution and to work with him as long as I needed, as I feel it rarely is the dog's fault. I remembered seeing the Fresh Patch on Shark Tank and started a search on the Internet. Amazon popped right up and since I use it all the time I didn't hesitate to place an order! It came fresh, boxed well, and ready to go. I love this little porch potty and so does Jax. We use it on the deck and he has never had an accident in the house since! I also had back surgery recently and this has been a godsend because I could let Jax out and remain in my PJs! Wouldn't be without it and I highly recommend to others!" —PurpleRibbon
Get it from Amazon for $29.95+ (available in three sizes).

10.
Solemates heel protectors so the awful sensation of feeling your heels sink into grass and dirt becomes a thing of the past.
Promising review: "I purchased the narrow pair to wear with some high heels to my friend's wedding as a maid of honor. I also purchased some for the bride. These are amazing and did not pop off once! Everyone was asking me how in the world are my heels not sinking into the grass. They didn't notice the clear protectors until I pointed them out. This invention is genius and I definitely did not sink into the grass! Totally worth it, especially if you have expensive heels that you do not want to ruin! As for the bride's expensive shoes, they were definitely saved!!!" —swt caroline
Get them from Amazon for $9.99+ (available in two sizes).

11.
A detangling brush that claims to works better at gliding through knotty hair easily and efficiently.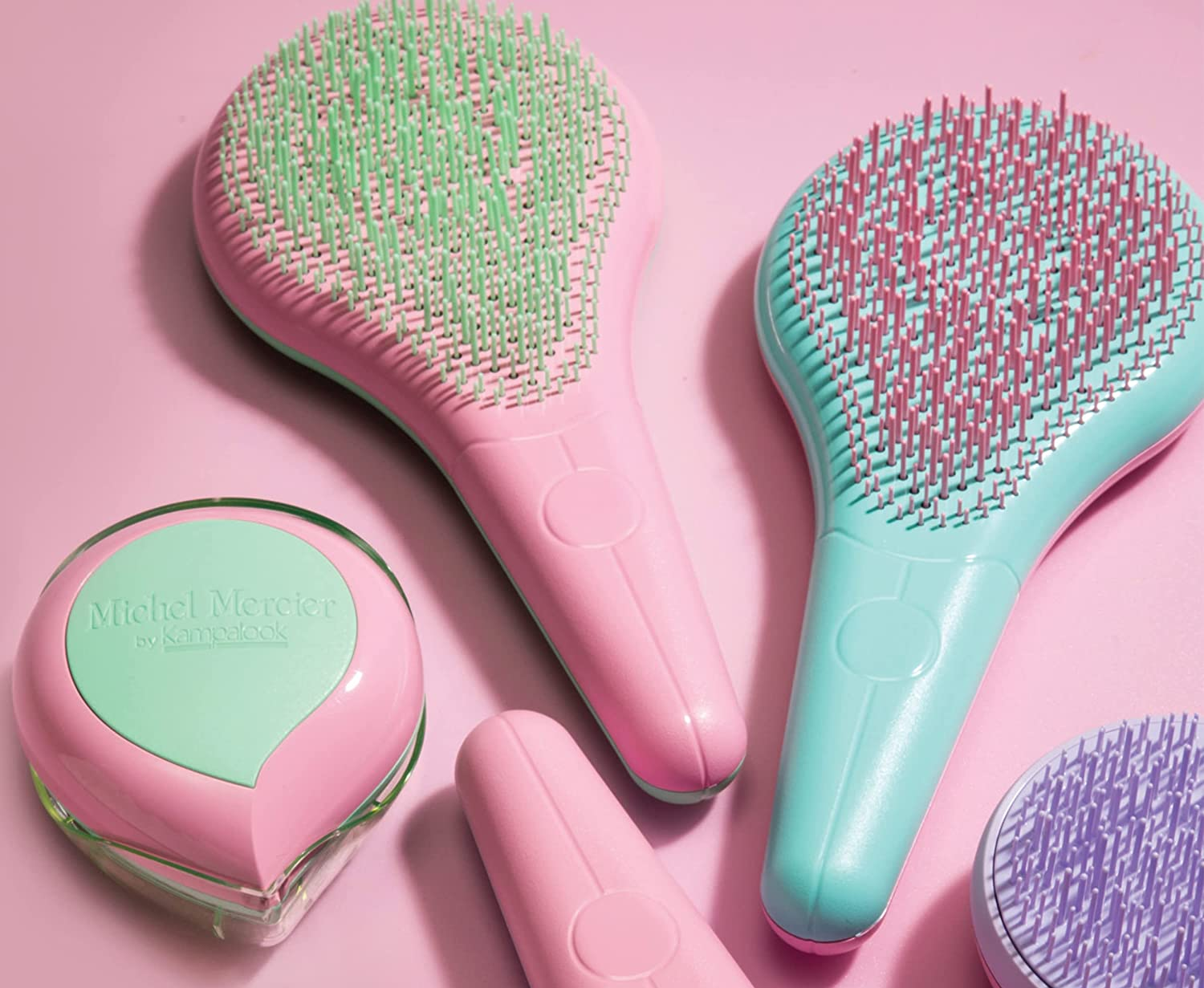 Promising reviews: "I've been using this brush for at least 10 years and I've had to re-purchase it a couple of times because I lose them over the years. This is my third time purchasing it and I loved to see this cute little set in a different colorway. My hair is 4c and I'll be using this brush for the rest of my life as long as they keep making them!" —DD
"I've tried a few detangling brushes recently and been very underwhelmed. But this is the ONE! Amazing detangling both wet and dry, and the perfect brush for brush-styling my 3A curls with the right amount of tension. I use the travel size in the shower for distributing conditioner through my hair and found that it makes an amazing scalp scrubber as well!" —KD

Get them from Amazon for $15.95 (available in three styles and more brush options here).

12.
Enso Ring, a silicone ring perfect for anyone who would prefer not to wear metal rings.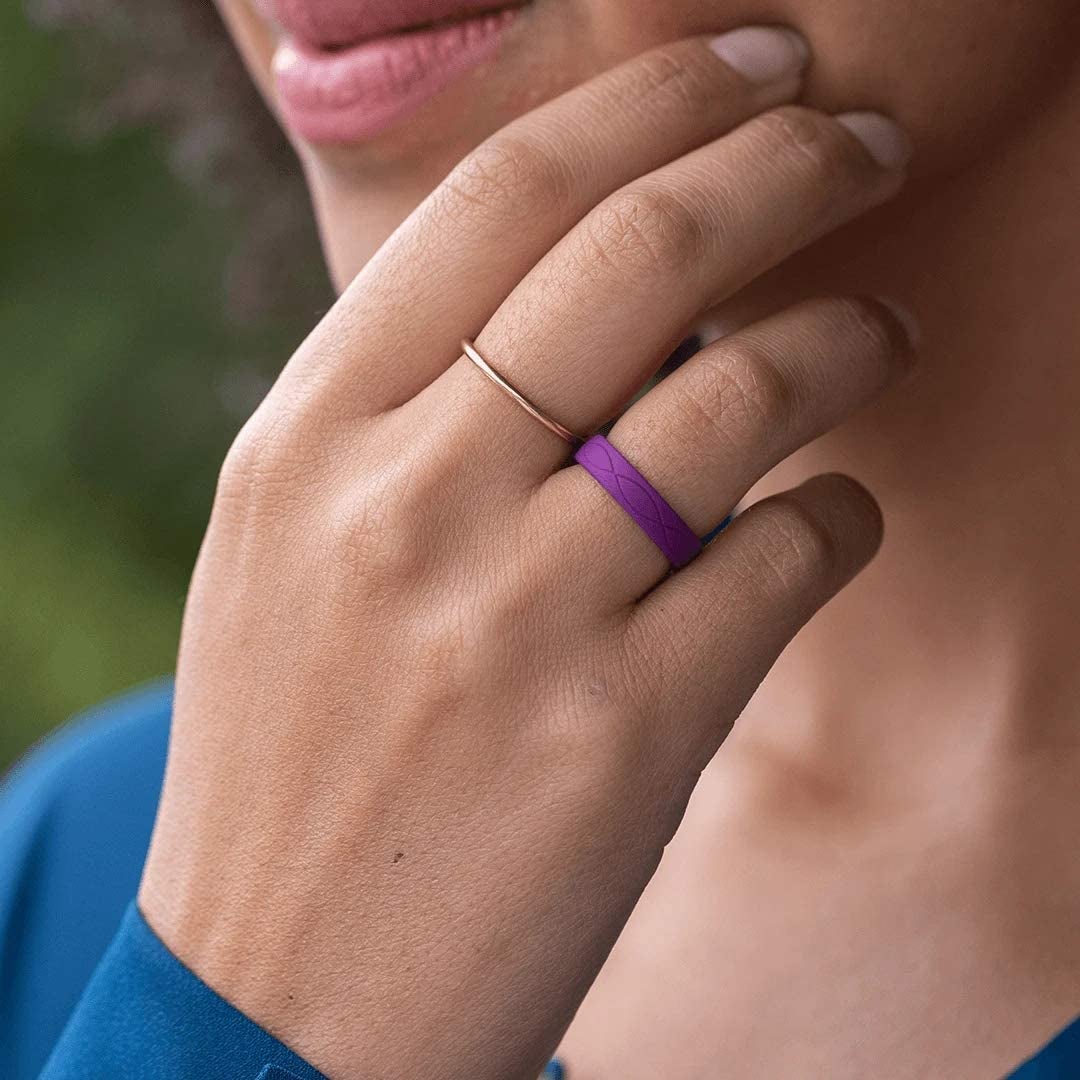 These are made of hypoallergenic, medical-grade silicone that won't irritate skin.
Promising review: "Very practical ring. I can wear this ring without it getting in the way or even really noticing it. I wear it in the shower, doing dishes, whatever. I got the white one and so far (approx. 1 month use) no discoloration, which I was worried about. I have an allergy to metal so this was a very good non-traditional solution for my wedding ring. (I still have my nice diamond ring to wear out when I dress up). I am usually a 4.75 or 5 ring size; I bought a size 4 and it did stretch slightly as other reviewers mentioned so now it fits like a glove. I was worried that it would feel too tight at first and it would freak me out if I couldn't get it off or it would cut off circulation. None of this happened. It was totally comfortable from day one. Very happy! Definitely recommend!" —WWoman6814
Get it from Amazon for $24.99 (available in six colors and sizes 4–9).
13.
A Phonesoap to clean all the yucky germs off your phone, because — news flash! — you bring your phone everywhere with you, maybe even into the bathroom, so it's disgusting and needs cleaning, OK?!

It'll also work on other things you can fit inside, like eyeglasses!
Promising review: "What a perfect gadget for getting your phone clean. After touching who knows what while commuting to work, and it being that time of year everyone around you gets sick, this comes in handy. After the first use it looked great, and then I wiped it down with the sponge that came with it. I feel so much better about using my phone now." —Crystal Gardner
Get it from Amazon for $58.95+ (available in six colors).
14.
A Drop Stop that prevents things like food crumbs, liquid, and even loose change or your phone from slipping through that gap between the front seats and the center console.
Promising review: "I have to admit, my expectations weren't very high. I thought it was more of a joke when my husband got this for me for Christmas. Little did I realize it would be one of my most favorite gadgets ever! I don't know if I realized just how many things went missing in my seat gap. It has really saved a lot of things from disappearing into that black hole. It was easy enough to fit into my car and it's soft! It's just like an extension of my seat, except it fits every curve of my seat! There really isn't another product that compares to this." —Tessa Forbes
Get a pack of two from Amazon for $24.99.

15.
A Frywall to cook up all the yummy fried things minus the painful (and, TBH, dangerous) risk of oil splatters.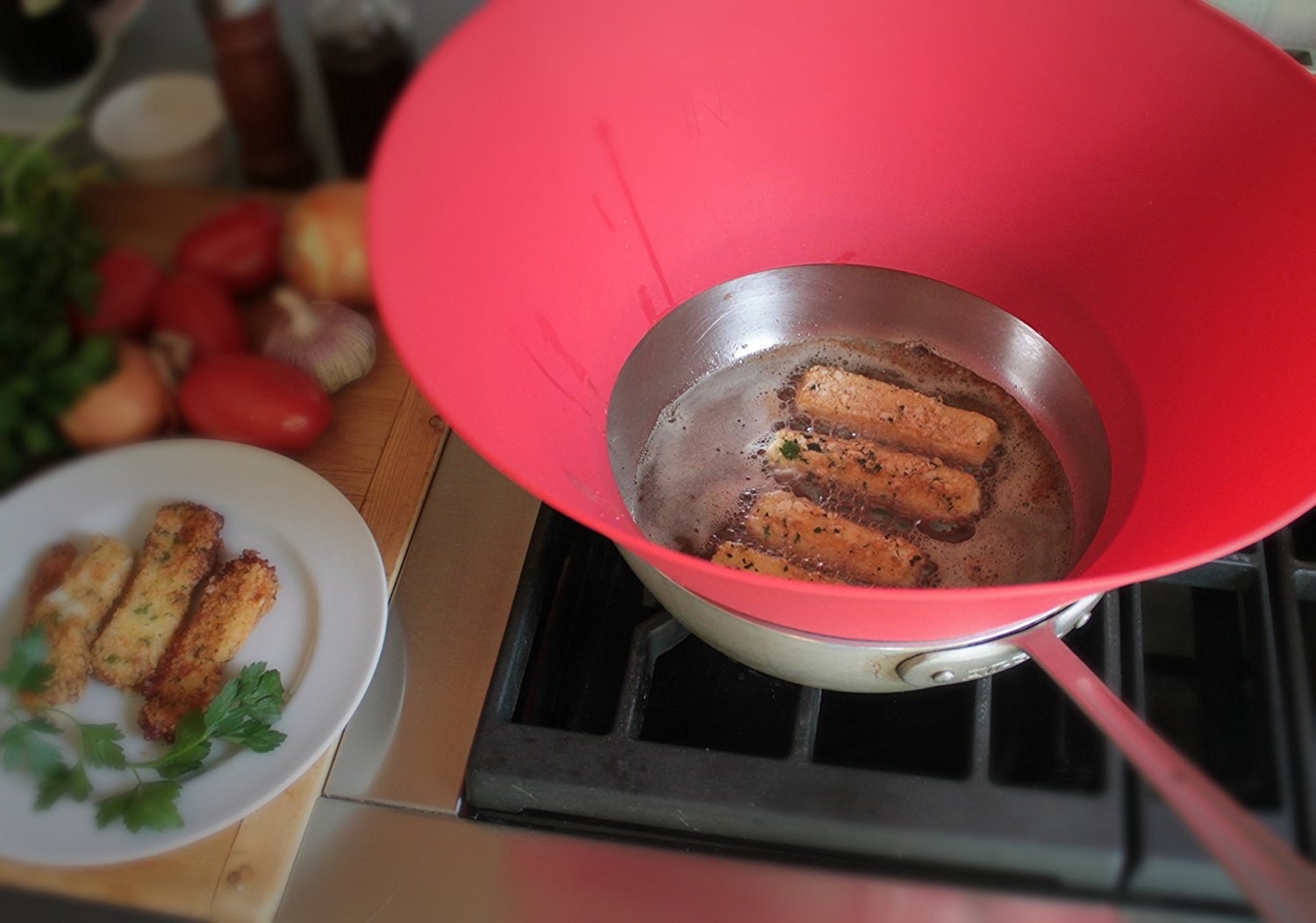 These are made of BPA-free, FDA-compliant silicone, and can withstand temps of up to 450 degrees Fahrenheit, and are dishwasher-safe. Plus, they roll into cup-sized sleeves for compact storage.
Promising review: "This thing works great! It saves me loads of clean-up time from splatter on the range and surrounding areas. I am a messy cook! It allows steam to escape, (unlike the flat splatter guards I have always used), so that whatever is cooking is dry cooked and does not get mushy or collect water. There is ample space to get to the food to move it around or add ingredients. It goes into the dishwasher and cleans without having a greasy residue. It folds up into the sleeve it came in for storage, so it resides with my other pot lids without taking up additional space. I have recommended this to friends." —Robin Riley
Get it from Amazon for $28.95 (available in four colors).