1.
A set of NoNo brackets that'll make putting up curtains over your windows a piece of cake. Who wants to deal with drill-in rods or risking damage to the walls? Not me!

Promising review: "This bracket is awesome and was extremely easy to install. We were able to hang curtains over our vertical blinds in just a few minutes and didn't even need any tools. Great product!!!" —Amazon Customer
Get a set of two from Amazon for $14.95 (available in a variety of colors).
2.
Garbage disposal drops so you can trade in those nasty odors that accumulate down there with the glorious smell of fresh lemon. *Breathes a sigh of relief*

Important to note that while these will make it smell delicious, they won't actually clean your disposal. If you're looking for a good product for cleaning, try this reviewer-loved Glisten foaming cleaner and then use the lemon drops to maintain the fresh scent between cleanings!
Promising review: "Use these weekly in my house. My kids often half empty the garbage disposal, leaving a smelly mess some days. These little balls of lemon make a huge difference and help to keep my sink smelling fresh! Great value." —Consumer
Get 120 drops from Amazon for $15.04.

3.
A set of clips that'll make it easy to hide your bra straps while wearing racerback dresses and tank tops — no strapless bra required. 🙌

Promising review: "Genius!! Why did it take me so long to find these? I was looking for a solution to hide straps in a racerback tank but these straps do so much more than just that. Unlike the round clips that pull straps tightly to the center of your back, these straps lie flat and they have just enough give to allow the bra to still fit right and feel comfortable. Moreover, they can be used to keep bra straps from falling down all day!!! Such a great product." —MsChris

Get a set of three from Amazon for $6.97+ (available in eight color combinations and in a pack of five).
4.
And while we're on the subject of brassieres, some bra extenders to gain an extra 2 inches in the band! If you wear a bra, you know just how rare it can be to find one that you actually adore and we want to help you preserve your faves for as long as possible. 

Promising review: "Bought these for my pregnancy based on a tip from a recently pregnant friend. Total game-changer. Only had to buy a new sized bra once, and then used these for the rest of my pregnancy, as my cup size didn't change any more but omg my ribcage just kept on expanding and expanding to accommodate baby. IMO, these make wearing a regular bra possible during those body-changing portions of pregnancy, saving me money in the long run. Additionally, they work as expected...they clip onto the original spacers easily, they match up with the original hooks really well, and they are very comfortable and easy to use. Best $6 I've ever spent on Amazon. Buy them, you won't regret it." —Queen Bee
Get a pack of three from Amazon for $8.99+ (available in 29 styles).
5.
DrainWigs — a pair of shower drain protectors that'll catch hair in the shower/tub to prevent clogging. 

Not having to call a plumber to snake your shower? That's the energy we're manifesting this year. 
Promising review: "I didn't even think about my shower drain being such a problem with hair. We have a relatively new shower and the drain was starting to be slow, but not really a problem because the pipe has a long drop. I was watching Shark Tank and thought maybe I need to check this out. Wow, there was a lot of hair to clean! Three long-haired girls in the house! I started using this and it pulled all sorts of hair out. We change it about once a month. Easy to pull out and no breaks or rust. I keep buying!" —Kindle Customer
Get a pack of two from Amazon for $6.99.
6.
A set of silicone air fryer liners because the only thing stopping you at the moment from living your best "air-fried chicken tenders and French fries for dinner every night" dream is the daunting thought of having to clean the air fryer basket after. Just pop the silicone bowl in the dishwasher when you're done and voila! 

Promising review: "I bought these because I was tired of cleaning the whole air fryer container. These were bought on a whim for both mine and my boyfriend's parents, who each have an air fryer. They work great, keeping all greases and crumbs inside, and make it easier to clean. The only bad thing (and this may just be me) is the ridges/ripples on the bottom of the inside of the liner. When you try to wash it in the sink, don't put the stream of water right on those unless you want to take a small bath. Other than that, these are fantastic. My boyfriend also says that it seems to make everything crispier, and we love that." —Jordan Hixson

Get a set of three from Amazon for $14.99+ (available in two sizes and three color combinations). 
7.
A set of acne patches you can apply over areas where you're breaking out. Simply put the patch over a zit, let it sit overnight or throughout the day, peel it off, and watch it take all the pore-clogging gunk with it.

Read our Hero Cosmetics Mighty Patch review!
Promising review: "OMG! It actually works! My son gets really large acne breakouts that are really hard to heal. He put these on before bed and woke up to his large white pimples being gone! Like, completely gone. I usually pay $50 a visit to the dermatologist for 30 minutes for him to get extractions, which is pretty painful for him. We will be ordering more of these and using these instead!! If I could give more stars I would!" —Amazon Customer

Get a pack of 36 from Amazon for $12.99.
8.
A magnetic purse hanger because if you're a bag-lover, chances are you're also familiar with the struggle that is going to a restaurant or a public restroom and having no place to put your pocketbook! All you have to do with this is attach the metal hook to your bag and use the magnetic hook against a metal surface to hang your bag!  

Bagnet is a woman-owned small biz that sells magnetic bag holders and phone slings.

Promising review: "This is the best bag holder ever! I was completely blown away, the magnet is SO strong. Works in so many places: in restrooms (try the hinges if the door isn't metal), at restaurants (on tables, chairs, even under the table), at the gym to hold my water bottle and keys so they don't end up on the floor. But my absolute favorite place to use it is on my car! I can attach it to the side of my car while I unlock it without having my hands full and leaving me vulnerable. If you have ever felt nervous trying to fumble with all your stuff while trying to unlock your doors in a dark parking lot, you need this! My only regret is that I didn't know about it sooner. I am going to get one for everyone in my life for Christmas. Any person who carries a bag should have one (or two). Seriously, it's life changing​." —robert rodriguez

Get it from Amazon for $24.99+ (available in 23 styles). 
9.
Cleaning tablets that'll make you realize the important task of sanitizing your retainer, dentures, night guard, or any other dental appliances you may use can be quick and easy. Simply drop a tablet along with your dental appliance into warm water and let it soak! 

Promising review: "I really loved this product. I am currently waiting for a new Invisalign set. My old Invisalign needed to be cleaned. I read the reviews and decided to purchase. OMG it worked! There was a fresh taste and they were clean. I wished I had found this product sooner. I did let them soak overnight only because I had been wearing them for the last four months. Nothing happened to Invisalign; there was no weakness or anything. Just very clean and fresh. If I could have given the product 10 stars I would have." —Lisa R.
Get 120 tablets from Amazon for $26.11.
10.
A set of no crease hair clips so you don't have to risk messing up your gorgeous blow-out just because you need to keep your hair out of your face during makeup application.

Promising review: "I'm a hair-before-makeup girly and these bad boys DO NOT CREASE your hair just like it says (: I pin the front pieces back after I've finished my hair, and leave them pinned while doing my face and when I'm done you would never be able to tell I had them pinned back!! They are also sooo much cuter than a thicccc headband on my head which is what I was using. 10/10!!!" —Amanda Bailey

Get a set of eight from Amazon for $6.36+ (available in smaller and larger packs, and in six color combinations).
11.
A baseball cap that'll finally allow you to wear your hair in a high pony at the SAME time. No more settling for low ponytails or worse...wearing your hair down just so you can wear a hat.

Vimhue is a woman-owned small biz based in Arizona that sells caps designed with ponytails in mind.

Promising review: "Love this hat so much! I already ordered another one in a different color for myself and one for a friend! I live in Texas near the Gulf and it's summer — really humid and really hot. I walk 3–4 miles outside most days and I'd been wishing for a hat that allowed for a high ponytail so I could keep my hair off my neck to not get as hot/sweaty. Decided to Google it and found this and was thrilled! The X straps are easy to adjust and it fits great and is breathable. And it's super cute!" —mlp06h

Get it from Vimhue on Etsy for $29 (available in 25 colors). 
12.
An outlet concealer kit complete with a power strip and an 8-foot cord because while you love all your super cool high-tech gadgets, you don't love that their cords stick out like a sore thumb and ruin the aesthetic of the room you place them in. Why can't everything just be WIRELESS?!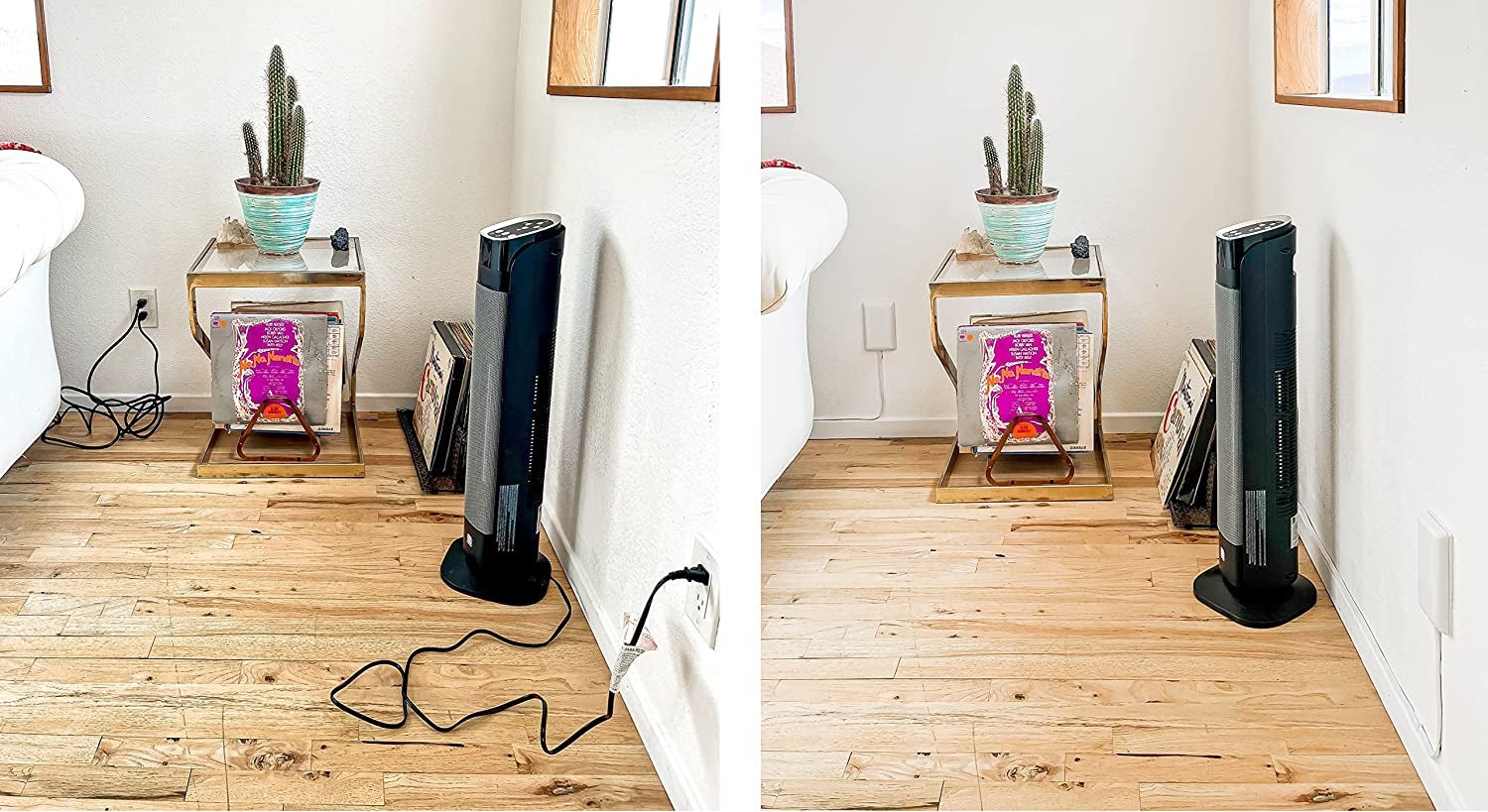 Promising review: "I have an outlet above our mantel that's meant for a wall-mounted TV. We have a large painting covering it. We wanted to use the plug to power two Wi-Fi speakers on the long mantle. The thinness of the plug is perfect behind the painting. The power strip is hidden by a mantle clock. So, we have our two speakers to either side and no visible wires. This product may not work for every application, but for us, it's 10 stars." —Chashum

Get it from Amazon for $24.95 (available in other styles/lengths).
13.
A laundry stain remover to make quick work of tough stains — both fresh and set-in. Just spray, blot, and launder! This is great if you're a parent to a small human or animal, or if you just happen to be a naturally messy eater. #same

Promising review: "I have three young kids who like to get messy and usually spill things on themselves — this spray is a miracle worker! I haven't found a stain this stuff can't get out! I've even had stains that weren't new come out with this spray! Wish they had a bigger bottle option but for now this works. Not a huge fan of the smell but it's not a huge deal because it gets washed anyway." —Heather & Kresten

Get it from Amazon for $7.91. 
14.
Light-dimming stickers so the bright LED lights from all the cool tech items in your room (or, ya know, just your alarm clock) don't keep you awake at night. 
These dim 50–80% of light! They're super easy to use. All you have to do is just peel and stick, and they don't leave any sticky residue, so you can remove any time you need with ease. Plus, they can always be cut or adjusted to your preferences/needs.
Promising review: "This is the best thing you never knew you needed. I own a digital clock with the numbers displayed in red LED light, and every night I've blocked the light with a cover so it doesn't shine in my eyes as I sleep. Silly I know, but I like my room pitch black and cave-like. On a whim I bought this product. OH MY GOD! Game changer!! For the first night EVER I didn't have to cover the clock display before I went to bed!! I had no idea how big a difference this little dimmer could make, but I'm more than pleased with the result. I can still see the time display just fine, but now my room is a happy cave! Some commenters argue you could get the same effect using electrical tape but this product is easy to remove and doesn't leave a sticky residue at all, which can't be said for most tapes. I did notice a slight lag in response when I covered my TV LED sensor, so if you're trying to block something that actually senses inputs I would maybe not suggest this. Other than that, excellent product!" —Logan M
Get a pack of 100 from Amazon for $2.89.