1.
A set of shelf dividers that will divvy up the shelf space above your closet rod. Use these to create designated space for jeans, shirts, bedding, towels — you name it! You can create tall stacks of garments without worrying about them falling over. 
2.
A honeycomb drawer organizer so all your undies and pairs of socks have a home of their own. Never again will you waste time in the morning sorting through your sock drawer just to find that one pair. 
Promising review: "I am a bit of an organization freak. I purchased two of these organizers (yes, you do need two PER drawer) to organize my underwear drawer. I agree that $20 seems like a lot to pay for a few pieces of plastic to organize a drawer no one else really sees, but...it's totally worth it. The gratification I got from being able to see exactly what I had, neatly organized, easy to find... Wow. I definitely recommend this product. And the actual dividers are well made and super easy to assemble. As a previous reviewer said, the number of times you will look at your drawer and be totally satisfied makes the price well worth it." —Brigette
Get it from Amazon for $10.65.
3.
A KitchenAid attachment organizer if you're a person who loves using your KitchenAid mixer, but not trying to find a place to store all its attachments. These mount to the underside of your kitchen's upper cabinets, so nothing takes up valuable cabinet or drawer space.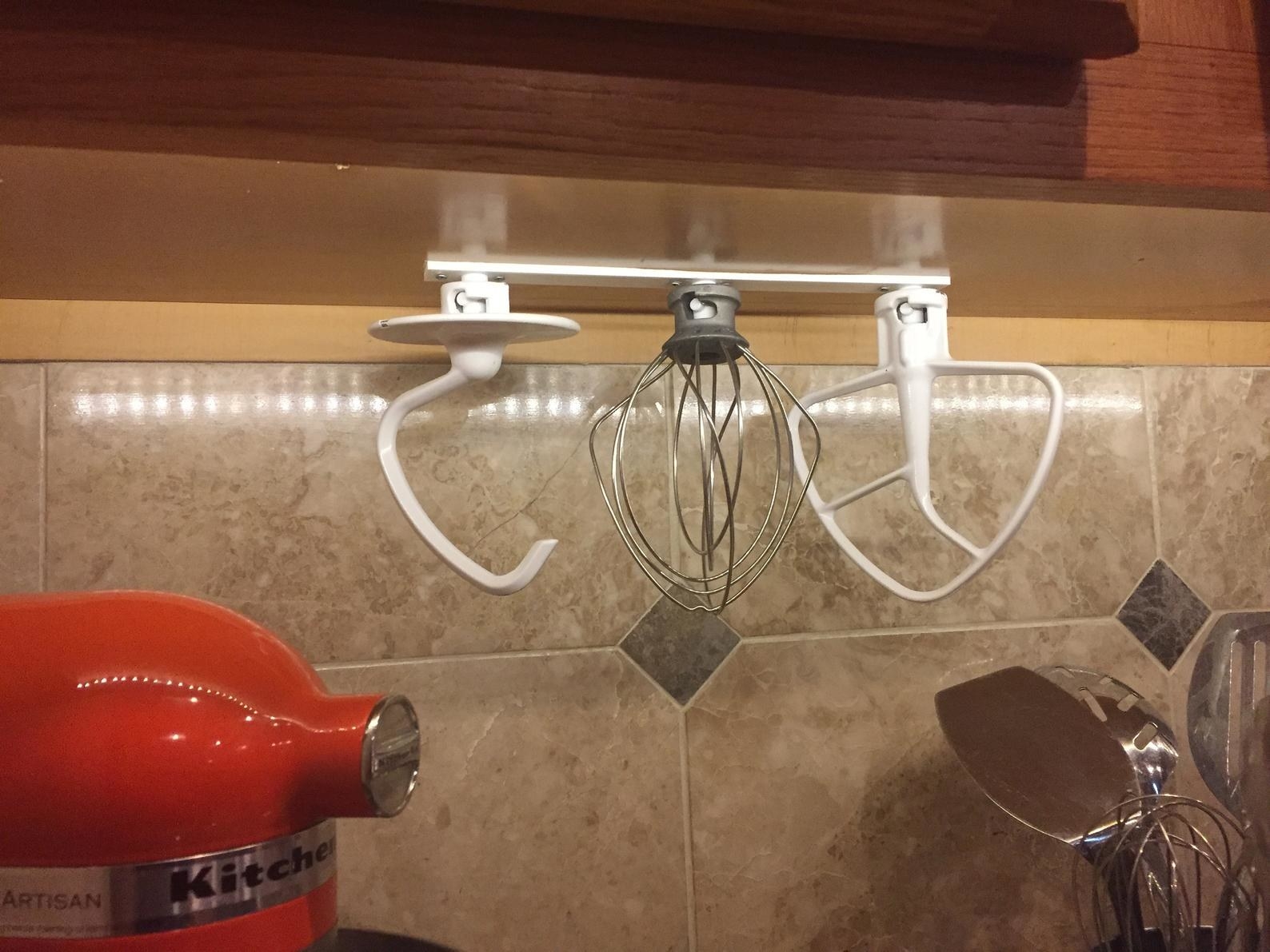 3D Home Solution is a small business based in Frisco, Texas that makes 3D printed home organization products.
Promising review: "Just what I didn't know I needed! My attachments didn't have a good home. The whisk is too fat for my drawers, but I wanted to keep them together, and near the mixer, so they just sat on a shelf. Now they have a home, and they're not blocking the canisters on the shelf!" —Noora
Get it from 3D Home Solution on Etsy for $12 (available in three colors and in two mounting styles).
4.
A vertical shoe tower so you can take off and store your shoes right when you walk through the front door. Each rack can hold up to five pairs of large shoes, and smartly stacks one on top of the other so it doesn't take up horizontal space.
Promising review: "This little guy is great. Normally, my staircase has shoes all over it. Now, the shoes are in their tower by the staircase and it's pretty awesome...maybe in part because my partner and I can now see who isn't putting their shoes up! It's a great, sleek design and takes up so little space. I can walk around with it if I need to because it's durable and sturdy, and was ridiculously easy to put together. Yes, it's more than many other shoe trees but it's worth it for the footprint (or lack thereof!) and that it's going to last for a really long time." —Skyrocketocelot
Get it from Amazon for $49.99+ (available in black and white).
5.
A silverware sorter if you have plenty of flatware but not enough room to store it. So many kitchens lack sufficient drawer space, so make sure you utilize every square inch of yours with this handy sorter. 
Promising review: "I bought two of these because I have a disgusting amount of toddler/baby silverware along with regular silverware. Since I put these in, WOW does my drawer look organized and empty. I get compliments all the time." —Melanie slinger
Get it from Amazon for $11.99+ (available in three colors).
6.
An electrical outlet cover with a power strip so you won't have plugs sticking out of your wall. This creates a smooth surface on top of your outlet and has a long extension cord with a power strip at the end. One of these is especially crucial if you have an outlet behind a sofa or bulky piece of furniture, and because of the plug you can't push it up against the wall completely. 
Promising review: "I have an outlet above our mantel that's meant for a wall-mounted TV. We have a large painting covering it. We wanted to use the plug to power two Wi-Fi speakers on the long mantle. The thinness of the plug is perfect behind the painting. The power strip is hidden by a mantle clock. So, we have our two speakers to either side and no visible wires. This product may not work for every application, but for us, it's 10 stars." —Chashum
Get it from Amazon for $23.95+ (available in eight styles).
7.
A jewelry cabinet to keep all your pieces organized and accessible. It can be mounted to the wall or hung on a door, and when closed, it's a mirror. Behind the locked mirror is a enough storage for 90 pairs of earrings, 24 pairs of studs, 32 necklaces, 84 rings, and a rod specifically for bracelets. There's also six LED lights, five shelves, and two drawers. 
Promising review: "Why the heck didn't I get one of these years ago?? This is a quality product. Sturdy and well made. At first I thought the light was a little gimmicky but it totally helps me see what I'm doing in my dimly lit bedroom. This is soooo much better than a jewelry box or trying to figure out your own clever storage like I have for years (trying to put off splurging for a product like this). I totally regret not getting one sooner. A lot of earring capacity, ton of everything capacity and ease of use for someone as lazy as me is critical! If you're on the fence, get one, you won't regret it! So worth the money!" —PHILLIP G.
Get it from Amazon for $109.98+ (available in eight colors).
8.
A pan and lid organizer so you can avoid the dreaded Leaning Tower of Pans. This provides eight designated spots for pans of all sizes, so getting the one you need (which is almost always at the bottom of the stack, isn't it?!!?) is easy peasy. 
Promising review: "It was better quality than I thought it would be. It worked perfect. It definitely helped me organize the cabinet of pots and pans and made a cluttered mess into an organized functional space. I would recommend it to anybody. Now I can just reach in and grab the fry pan I want and it left plenty of room for my pots to stay to the right. You could not even see the bottom of my cabinet before." —Careful shopper
Get it from Amazon for $14.87 (available in three colors).
9.
A velvet storage ottoman that's perfect for small spaces. It's not just an ottoman and place for storing small items — you can also flip the lid over to create a table!
BuzzFeed senior writer Emma Lord swears by hers. In her own words:
"Another bonus? If you flip the lid over, it has a wooden base, so you can *also* use this as a teensy snack table. I recently got one of these for my new apartment to stash my candles and ~candle accessories~ in and it's pretty much become my favorite piece of furniture?? I use it to prop up my feet during work hours and sometimes if I want to eat on my couch I'll use it as a tray. It's also sturdy enough to sit on, if I ever wanted to have guests over and needed an extra chair. It was RIDICULOUSLY easy to set up — I had it done in less than 10 minutes, and probably didn't even need the directions. It also just looks so darn cute (and comes in so many colors that I'm tempted to buy another!)."
Promising review: "I was using a small foldable step stool in my bedroom to reach the top shelves of my wardrobe. But you know, those things aren't pretty. It wasn't bringing me joy, just begrudging utility. This ottoman brings me joy. It's pretty, it's lightweight so I can move it easily to use it as a step stool, and the storage capacity is perfect for things like my nightly moisturizers, my Kindle and journals, and other little miscellaneous things." —Monica N
Get it from Amazon for $54.99 (available in six colors).
10.
A silicone kitchen sink organizer for keeping your dish soap, sponge, and other dishwashing tools neatly organized instead of strewn around your kitchen sink and countertop. 
Promising review: "I have been looking for something to put my dishwashing soap in and not worry about spills around my sink. Tried so many and then I finally found this. It's easy to wash, soft rubber, does not collect water underneath and keeps everything nice, clean and organized. I love it!" —karmen haik
Get it from Amazon for $11.98 (available in three colors).
11.
Some adjustable mug organizers so you safely store one mug on top of the other, which will free up so much cabinet space! These just snap onto the top of one mug so the next one can fit right on top.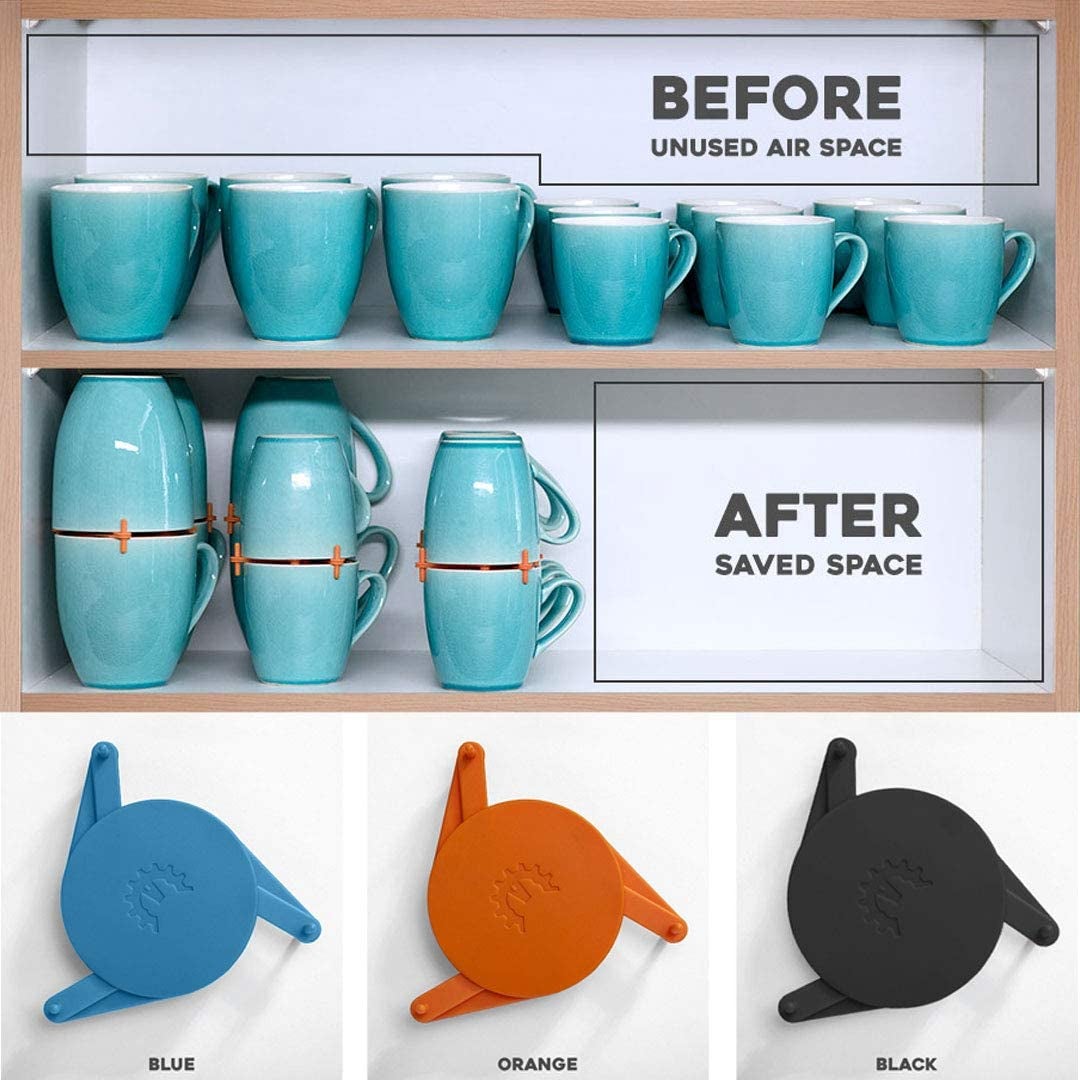 Promising review: "I love these cup organizers. I have a small cabinet above where my coffeepot is and these have made it a pleasure to open that cabinet. All cups are organized and easy to get to. They stay right where they should be. No more stacking them inside one another and them falling over when I opened the cabinet. I also use these for some bowls in my dish set. Works great. I just order a couple more and I am going to use them for my china cabinet. I wondered when I first bought them because the price was a little high. Worth every penny and more. I can not say enough good about these." —ChefGirl

Get a set of six (to organize 12 mugs) from Amazon for $24.99 (available in three colors). 
12.
Some adjustable shelves that'll provide your desk's surface with extra storage. There are two pieces, and you slide one over the other to reach your desired width.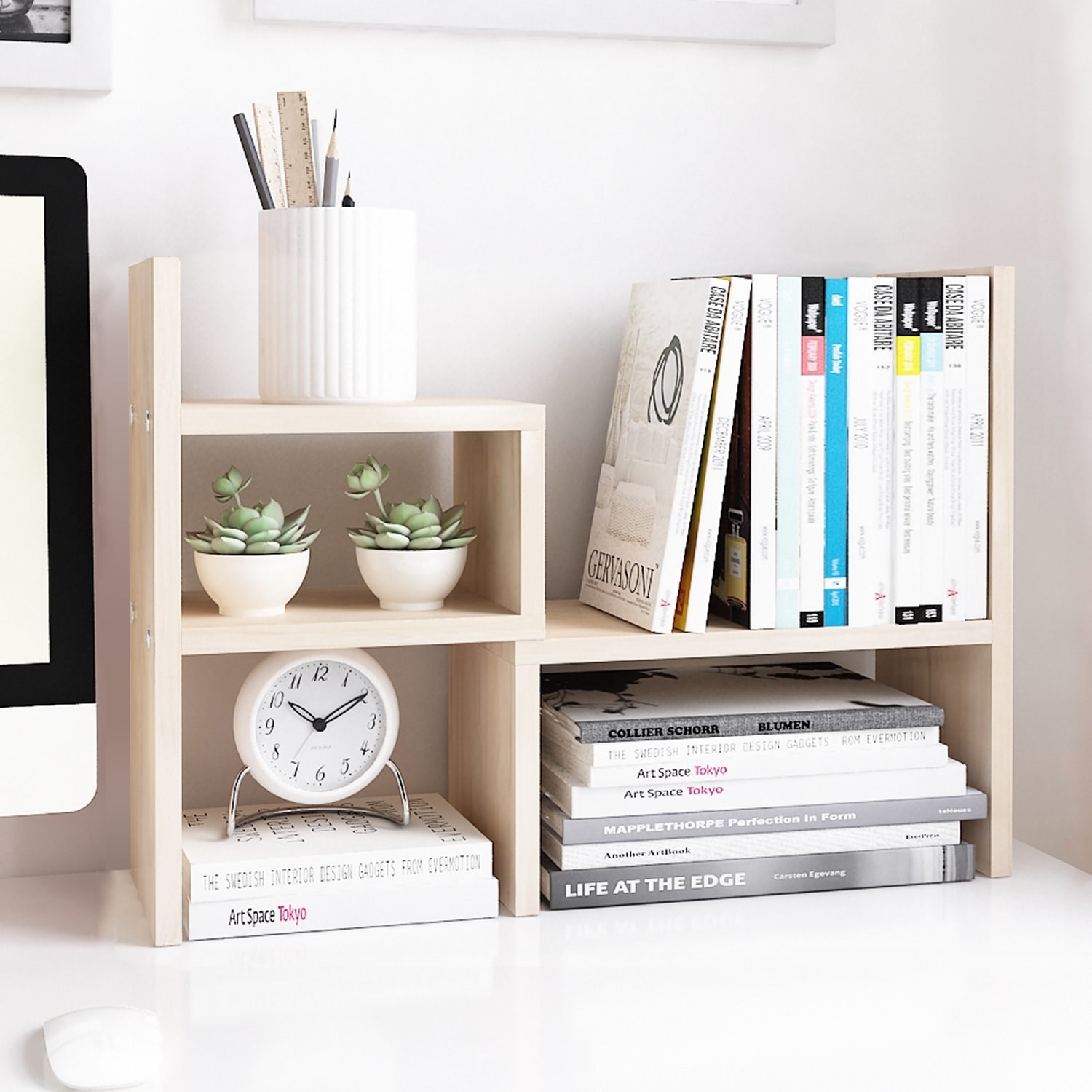 Promising review: "I have gone through many different desk organizers trying to find the right one and this is it. It is sturdy, adjustable, and stylish. I read that many people were disappointed by the fact that there were no covers for the screws but I purchased the light wood tone and I think the screws add to the aesthetic. It looks great and I love it. I would recommend this product to anyone who asked!" —Julia Harrison
Get them from Amazon for $25.99 (available in five colors).