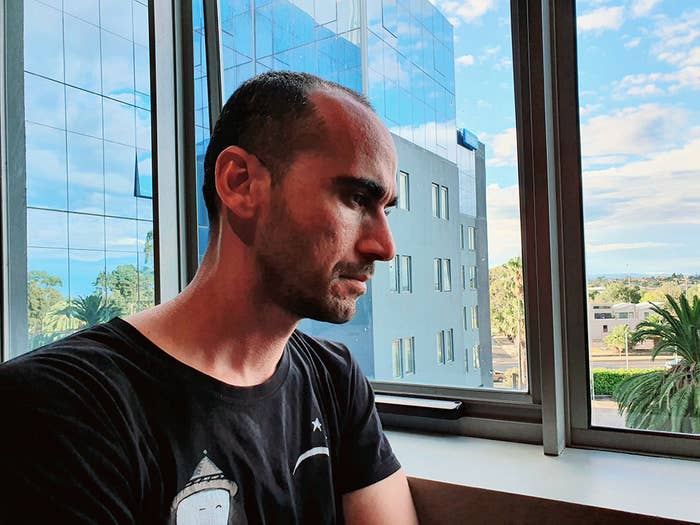 A man who has had a persistent cough for more than three years and is a suspected asthmatic is being detained with dozens of other men in a hotel doubling as an immigration detention centre as the coronavirus spreads across Australia.
"I feel extremely weak. I'm worried that my vulnerable body is unable to handle the coronavirus," Mostafa "Moz" Azimitabar, a 34-year-old Iranian-Kurdish singer and refugee, told BuzzFeed News.
"I stay in my small room most of the day. This is the only thing I can do to protect myself."
The Australian government has ignored widespread calls to release Azimitabar and others into the community during the pandemic. The situation in detention is increasingly tense as detainees watch tighter restrictions being implemented across the country while they remain in close living quarters where social distancing is impossible.
Azimitabar's roommate, Farhad Bandesh, said the coughing intensifies at night and often keeps him awake. He told BuzzFeed News that the dry coughing is sometimes so severe that he has to help Azimitabar use his puffer.
The pair are housed two doors down from a smoking room, which Azimitabar said filters into the room and makes him feel "suffocated".
Azimitabar's lawyer wrote to home affairs minister Peter Dutton and acting immigration minister Alan Tudge on March 25 saying her client should be released due to his vulnerability to the virus. Azimitabar's medical records suggest he has asthma or another respiratory illness, but he has not been formally diagnosed due to limitations with medical care in offshore detention, his lawyer wrote.
"This places him in the high risk category for contracting, and then suffering severe consequences from, COVID-19," the letter reads.
If released, Azimitabar has a number of supporters in the Australian community who would house him.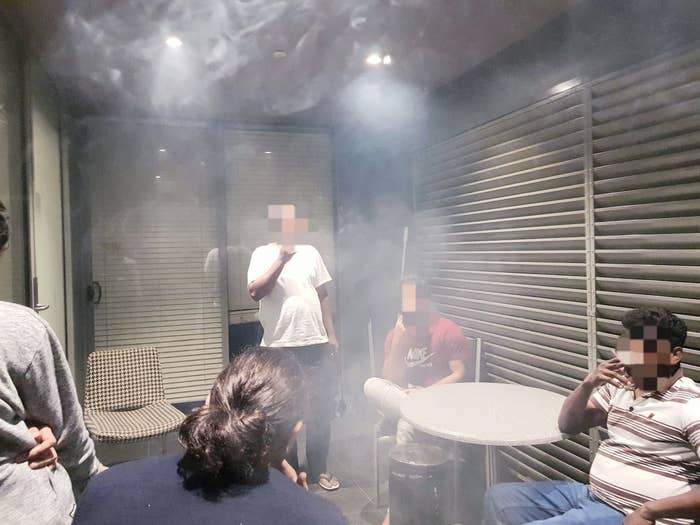 Azimitabar, who was brought to Australia from Papua New Guinea for medical treatment last year, is one of around 70 refugees held on a single floor of Melbourne's Mantra Bell City hotel, which has been declared an "alternative place of detention" (APOD). Over 100 others are detained in another APOD, Brisbane's Kangaroo Point Central hotel. In total, there are around 1,400 people currently in immigration detention facilities in Australia.
In recent weeks, the Australian Border Force (ABF) has moved to prevent the coronavirus from entering detention facilities by banning visitors and stopping excursions from the APODs to nearby detention centres. For Azimitabar and others at the Mantra, that has meant they are not ever able to go outside, and their windows only open a little.
"Self-isolation and social distancing are meaningless in our circumstances," Azimitabar said.
Though Azimitabar and his fellow detainees are effectively isolated, they are worried by detention staff coming and going without wearing personal protective equipment.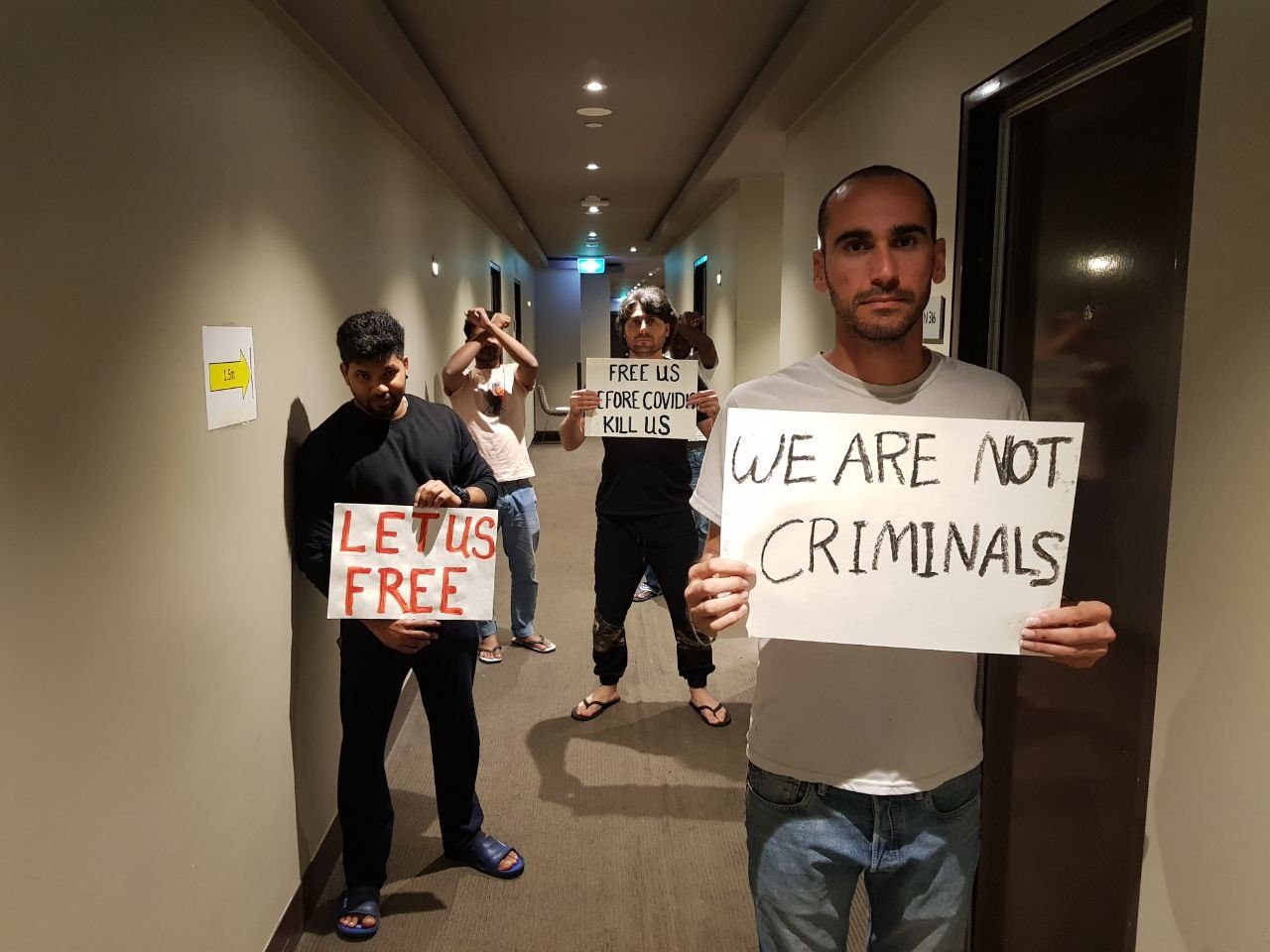 Anxieties over the coronavirus risk have been running high in immigration detention over the past few weeks, especially since a guard at the Kangaroo Point hotel was diagnosed with COVID-19.
On the weekend in Brisbane, over 30 refugees and asylum seekers were moved from the Brisbane Immigration Transit Accommodation detention centre, where they were sleeping four-to-a-room, to the Kangaroo Point hotel to allow for better social distancing. The government has taken over another wing of the hotel building and erected new fences around the hotel block. At the hotel, rooms are usually shared between two detainees, but some have a room to themselves.
Refugee advocate and public health expert Gabrielle Rose told BuzzFeed News staying at the hotel was worse than the detention centre. "They're just all cramped up, queued for mealtimes," she said. "There's just so many over there now."
On Thursday, a coalition of human rights law groups joined the chorus of doctors and advocates calling for people to be released from immigration detention because of the risk of a coronavirus outbreak. Late last month, over 1,000 healthcare professionals told the government refugees and asylum seekers should be released immediately. Infectious disease experts have also called for immigration detainees who do not pose a significant security or health risk to the community to be released.
Ged Kearney, the Labor MP representing the electorate where the Mantra is located, wrote to Tudge on Tuesday to request that the men be released into community detention
Doctors For Refugees, Human Rights Watch, the Refugee Council of Australia, and the Australia OPCAT Network (a group of organisations and individuals interested in helping Australia implement an international agreement about torture Ausrtalia signed on to in 2017) have also called for detainees to be released.
"We have shut down all public gatherings, businesses have closed, and we face fines if we meet in groups of more than two or three," Doctors For Refugees founder Barri Phatarfod told BuzzFeed News. "Yet hundreds of refugees are closeted together with no regard for their own safety, or that of the wider Australian community."