1.
A zig-zaggy corner bookshelf made of engineered wood that will achieve three jobs: filling that empty space in your home, minimizing clutter, and looking chic while doing it.
The shelves can hold up to 13.2 pounds, making it one of the super simple things that'll make your home look upgraded.
Promising review: "We love our little shelves! I wanted a small shelf to keep near my bedside for books that I'm working on and it works perfectly. My husband liked how mine looked, so much that he wanted to put one on his side as well. Then, our adult kids liked ours so much that they bought the shelves for their bedroom too!" —Taccco505
Get it from Amazon for $26.99 (available in four colors).
2.
A staircase corner bookshelf to store your *many* books and other assorted baubles and give you something to stare at all day long.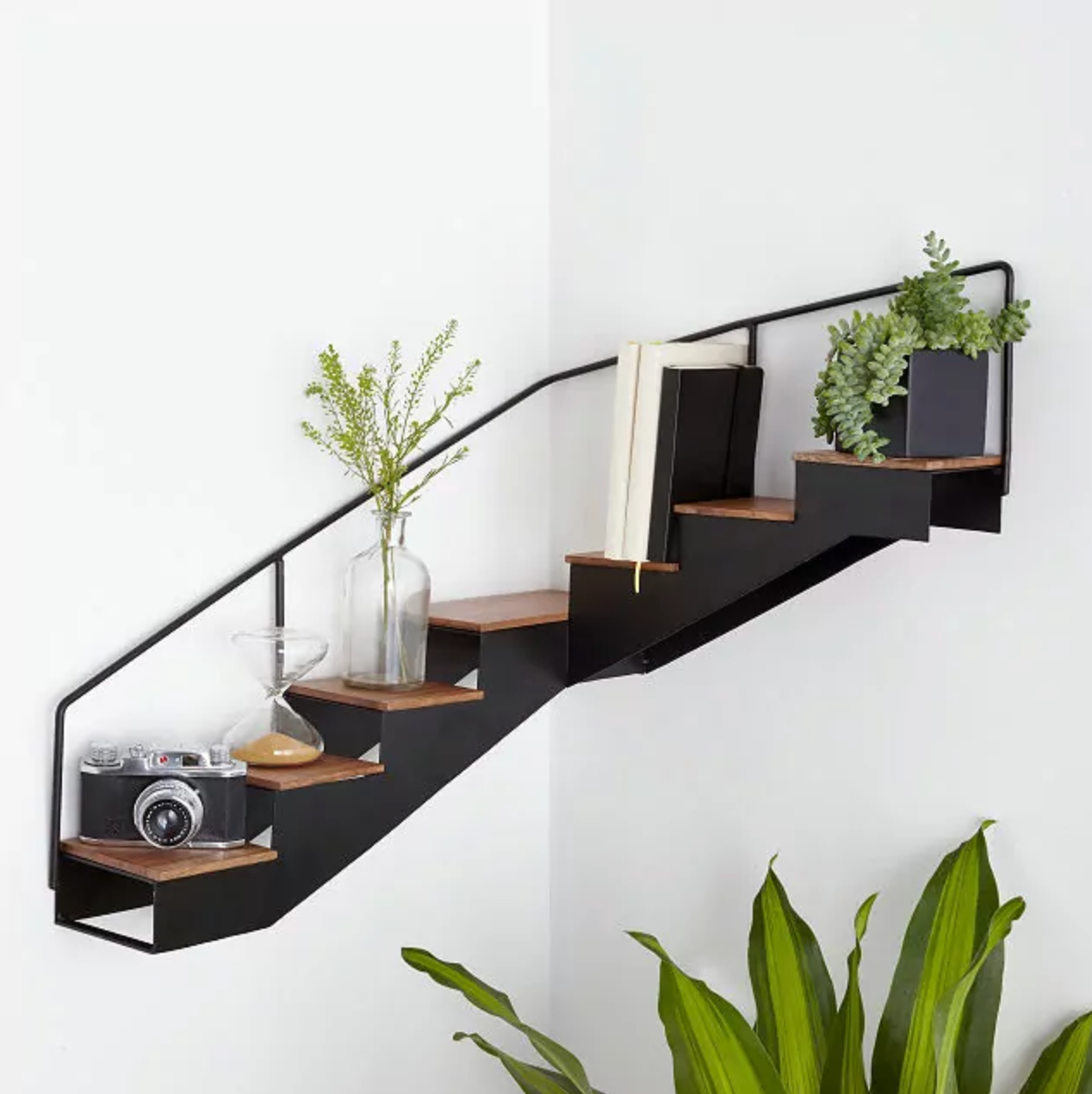 This bookshelf was made with acacia wood and metal, and to clean it just wipe the area with a damp cloth.
Promising review: "This corner shelf is smart, sharp looking and functional. Brightens up the corner and is a conversation starter. The shelves themselves could be a tad bigger to accommodate 4-inch planter pots or something other than miniatures." —SaRa
Get it from Uncommon Goods for $120.
3.
A wooden corner bookshelf that will help those short on space add some extra stylish storage. And now you can avoid trying to shove more things under your bed.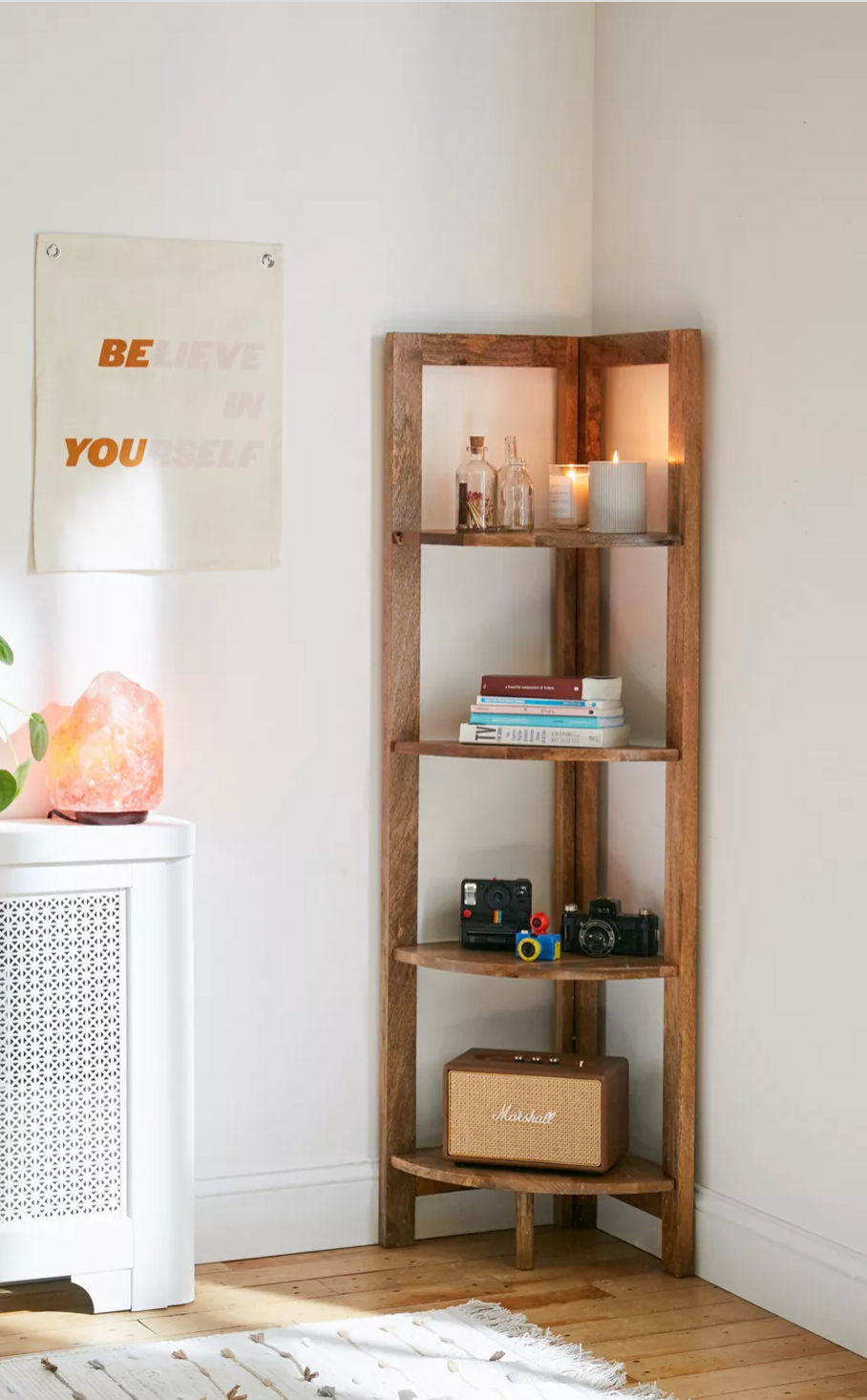 The rounded edges will help highlight your walls, while allowing the shelf to easily mesh in with most aesthetics.
Promising review: "This is the perfect corner shelf for a small space. We used it in our dining room and it complements our West Elm table so well. My husband said it was easy to assemble as well." —bh5164
Get it from Urban Outfitters for $199.
4.
A floating corner bookshelf to display even *more* photos without ruining the wall collage you spent hours perfecting.
These shelves were designed with laminate and composite wood, and can hold up to 30 pounds.
Promising review: "Well worth the money!!! I bought this shelf for my bedroom to put my cable box on, as I have my TV mounted on the wall and needed a spot for it. I absolutely love this little shelf and the fact that it has a cut out in the back for the cords!! My husband installed it in about five minutes. I absolutely recommend this shelf, and I dressed mine up with some romantic lights and garland. Happy Happy Happy:)" —Angela
Get it from Amazon for $43.99+ (available in three colors).
5.
A simple corner bookshelf you won't have to grab your tool belt to build! Instead use the provided tubes, and voila! You've got handy storage without breaking a sweat. 
If you're looking for household items that will improve your home life, this will hold up to 15 pounds of stuff.
Promising review: "Perfect one! Just what I needed. I was looking for a cute small corner shelf to place at the entrance in my home. It's nice, sturdy, and satisfied more than what I expected for the price. It looks super cute and welcoming when we enter our home. Assembling it also only took a couple of minutes." —Indianrecipe4u
Get it from Amazon for $17.08+ (available in 16 colors and three sizes).
6.
A contemporary corner bookshelf boasting curves in all the right places, yet small enough to fit in your apartment without drilling any more holes into the walls.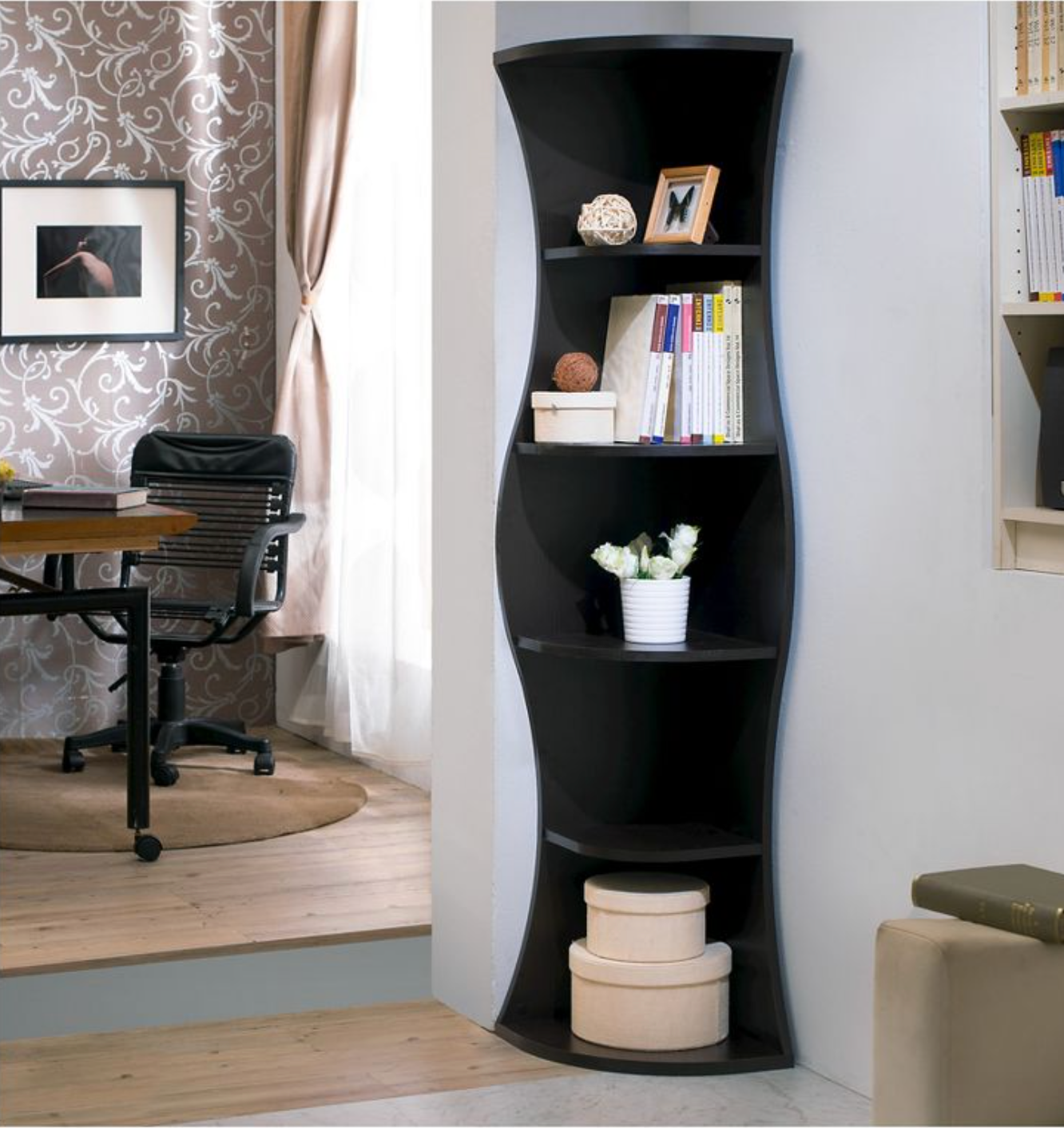 Promising review: "I purchased this for my daughter's room, but it is chic enough to put in any room of the house. Super easy to assemble — it took me about 45 minutes, including unpacking it from the box :) Shelves are also far enough apart to accommodate large children's books." —Leslie

Get it from Target for $219.29.
7.
A small corner bookshelf customizable to fit your unique needs — and if you're really short on space, you can even turn it into a makeshift desk. Finally, that home office you've been dreaming of!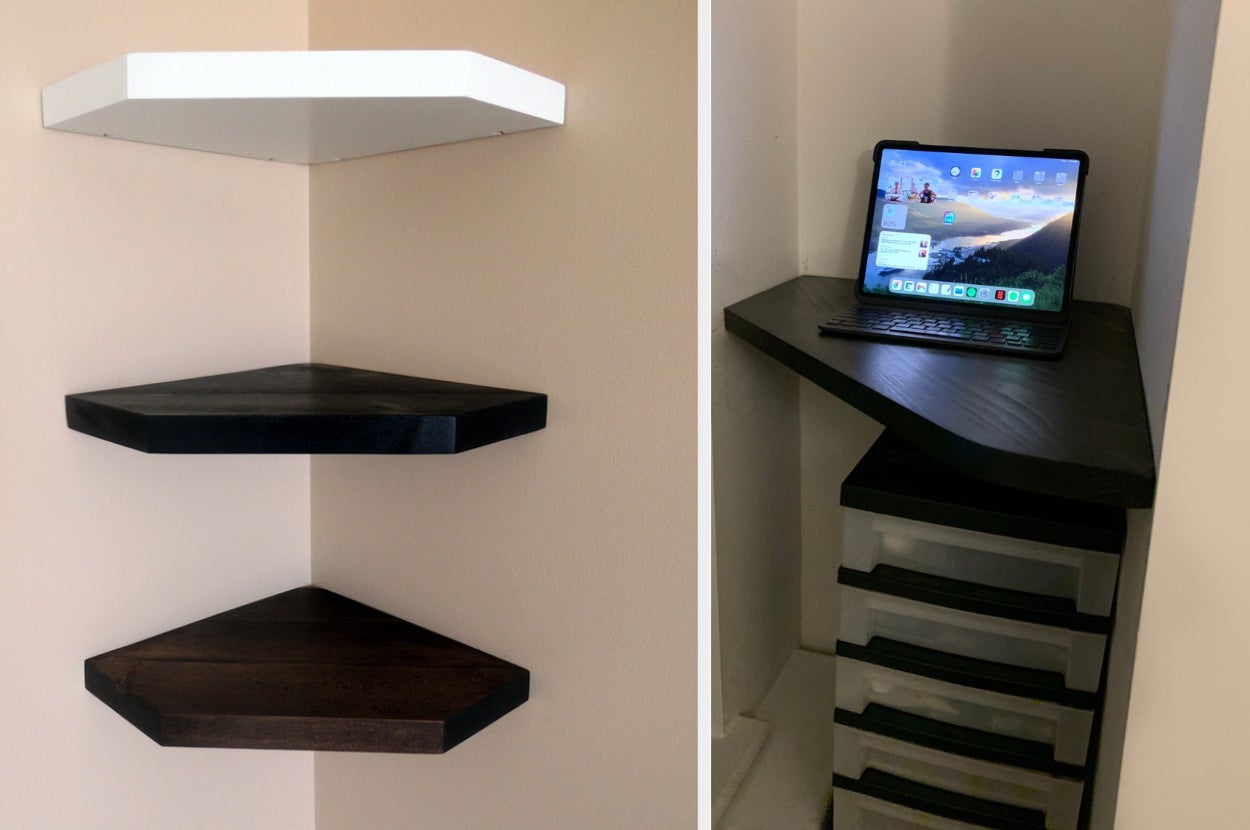 Amazing Next Door is a family-owned small shop on Etsy located in New Jersey that specializes in handmade wood decor.

Promising review: "Love these shelves — much better quality and style than anything I could find in a store (and I looked)." —kwensley
"Such a nice quality shelf that I'm using it as a bedside table since I don't have a ton of room, and it's perfect for that." —Chris Sukovich
Get it from Amazing Next Door on Etsy for $20+ (available in 28 colors and 19 sizes).
8.
A white corner bookshelf because your plant collection is starting to get a little out of control, but you can't *not* put them on display.
If you're looking for affordable minimalist products, each shelf is held stable from the metal frame in a modern design that will help complete your home.
Promising review: "This corner shelf was perfect for the empty spot in my living room. Nice, sturdy, and very easy to put together — and it looks like it costs much more than it does." —Marian742
Get it from Amazon for $89.99 (available in two colors).
9.
A rustic L-shaped corner bookshelf handcrafted from pine wood that can be personalized to basically any size, so you can make the most of your small space.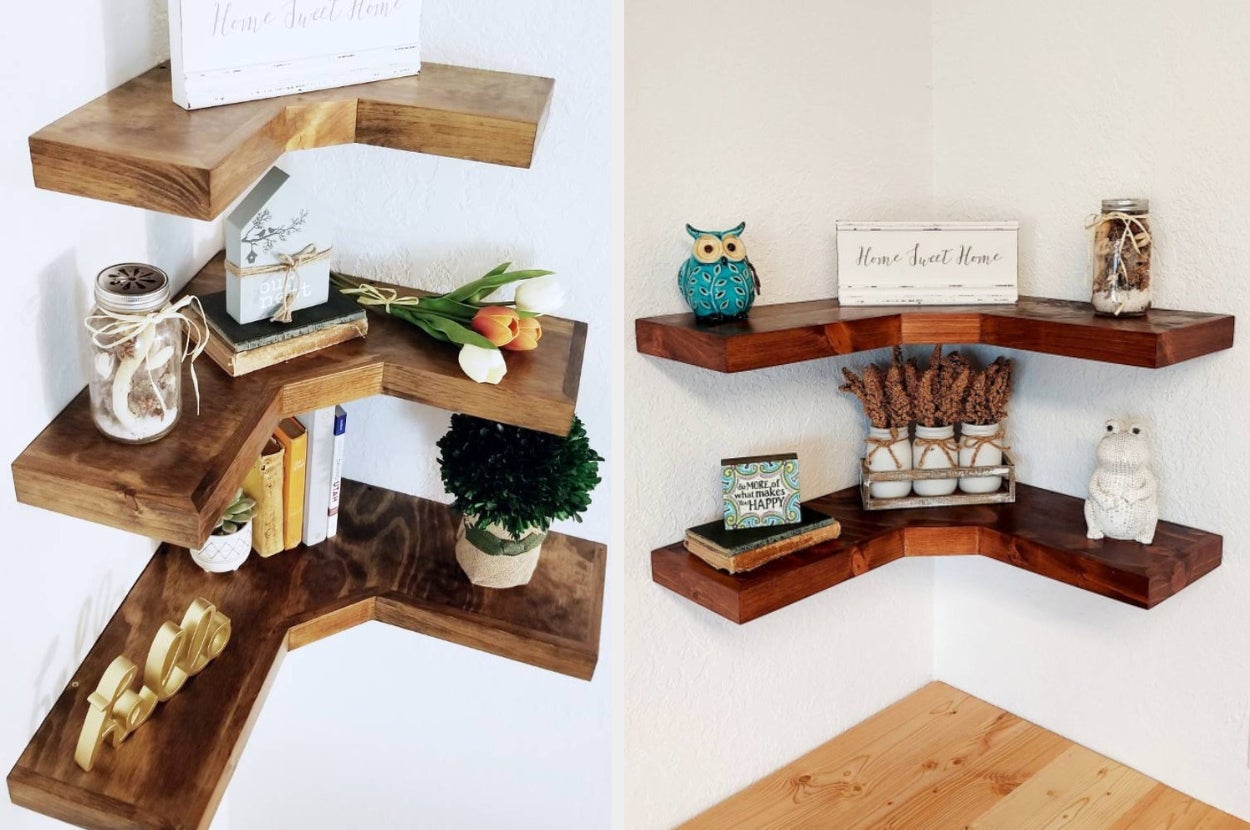 Promising review: "The shelf is just amazing. It was obviously made by someone who has a love for the art of woodworking and attention to detail. It looks like a masterpiece, sanded, and evened out. I love the sturdy feel of it! And the hanging bars provided make for an amazingly easy (and adjustable) job putting it up! Love it!" —Anuscheh Nawaz

Get it from Sumaq Industries on Etsy for $75+ (available in 14 colors and 13 sizes).
10.
A folding corner bookshelf for anyone who isn't the most ~handy~ person. This one comes fully assembled, can be easily stored, and certainly doesn't lack style either.
Some reviewers have even stacked two on top for added storage.
Promising review: "If you are thinking about it — buy this shelf! It arrived quickly, came packaged very nicely, and is already put together! You just screw on the supporting leg, flip the lower shelve down, and pop the top shelf on! It's not a huge shelf, but it was perfect for what I needed it for. It also isn't wobbly, but I wouldn't say it's the most sturdy shelf on it's own. It does come with mounting brackets though, so if you're worried about it being knocked over you can always secure it to a wall." —Renae

Get it from Amazon for $49.99+ (available in 10 colors).
11.
A short corner bookshelf with angles and sharp lines for anyone looking to add a little geometric style to the otherwise empty corner of their office without creating clutter.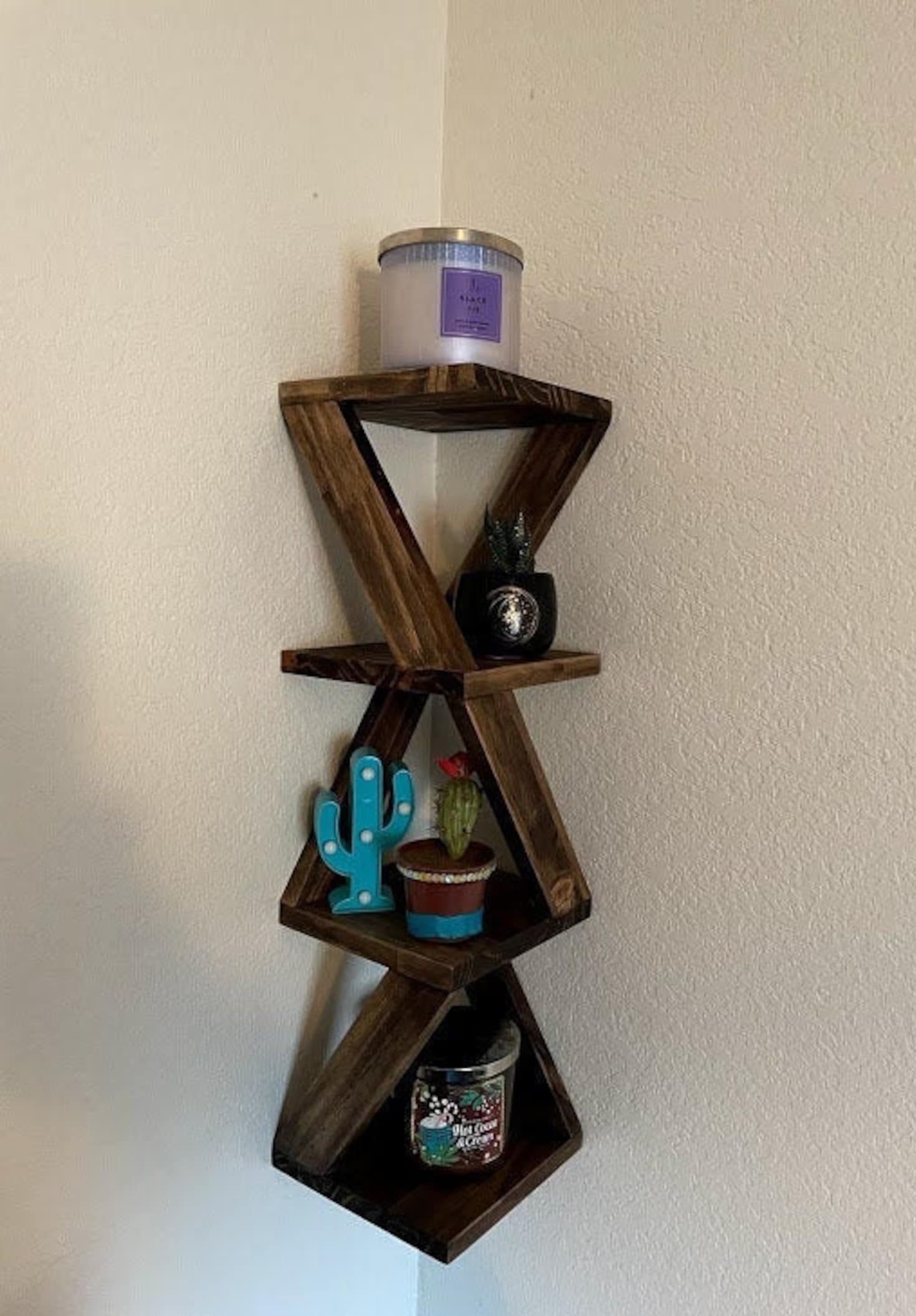 Ozark Natural Designs/Etsy
Ozark Natural Designs is a small shop on Etsy located in Van Buren, Arkansas, that specializes in handcrafted wooden decor.

Promising review: "This shelf is *perfect* for my little corner! I was immediately drawn to the lines and angles, and the uniqueness of this design. I love it so much, and it has that wonderful wood shop smell." —Martha
Get it from Ozark Natural Designs on Etsy for $55 (available in seven colors).
12.
A long corner floating bookshelf created with paulownia wood so you can *finally* add some decor to your blank walls with the added bonus of storage.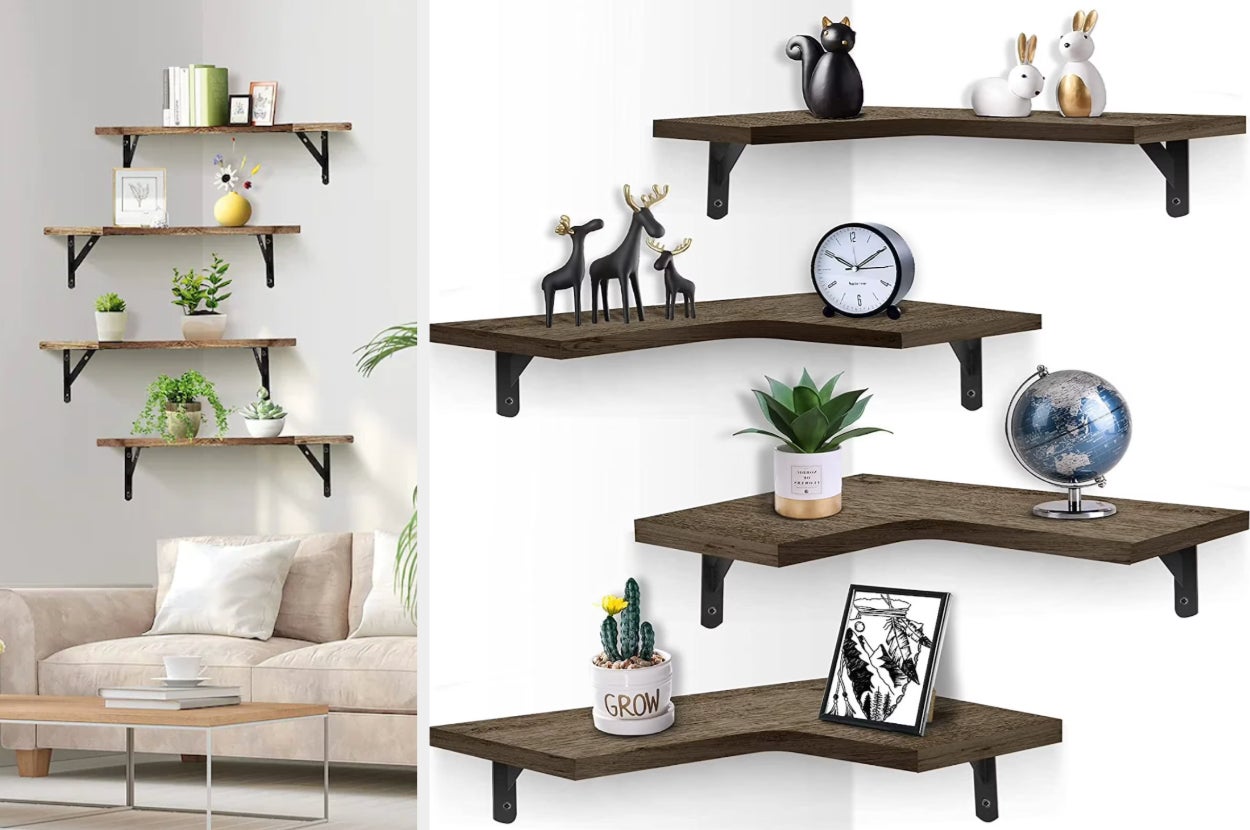 13.
A  reclaimed oak corner bookshelf to add some cozy farmhouse vibes to your tiny apartment, while providing you with more space to show off your many  *many* books.
14.
A black corner bookshelf your other storage compartments will totally be talking about, especially since this one adds some chicness without sacrificing the (minimal) space you have.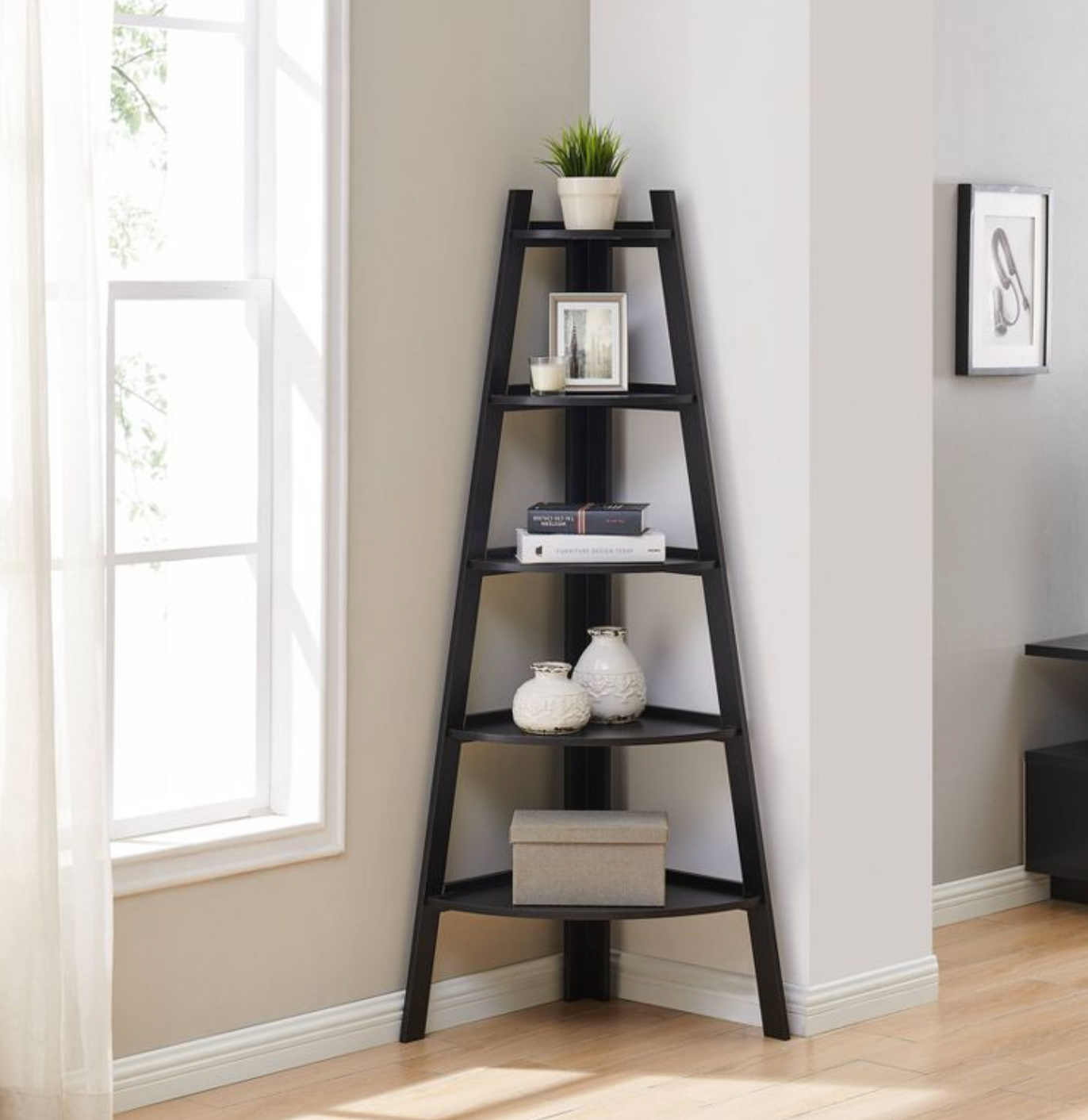 Promising review: "The bookcase was so easy to assemble. I wish Ikea stuff was this easy. I love how snugly it fits into the corner — there is no wasted space! We love it." —Babygrlsmom

"Love the cherry wood it is so beautiful and it looks great with the decor in my living room. Love how the shelves have a fan-shaped style perfect for knick knacks and magazines. Also a nice small potted plant on the top shelves look so beautiful." —Proudmom1216
Get it from Target for $139.99+ (available in six colors).