1.
A small but mighty 360-degree air purifier you can literally hide in plain sight whether it's placed horizontal OR vertical, while filtering up to 215 feet of space. Plus, it's got a night-light which will help guide you on those midnight bathroom trips.

Filters dust, smoke, pollen, dander, hair, smells, and pet odors. Filter should be replaced every six months and a double-pack is $30.99.
Promising review: "Love it! I have some kitties that live in a close space and this air purifier has helped immensely with my partner's allergies and the smell of their litter box. Highly recommend for allergies and pet smell! Also very quiet — I forget it's on! (: Very easy to put together too." —Cassidi J Madrid

Get it from Amazon for $45.99 (available in four colors).
Need to stock up on more supplies? These cleaning products are reviewer loved.
2.
An air purifier with an aromatherapy function so you can breathe in fresh, clean air AND the soothing scent of lavender to help keep the Sunday scaries at bay.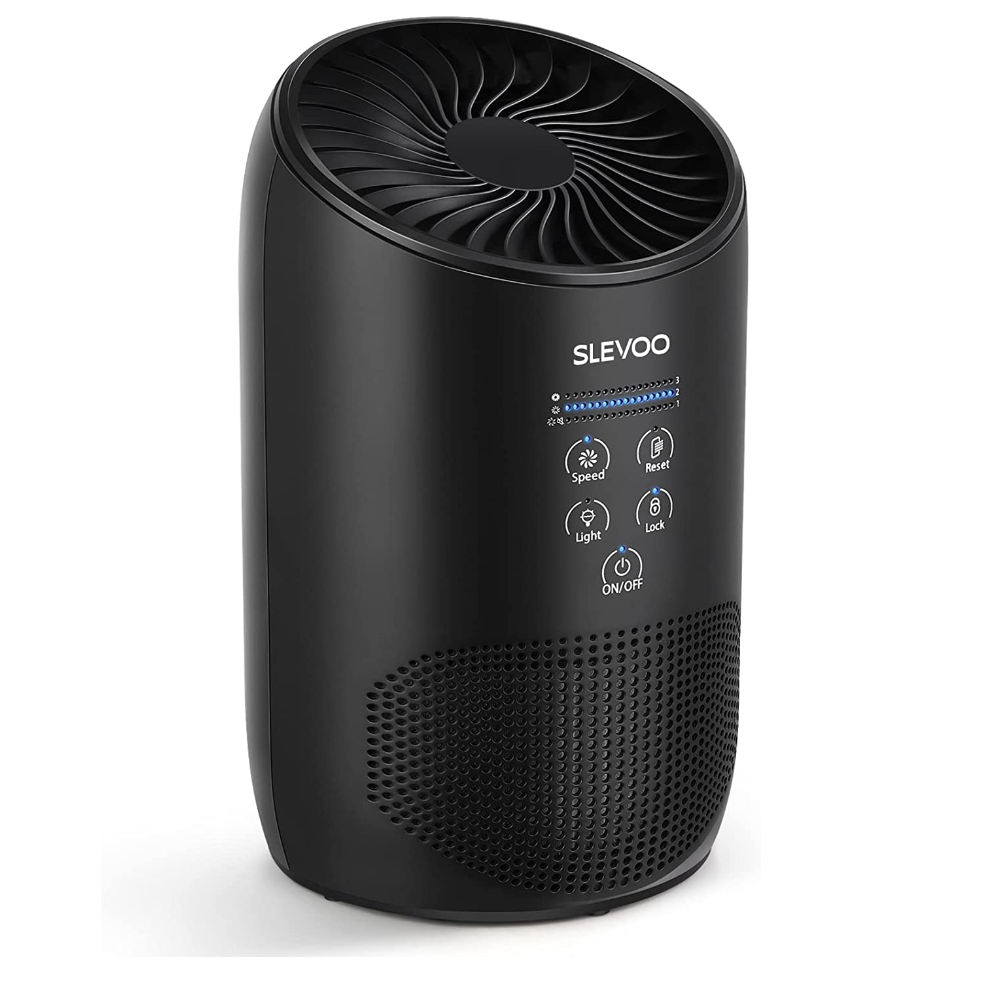 Filters dust, pollen, pet dander, smoke, and odors. H13 True HEPA Filter should be replaced every six months and a double-pack is $30.99.

Promising review: "I have had this for about a month. I only use it periodically but after the first use, I honestly felt a difference in the air. It seemed clearer of cat dander and more air-conditioned. All the features work well. There are three levels of speed: level one is very quiet and the other two are a bit noisier, but not overly. I like that the lights can be turned off while in operation." —CKK, L.A.
Get it from Amazon for $39.99.
BTW, you'll definitely wanna take a peek at these products that'll clean your home for you.
3.
An air purifier with a timer more than 56,000 (yeah, you read that right) reviewers absolutely love for filtering air in up to 12 minutes for rooms 219 square feet AND a sleep mode to let you catch Zzzzzs without disruption. 

Filters pollen, smoke, mold, and odors. It's recommended to replace the filter every six to eight months, and cost around $35.99.

Promising review: "This product is life changing. I am surrounded by farms and trees where I live and unfortunately, I am allergic to LIFE. I put it right next to my bedside and I don't wake up in the middle of the night coughing or sneezing anymore. I have such horrible allergies and with the weather change its been getting a lot worst. It is virtually silent. I don't even notice it on. I wish I bought this a long time ago!" —Vivian
Get it from Amazon for $104.99+ (available in three colors).
Cleaning shouldn't be hard, which is why we found these easy cleaning products to add to your arsenal.
4.
A portable air purifier for keeping your allergies at bay using three modes for removing dust, pollen, and pet dander so you can say "Bye, bye, bye" to itchy eyes and sneezes.

Filters smoke, odors, pet dander, and pollen. Make sure to replace your filter every six months! The compatible one costs around $12.99.

Promising review: "Bought this for my office to try to help cut down on my sneezing and sniffling. It fits nicely on my desk without taking up too much room, is easy to use, and is quiet enough that I can keep it on during virtual meetings and phone calls." —Rachel Ann Smith
Get it from Amazon for $39.99.
Clean up more than just the air of your home with these cleaning products for tidying things up.
5.
A versatile air purifier with seven fan speeds and 54 feet of coverage to freshen the air whether you're on the road or just WFH — either way you'll have some clean air to breathe in (no opening of the window required).

Filters dust, pollen, cooking odors, and eliminates smoke. Filters should be replaced every six months and cost $9.99.
Promising review: "I love this travel air purifier! It's the perfect size, perfect color, as well as having a handy handle that serves as a stand too. The fan speeds are convenient and the sound is bearable. I can already feel the positive side effects from one hour of use. The six-month duration of the filter is great, as well as the rechargeable battery-less feature. It lets me keep it plugged into my computer at work or take it on the go with up to 12 hours of life!" —JasminLynn

Get it from Amazon for $39.99 (available in five colors).
Psst — we've got these air purifiers for pets any pet parents needs to check out.
6.
A smart sensor air purifier with a washable filter you can turn on and forget about. It even measures the air, while auto mode adjusts the fan to filter your home's air as needed — keeping things ~easy, breezy, and not so sneezy~.

Can cover up to 360 square feet and filters odor, allergens, chemical vapors, and other pollutants. Filter is permanent, but if you need a replacement they range for $61.30.

Promising review: "Very quiet and does a great job! I have two large dogs and a small house and used to have to dust every three or four days. Now it's more like every two weeks or so. This keeps odors at bay and is easy to clean and maintain. Don't know how I lived without this thing!" —Amazon Customer
Get it from Amazon for $148.27.
7.
A large room air purifier covering 645 square feet and using a brushless motor that won't distract you while you prep your notes for that afternoon video meeting.

Filters odor, pollen, dust, smoke, and pet dander. You should try and replace your filter every six months with new ones costing around $36.99.

Promising review: "I recently had a new neighbor in my townhouse that smokes right outside my door. This caused my whole unit to fill with the smell. I decided to try an air purifier before talking to them about it. This little machine takes away the smell out of nearly my whole 1,200-square-foot unit. It is fairly quiet and doesn't take up much space. I would definitely recommend it!" —SLS
Get it from Amazon for $89.99.
8.
A customizable air purifier with three fan speeds, a four-stage HEPA filtration system, and real-time air monitoring system which will turn off automatically when it doesn't detect pollution in the air — saving you the effort of getting up off the couch.

Filters dust, pollen, and smoke, and covers up to 361 square feet. Filters should be replaced annually and cost $23.99.

Promising review: "Got this for the master bedroom. We like how quiet it runs, yet powerful air cleaning ability. Onion and pepper odors made it from the kitchen to the bedroom and this puppy kicked into high gear and removed the odors from the whole 2,500-foot-house! Impressive." —V
Get it from Walmart for $175 (originally $229.99).
9.
An air purifier with a night-light for creating a ~squeaky~ clean space by trapping pollen and other allergy triggers, so you can enjoy a big, deep sigh of relief — especially after making it through *another* week of work.

Filters dust, pollen, smoke, odors, and pet dander. Try to replace your filter every three months (each replacement costs around $16.99).

Promising review: "I needed a purifier at work. Ever since they turned on the heater in the building, I struggle to breathe and it gets worse until the end of the week. I bought this to plug into the computer since I can only use USB plugs. I was worried about the sound, but once I used it, all worries were gone. I can barely notice this thing on in the office, especially when everyone is there. It has also definitely helped my breathing. I've used it for about three weeks now and it has gradually helped me feel better. I can't imaging getting through the week without it now. Highly recommend for a small space." —Alway
Get it from Amazon for $34.99.
10.
A bedroom air purifier whose HEPA filter can soothe asthma and hay fever AND it's budget-friendly, making it a win for your wallet and your breathing.

Filters smoke, hair, dust, pollen, and odors. Filter should be replaced every six months and a double-pack is $30.99.

Promising review: "This little thing really works. Put it in my bedroom with the door closed, and after a day, the air was noticeably cleaner and fresher smelling. On low setting, it is barely audible. Great solution for a single room or dorm room." —thealmans
Get it from Amazon for $39.99.
11.
A Dyson air purifier you can control with an app that's designed without any blades and a sealed filter that can easily fit it into the corner of your bedroom. Now you can enjoy fresh air *without* an eye sore.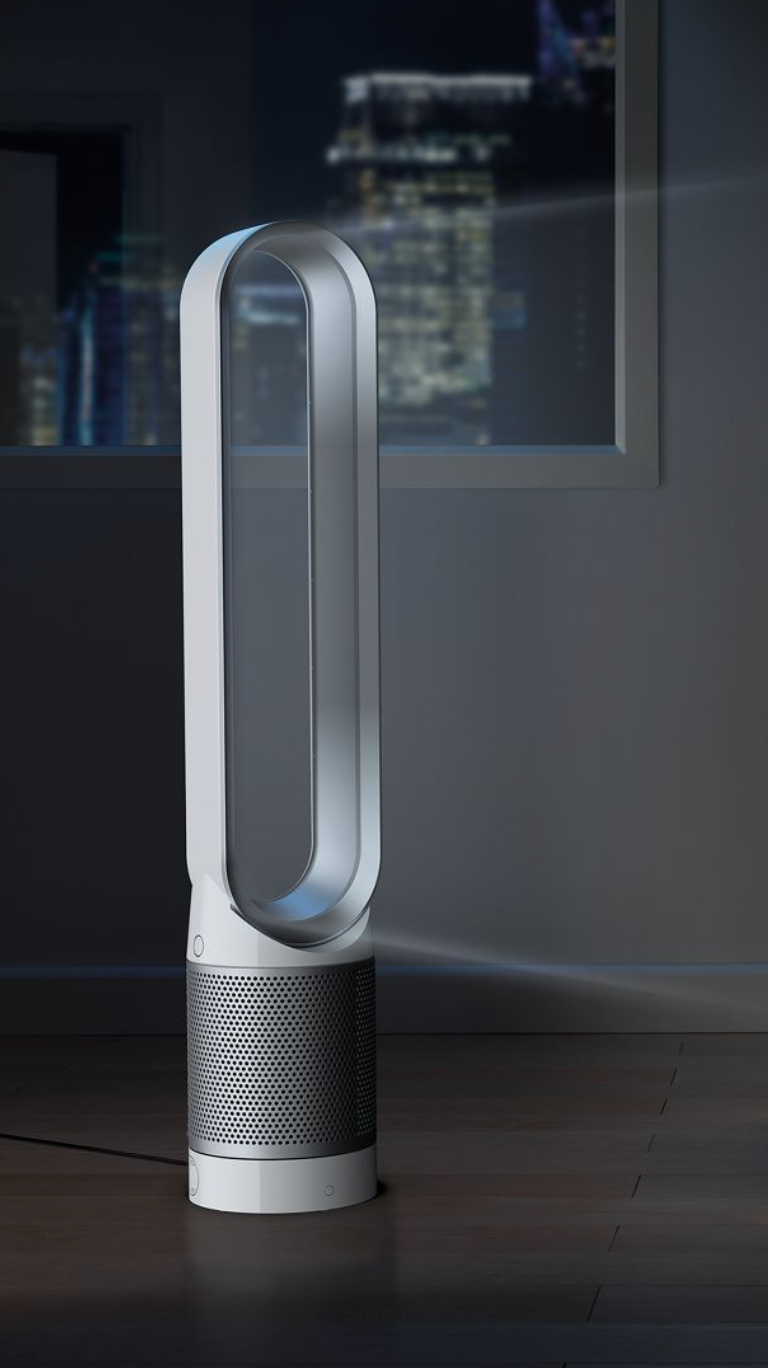 Filters and streams purified air, and you can monitor air quality by using the app. The brand recommends changing your filter every year which can cost up to $69.99.

Promising review: "This air purifier and fan is the best you'll ever own. It really filters everything from Lysol spray to smoke outside. Unfortunately, it also cleans out all smells in the house including the wonderful smell of fresh bread. I love the fact it comes on by itself when the need arises and turns off when it's done. I highly recommend this product 100%." —Wendy
Get it from Dyson for $319.99 (originally $519.99; available in three colors).
12.
An auto adjusting air purifier for large and medium spaces as it cleans up to 912 square feet of space and uses a particle sensor to switch up the fan speed, which will keep that energy bill low and your air ~pristine~. 

Filters smoke, odor, pollen, dust, mold, bacteria, hair, and pet dander. You should try replacing your filter yearly, which can cost around $21.99.

Promising review: "I love how quiet this gets on its lowest setting. I've had it set to auto since I've had it and the sensors in it are super accurate compared to some others in the same price range. It's easy to look at and fits visually in most places in most rooms. You can pick a different color filter color on their website and it's easy to install. There's also a relatively long power cable to hide behind couches and tables for a more discreet experience." —Justin S.
Get it from Amazon for $139.99+ (available in five styles).
13.
A versatile Hamilton Beach air purifier which can be placed horizontal or vertical depending you can put on your desk or under a side table, while cleaning up to 160 square feet of your living room.

Filters pet dander, dust, dust mites, pollen, and mold and mildew spores. Filters should be replaced every six months, with a double-pack costing around $17.80.

Promising review: "I've been searching for a small, desktop purifier for ages and I finally found the perfect one! My apartment tends to get very dusty and the air quality isn't great in here (old vents), so I'm constantly suffering from horrid dust allergies. Plus, the dander from my two cats and I also work from home now, so I'm here a lot and having clean air is super important. I wanted something small enough to fit on my desk/nightstand, but still powerful enough to clean the air, and this does the trick!" —Brooke
Get it from Amazon for $69.99.