2.
A beaded chicklet bracelet boasting vibrant colors and a slim construction you can easily slide onto your wrist for a quick pop of color to your OOTD.

3.
A sterling silver and stone beaded bracelet you'll be looking for any excuse to wear — it's *so* simple, cute, and stretchy for all day comfort.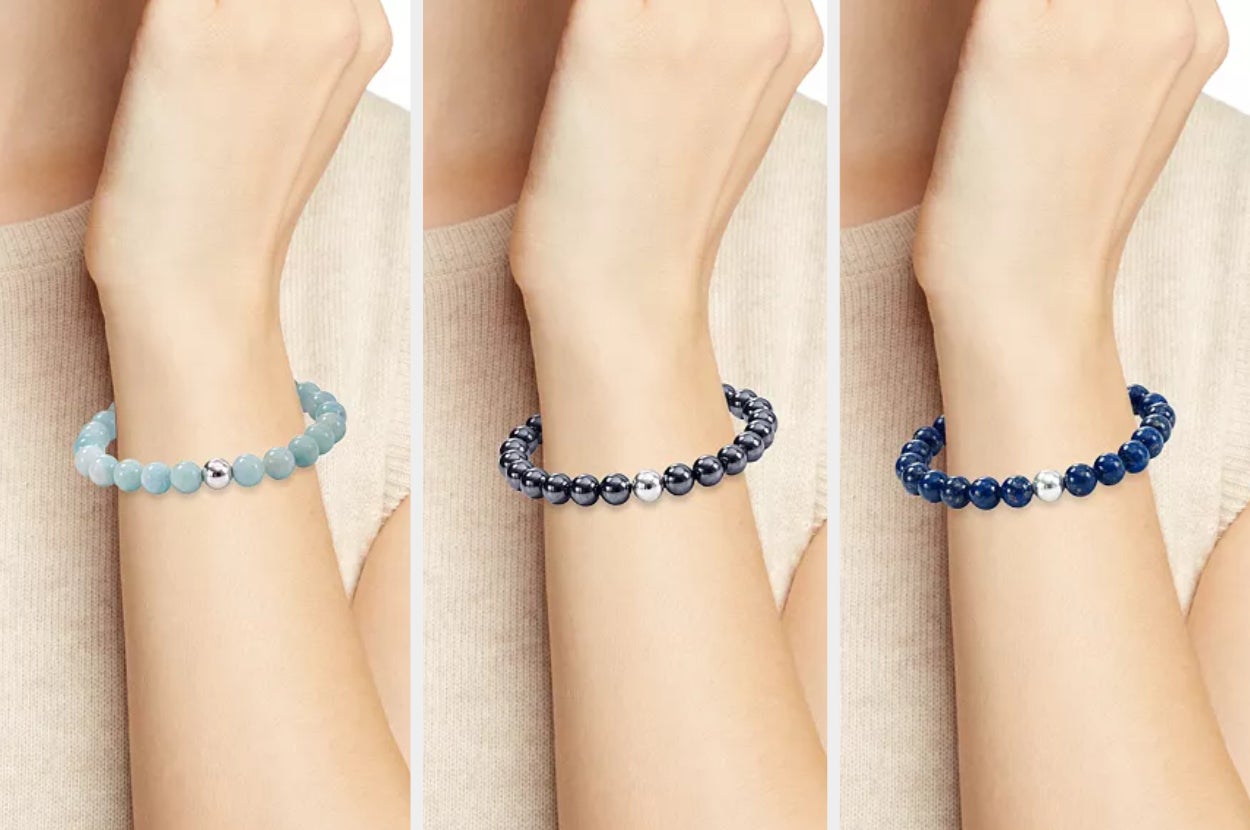 Promising review: "100% perfection. The colors remind me of the ocean, which is my favorite place to spend time. It fits and feels like perfection." —Living at the beach

Get it from Bloomingdale's for $35 (available in four colors).
Complete your look with some statement earrings, too.
4.
A butterfly beaded bracelet featuring metal charms made from Rafaelian gold that'll have your friends fluttering to you to ask where you got it.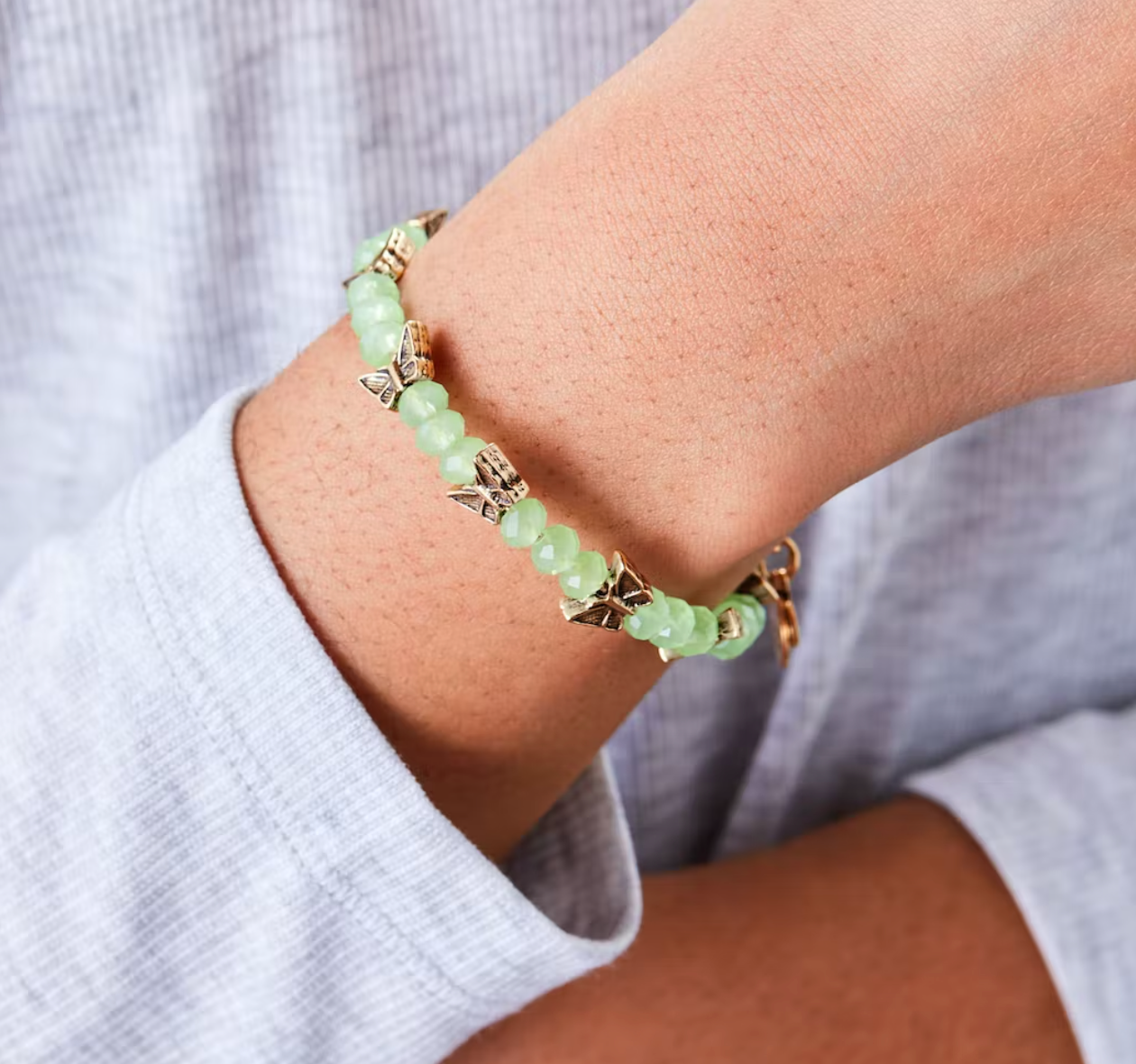 The material is also nickel-free.
Promising review: "I love this butterfly beaded wrap bracelet. It's unique, eye-catching, and smaller in circumstance than a lot of their beaded wraps, which is perfect for my small wrist. Beautiful worn alone or stacked. I also have it in pink." —Claudia L.
Get it from Alex and Ani for $49.
5.
A rose beaded bracelet decorated with floral accents that'll really ~flourish~ on your arm — you'll basically have a beautiful garden with you at all times.

This bracelet is set in gold-tone metal with glass beads and a stretch closure.
Promising review: "I gave this to a friend who loves roses. It is even prettier in person — it looks like faceted glass beads with delicate roses inside. She adores it." —Mel

Get it from Amazon for $30.
While you're at it, add some flare to your ankles with these ankle bracelets.
6.
A set of two dainty gold beaded bracelets you can't help but sing 🎶 "You're so golden" 🎶 to — especially since they're made with hypoallergenic 14K gold plating.

Promising review: "I got these bracelets about six months ago, and I absolutely LOVE them! I wear them all the time (minus in water), and they haven't tarnished! The absolute best. 100% recommend." —Lexie Matsinger

Get it from Amazon for $13.99.
7.
A mushroom beaded bracelet for sporting a fun yet whimsical look made from freshwater pearls and 18K gold-plated brass. You'll no doubt be considered a fungi with this piece on.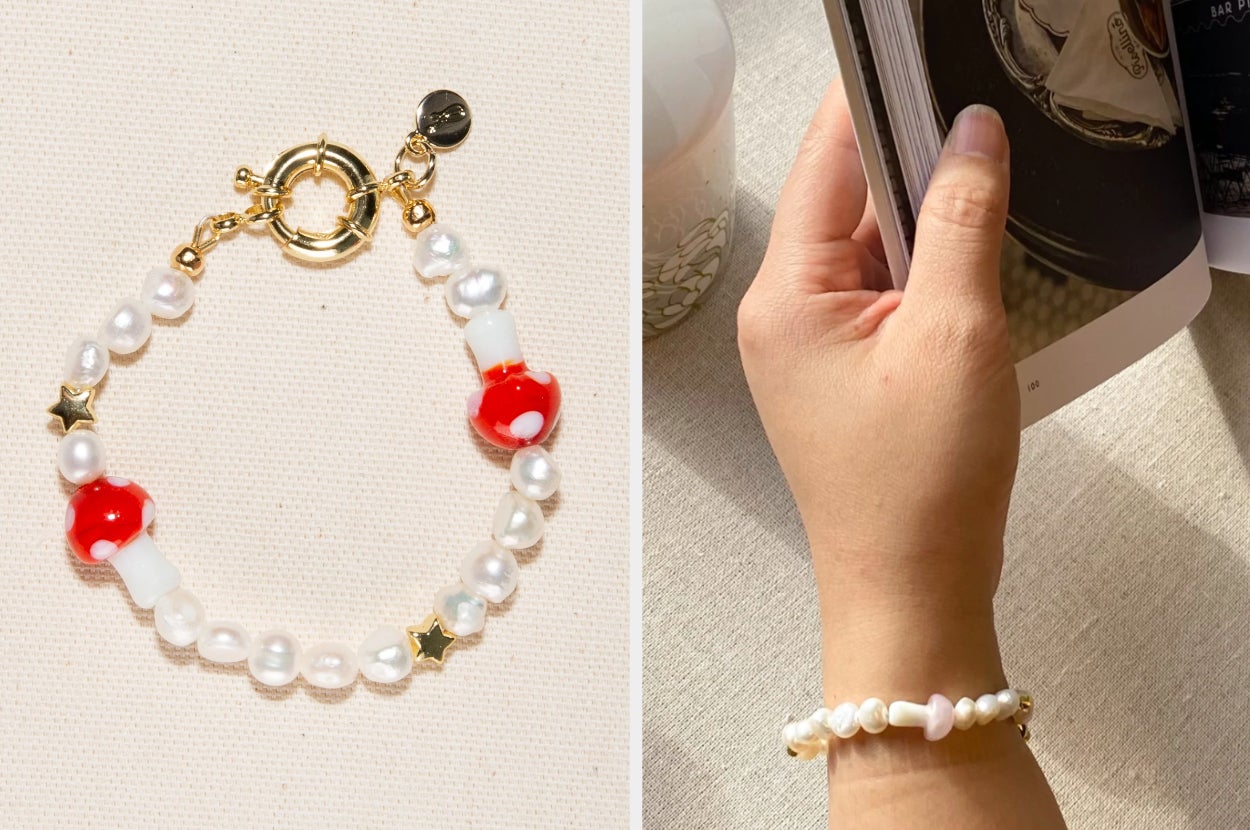 Joey Baby NYC is a small woman-owned shop that aims to create trendy pearl jewelry and accessories at an affordable price.

Promising review: "Such a fun and pretty piece that adds a lot of personality to an outfit." —Pamela
Get it from Joey Baby NYC for $39 (available in three sizes and two colors).
8.
A Ralph Lauren stretchy beaded bracelet constructed from sterling silver-plated brass. You'll be wearing it so often, your jewelry holder will be begging you to put it away so it can *finally* have some alone time with it.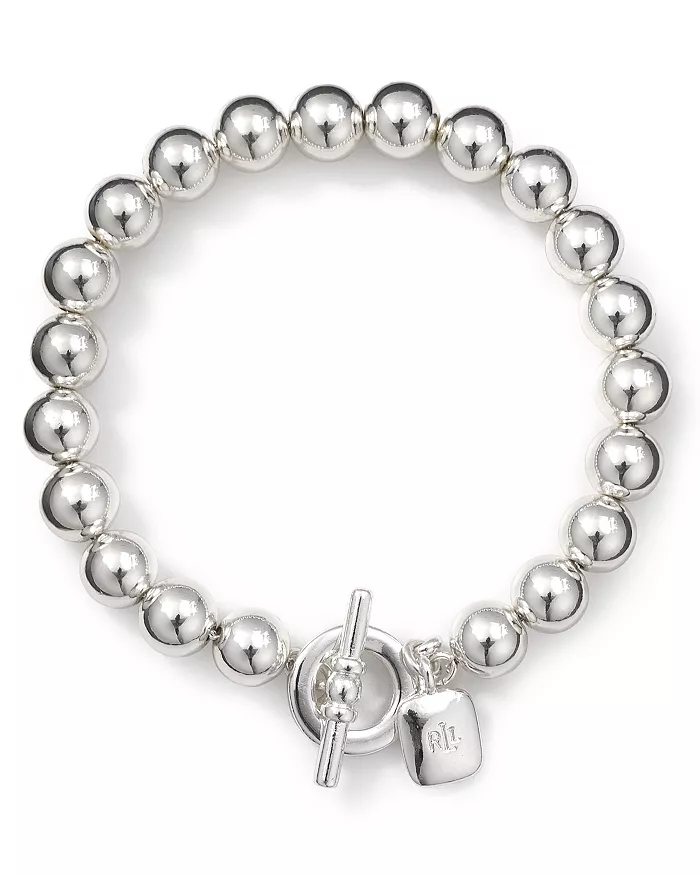 Promising review: "This beaded bracelet is elegant and sophisticated. It compliments any wardrobe, any time of the day. I absolutely love this bracelet and am so happy that I purchased it." —The Lady in Silver

Get it from Bloomingdale's for $38.
9.
A delicate turquoise beaded bracelet with an adjustable chain oozing so much elegance — don't be surprised when your dainty necklaces start staring down at your wrist in envy.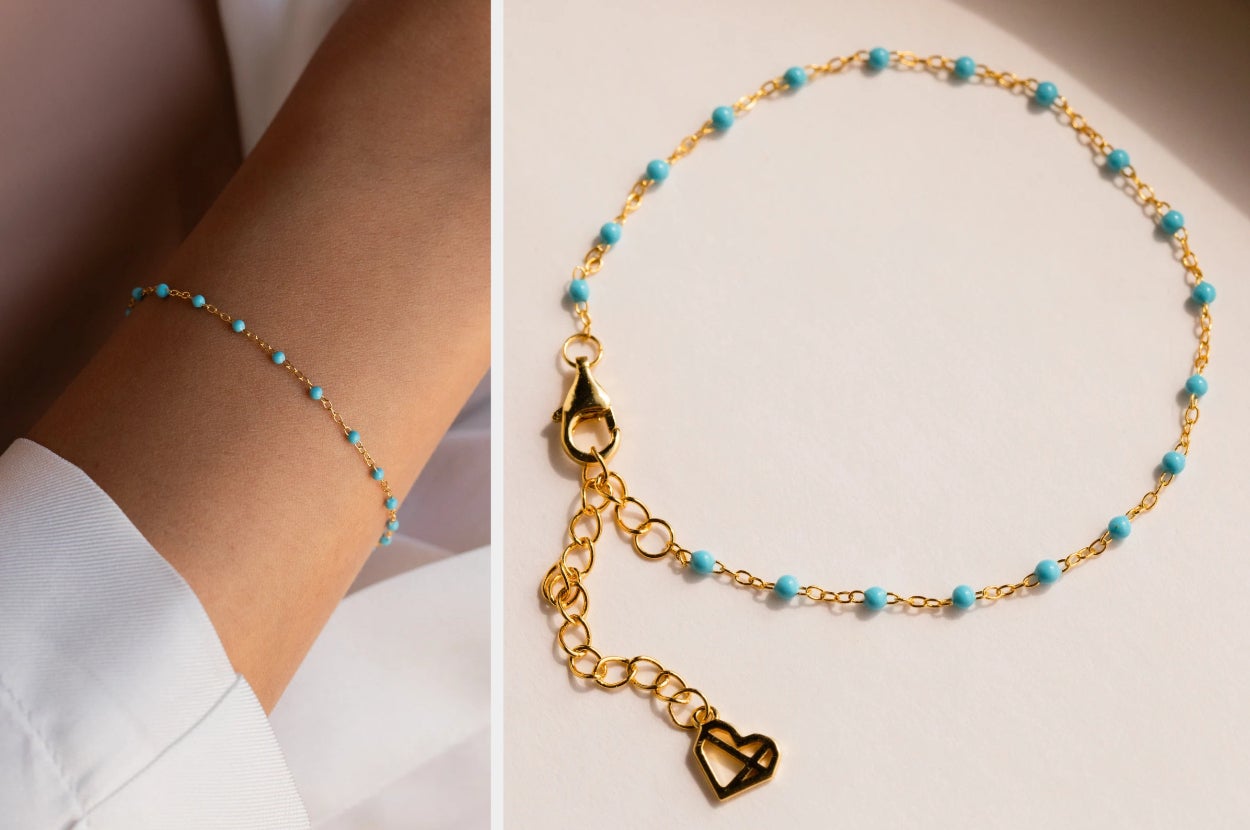 Caitlyn Minimalist is a small woman-owned shop on Etsy that produces dainty minimalist jewelry to layer or wear alone.

Promising review: "Ok, I am truly OBSESSED with Caitlyn's shop!!! Not just with the quality of alllll of her items, but the price is just amazing! I have been ordering jewelry from her for a while, and there hasn't been one that I have been disappointed or sad about. If you are like me and like to read the reviews, please know that you will just loooove this shop — you will never regret buying from her." —Brigitte Carrero
Get it from Caitlyn Minimalist on Etsy for $25.90 (available in two chain colors).
10.
A speckled beaded bracelet assembled with Dalmatian jasper beads, which are said to bring a sense of playfulness and joy; meanwhile, the golden engraved plate provides a positive mantra to help you through those Sunday scaries AND Monday blues.

Presently is a small shop founded by two sisters with a goal of producing jewelry that uses positive affirmations to help people stay in the present moment.

Promising review: "This bracelet is SO beautifully made! Love how unique the Dalmatian gemstones look, and how delicate and discreet the engraving is. Honestly, I underestimated the impact that wearing a mindfulness message would have on my day-to-day life. So happy I got this." —Michele M.
Get it from Presently for $58 (available in six engravings).
11.
A lifetree beaded bracelet that comes in a set of three for anyone looking to ~branch~ out and amp up their accessory game, but without breaking the bank.

12.
A strong AF beaded bracelet for reminding you how much of a bada** you are while providing some extra pizazz to your 'fit.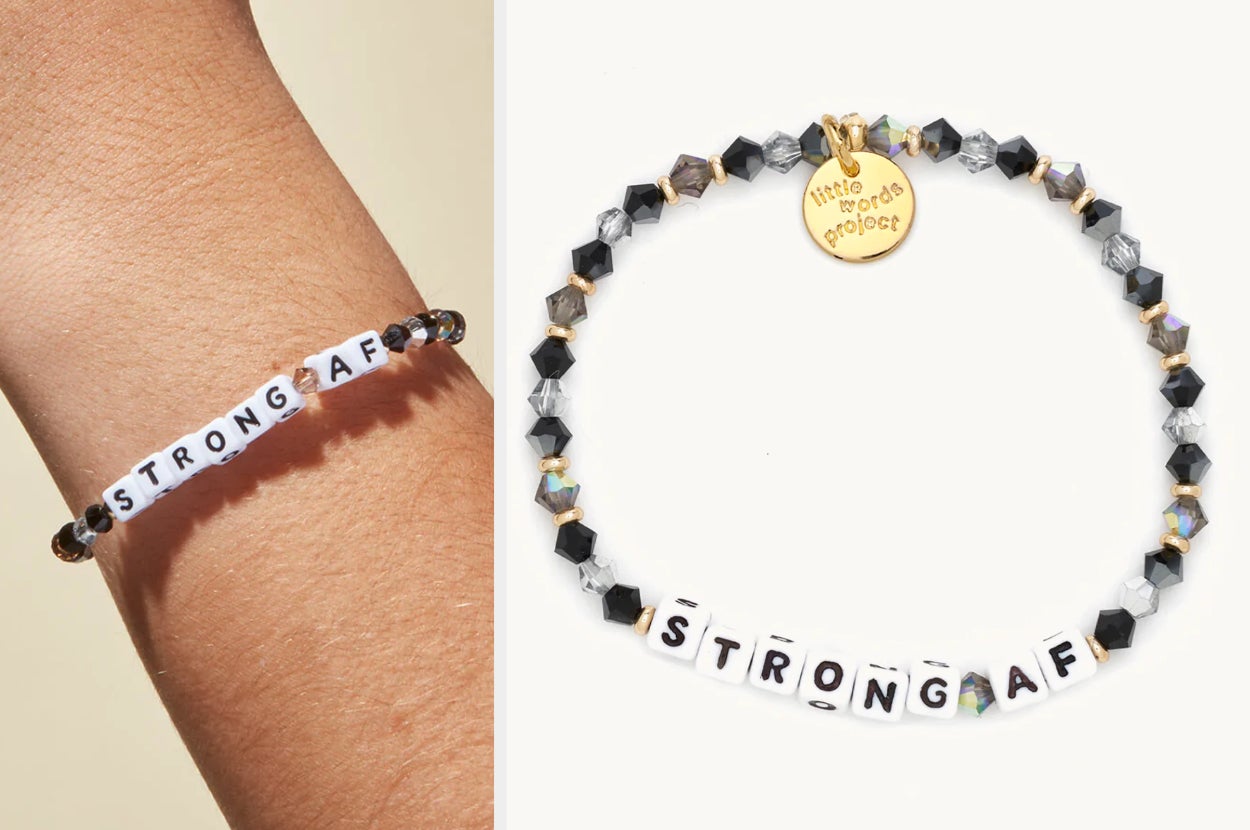 Each one is handcrafted from plated brass and has an elastic stretch band. Make sure you don't get it wet to ensure it lasts long.

Promising review: "I have worn it every day since I got it. I fiddle with it when I'm nervous and look down to remind myself that I am strong and can make it through whatever the current struggle is." —Michelle B.
Get it from Little Words Project for $25 (available in sizes XS–XL).
13.
A contrasting beaded bracelet with elegant pearls on one side and classic gold beads on the other — flaunt both of them together, or pick one side to show off during a photo-op. Either way, you'll definitely look polished.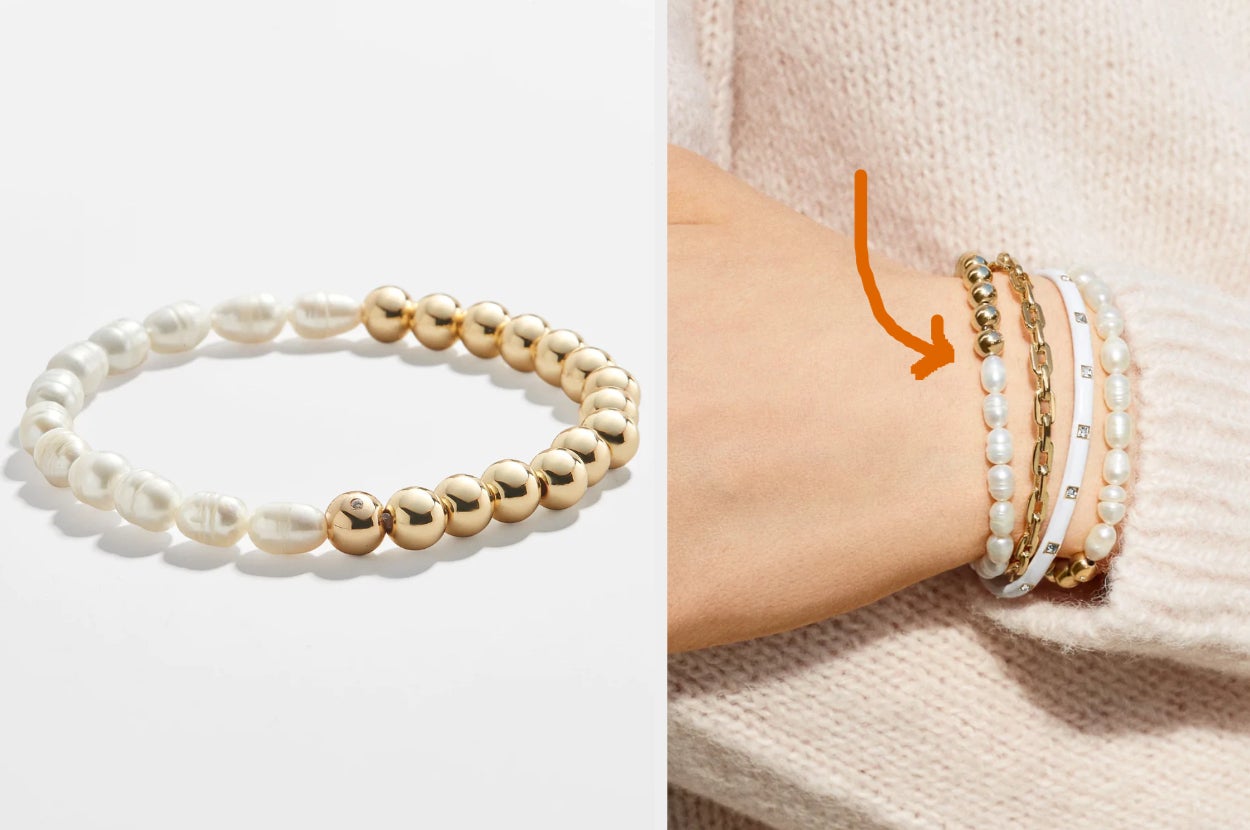 The bracelet is made from organically shaped pearls, glass stones, and gold-plated brass. If you're worried about allergies, don't be! This one is hypoallergenic.

Get it from BaubleBar for $30.
14.
A variety pack of beaded bracelets exuding beachy California vibes so you can feel as though you're lounging by the ocean (even if you're really just on your couch).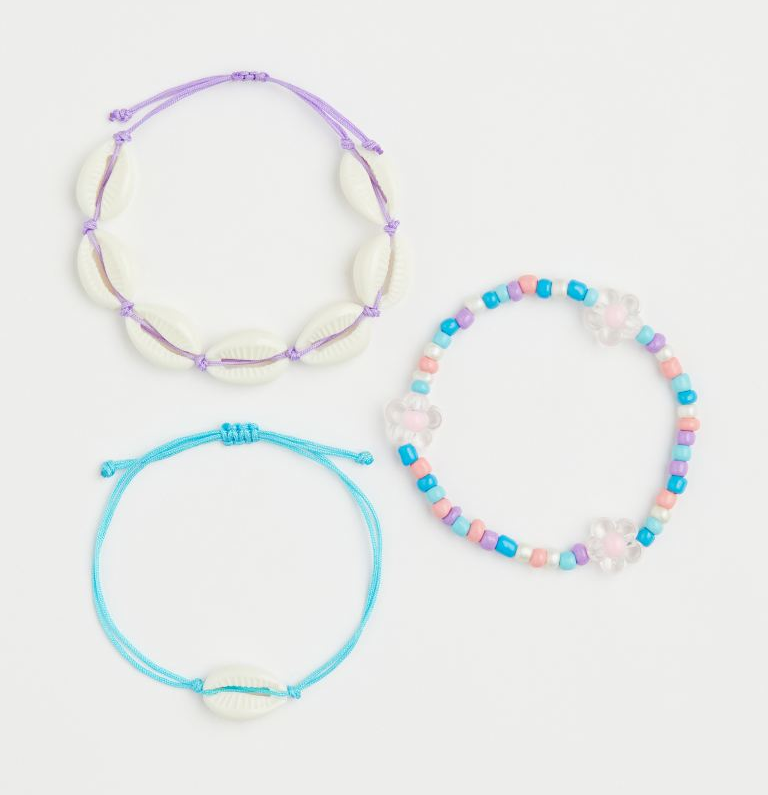 Two of the bracelets are made with an adjustable fabric cord and plastic shell-shaped beads, while the other one has an elastic stretchy band and plastic flower-shaped beads.

Get it from H&M for $7.99.

15.
A gold initial beaded bracelet if you're looking for a gift that's personalized and will be total ~arm candy~.

This uses hypoallergenic and nickel-free material for a more comfortable wear.

Promising review: "I absolutely love personalized jewelry, so I was very excited to receive this as a gift. It's dainty but durable, was a very beautiful Mother's Day gift!" —Nordis Hewett Smith
Get it from Amazon for $13.99 (available in two colors and 26 letters).