Obviously you know Drake Bell, the costar of Drake & Josh. He's also a singer who's released five albums.
Well, Drake has been going viral on social media lately since fans noticed him drastically rebranding himself.
A year ago, Drake tweeted in Spanish, "My social networks will now only be in Spanish, no more English."
And his name on his accounts changed to "Drake Campana." "Campana" means "bell" in Spanish.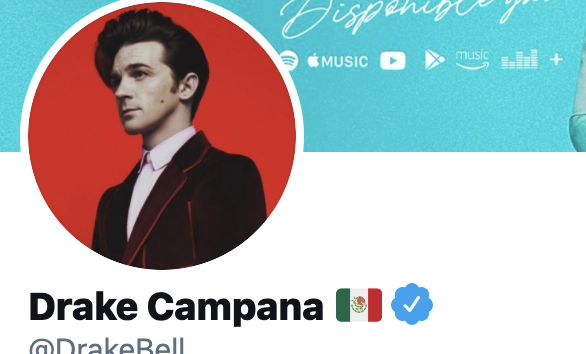 In an interview with Esquire a few months ago, Drake explained why he's been releasing music in Spanish. "I wanted to do something for the fans of Mexico, with Latin rhythms, and I wanted to do something like what I have heard on my tours and visits to Mexico. I love writing in Spanish; it is a beautiful language."
At first, fans thought that he had renamed, rebranded, and relocated because of his higher sales in Spanish-speaking countries, compared with his lackluster sales in the United States. In fact, two of his most popular songs on Spotify are in Spanish:
"When I started dating Drake, I was 16. I was homeschooled. I moved in with him," Jimi, whose nonstage name is Melissa Lingafelt, said in the video. "It wasn't until about a year when the verbal abuse started, and when I say 'verbal abuse,' imagine the worst type of verbal abuse you could ever imagine, and that was what I got. It then turned to physical — hitting, throwing, everything."
She continued, "At the pinnacle of it, he drug me down the stairs of our house in Los Feliz. My face hit every step on the way down. I have photos of this."
People on Twitter are shocked and upset by the situation and allegations.
After Jimi posted that TikTok, Drake, via his reps, denied the allegations in a statement to Variety:
I never abused my ex-girlfriend or did so many of the other things Melissa falsely claimed on her TikTok video. As our relationship ended — more than a decade ago — we, unfortunately, both called each other terrible names, as often happens when couples are breaking up. But that is it. Clearly, Melissa still felt close enough to me just last year that she was comfortable reaching out to ask me to provide her with financial support during a tough time (which I did). I do not know if today's behavior is some kind of misguided quest for more money or attention. But I cannot and will not allow these offensive and defamatory allegations to go unchallenged and I am reviewing my legal options.
Since the whole situation went viral again, Drake has not made any additional statements or clarifications. We will update you if he does.