The culprit being apprehended by in the photo below is Alistair Robinson. He and his wife, Sara, both work at the Cheshire constabulary in northwest England.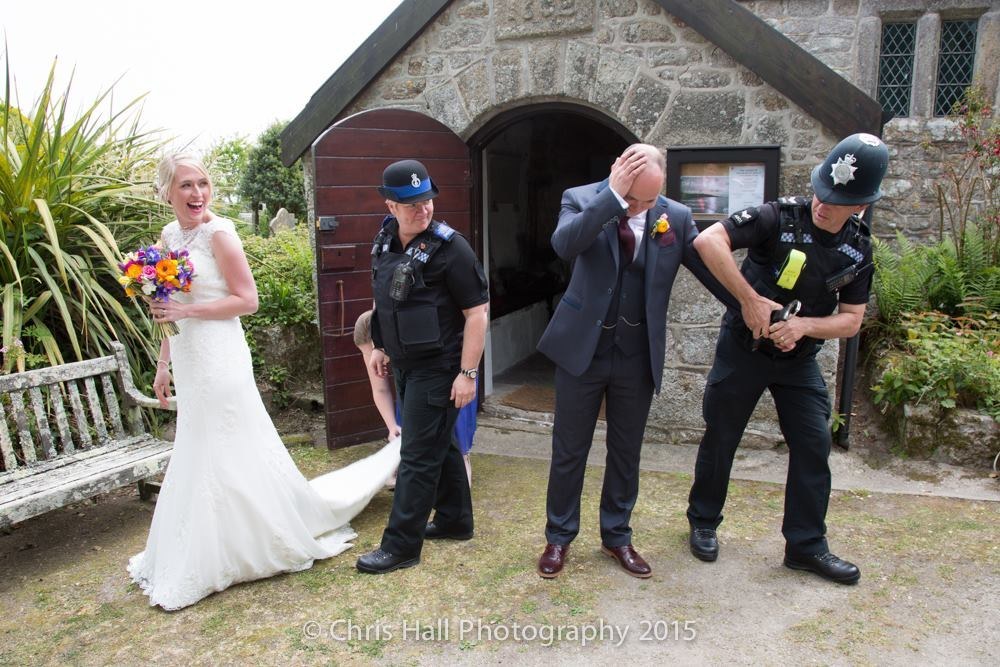 Robinson reached out to the Isles of Scilly police six months before his wedding because he was a big fan of all the silly stuff they do on their Facebook.
The eccentric little police force is known throughout the UK for its Facebook hijinks.
Robison told the Daily Mail though that he never expected the police to surprise-arrest him and then put it on their Facebook.
According to the Isles of Scilly police's Facebook, they surprise-arrested Robinson for "wasting police time":
Six months ago Alistair contacted us and asked if Isles of Scilly Police could come along to his wedding at Old Town Church. He and Sara, were travelling with their entourage from Cheshire to the islands for the special event. He didn't actually specify why he wanted us there or what role he wanted us to have so we reverted to type and arrested him on a trumped up charge of Wasting Police Time as he left the church.

It will be the joy in his Bride's, face as he was lead off in cuffs that will hurt him the most. He got life.

If you approve of our Zero Tolerance, no nonsense, approach please let us know. It is so important to get feedback.
"I knew that Colin, the police sergeant on Scilly, was going to do something police-related," Chris Hall, the photographer who snapped the photo, told BuzzFeed News. "Guests knew nothing and quickly realised the ruse. There was lots and lots of laughter."
The Robinsons decided to have their wedding in the Isles of Scilly after getting engaged their last year. "The bride and groom are obviously in love with each other," Hall said, "and that joy shone through all day."
Ryan Broderick is a reporter for BuzzFeed News and is based in London.
Contact Ryan Broderick at ryan@buzzfeed.com.
Got a confidential tip? Submit it here.