Two Children Wrote A Letter To Disney About Its Racial And Gender Stereotypes
"We hope you know we had an awesome time at Disney and these are suggestions to make it more inclusive and magical for everyone."
Earlier this year, a young boy called Dexter visited Disneyland with his sister and parents. He loved Disneyland and had visited once before – but this time, his visit was different.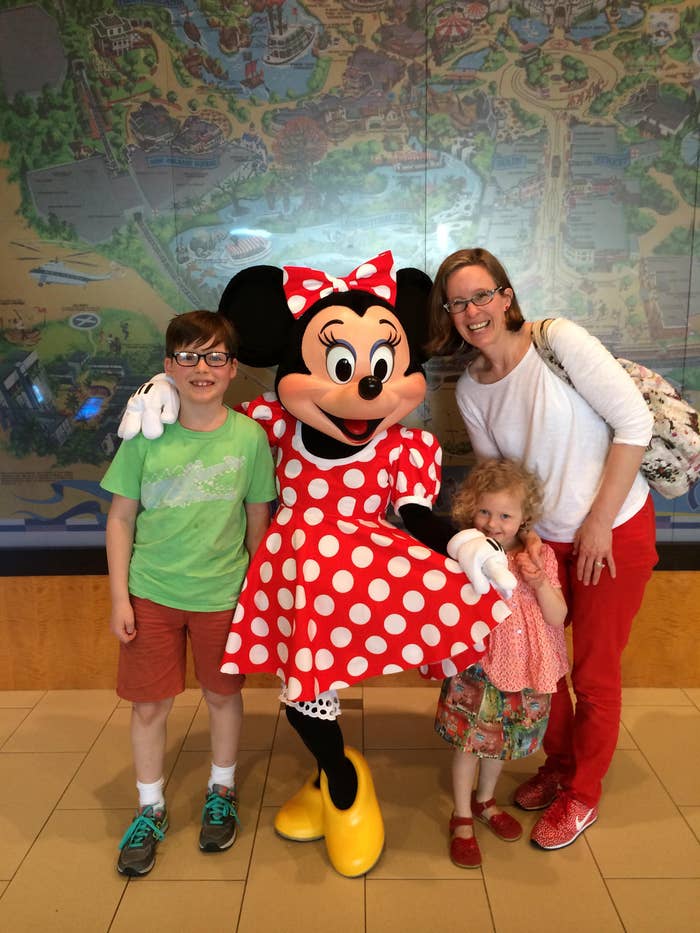 Aged only 9 years old, Dexter saw many problems he hadn't noticed before as he walked around Disneyland: Many of the rides and characters fit racial and gender stereotypes.
His father, Jake, who asked that his son's last name not be used, told BuzzFeed News: "I let him choose different rides to go on at Disney, and he asked to go on the Jungle Cruise. As we left, he was quiet, and I asked if he liked the ride as much as he expected, and he said, 'I didn't really like it.'"
Dexter told his father that he didn't like it because "the robotic people have dark skin and are throwing spears" and he thought it reinforced negative associations.
Jake said that his son saw things at Disneyland that "no longer made sense versus his understanding of how the world should be".
When Dexter returned home to New York, he and his third-grade classmate Sybilla – who had also noticed many of the same problems during her visit to Disneyland – decided to write Disney an open letter.
The letter, which was first shared on Brain Pickings, offers suggestions to Disney about how it can be better. It reads:
Dear Disney,

Like most people we love your attractions, but we found some problems with some of them and those problems are stereotypes. Stereotypes are something that some people believe are true but sometimes may not be true. For example say somebody said "girls only like pink", that's a stereotype, some girls might like yellow and not pink. You can never really judge.

We are third graders from New York City at The Cathedral School. We learn about stereotypes, and the impact they have on people's identities. For instance, in the jungle cruise, all the robotic people have dark skin and are throwing spears at you. We think this reinforces some negative associations, we think you should replace them with monkeys throwing rotten fruit.

We noticed that on our trips to Disneyland and Disneyworld that all the cast members call people Prince, Princess, or Knight, judging by what the child "looks like" and assuming gender. We think some feelings could get hurt, say by accident you called someone a Prince who wasn't a Prince or a Princess, or a Knight, or who was identifying differently than what they were called. We suggest you say "Hello, Your Royalty" instead.

With the Princess Makeovers, we think you are excluding other people who might want a makeover to be something else, including boys and transgender people. When we went to the Princess Castle, the characters only greeted the people they thought were visiting girls, not the visiting boys and again said "Hi Princess."

We hope you know we had an awesome time at Disney and these are suggestions to make it more inclusive and magical for everyone. Please reply and let us know your thoughts.

Sincerely,

Sybilla and Dexter, The Cathedral School
Dexter and Sybilla were inspired to write the letter because their school and teachers had taught them about the importance of equality.
Dexter and Sybilla's school, The Cathedral School of St. John the Divine in Harlem in New York City, runs an identity program that teaches children to value equality and sensitivity, the importance of social justice, and the consequences of white privilege.
But it was also their teacher, Elena Jaime, who inspired the two classmates to write the letter. Jake told BuzzFeed News: "Ms Jaime had also instilled in them a deep concern with social justice around identity."
Dexter's parents are immensely proud of their son and Sybilla for seeing something that "millions of adults" do not.
"I think the letter is an amazing example of what happens when you inspire and instill values into children, who then don't have the conditioning to ignore the world around them, even with things they love, like Disney," said Jake.
Dexter and Sybilla have yet to hear back from Bob Chapek chairman of Walt Disney Parks.
Jake said, "We haven't heard back yet, but hopefully if people share our story we can get more of a chance to hear from them!"