Meet Martin Shkreli, the 32-year-old founder of Turing Pharmaceuticals, a biopharmaceutical company, from Sheepshead Bay, Brooklyn.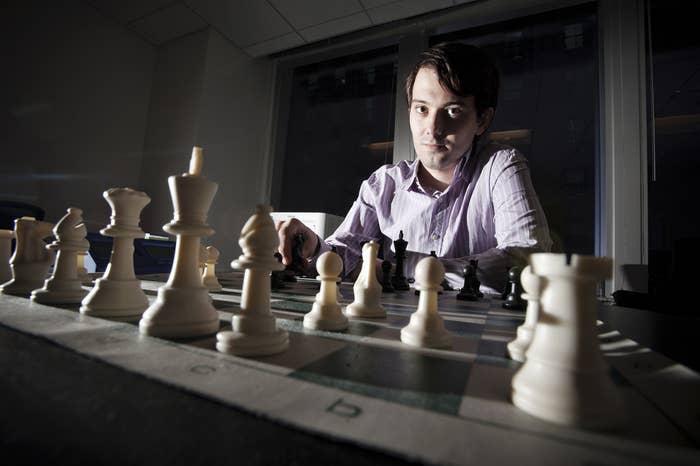 On a now-deleted OkCupid page, Shkreli says he started the drug company "to find treatments for rare and severe diseases," and that he spends a lot of time thinking about "investments, family, and human suffering."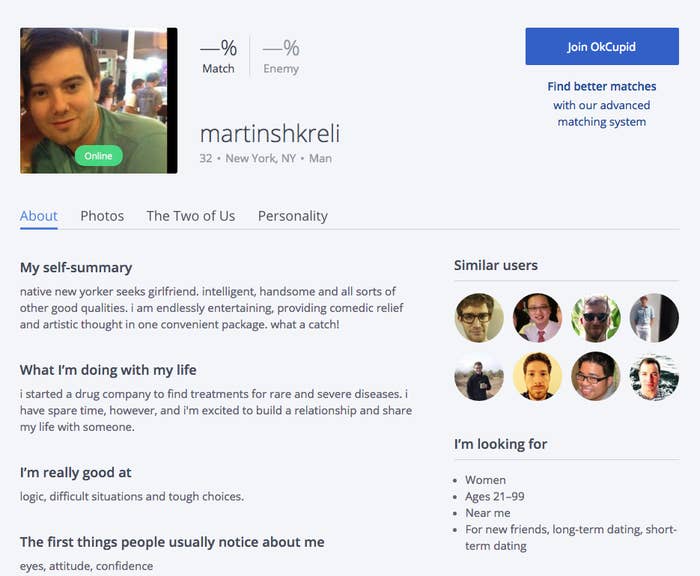 Last month, Shkreli's company purchased the rights to the drug Daraprim, a lifesaving drug used by AIDS and cancer patients, for $55 million.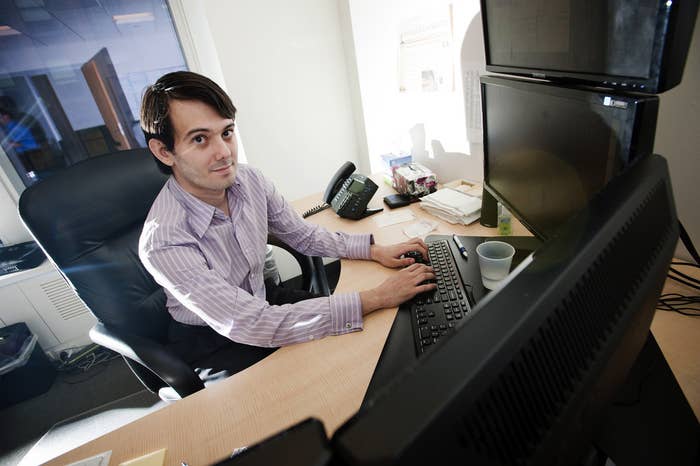 Shkreli — who was once named as a "promising new philanthropist" and listed as "30 under 30" in Forbes finance list — decided to increase the price of the drug from $13.50 to $750 per pill overnight.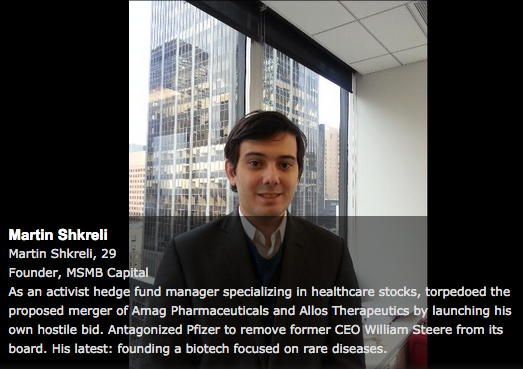 Shkreli defended his decision to Bloomberg, saying it was "necessary to make a profit" on the drug to be able to invest in research to develop new versions of it.
Shkreli also claimed to the Washington Post that it had actually cost $18 per pill, not $13.50, marking it as a mere 4,000% price increase, not a 5,000% increase.
The drug originally cost $1 per pill, and had reached $13.50 per pill by the time it was bought by Shkreli. Following the dramatic new price increase, some patients who use the drug could face hundreds of thousands of dollars in annual costs for the treatment.
Daraprim is used to treat a parasitic infection known as toxoplasmosis but can also be used to treat malaria. It's listed as one of the most important medications needed in a basic health system by the World Health Organization.
After days of public outrage, Shkreli told ABC News Tuesday his company would reduce the cost of Daraprim to make it, "more affordable." What that price will be, however, he did not say.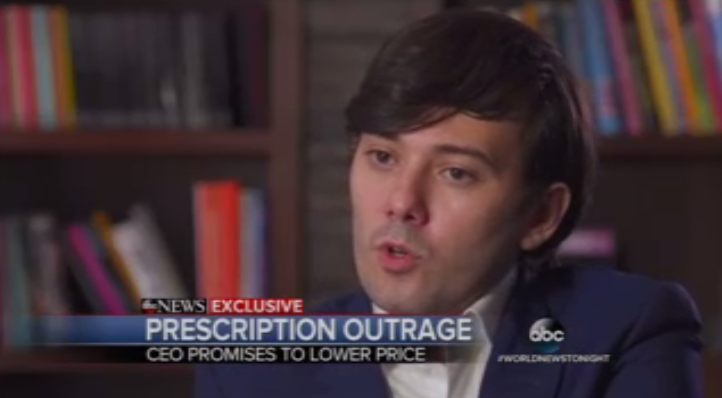 When Shkreli was asked to explain why he raised the price of the lifesaving drug by such a significant margin by John Carroll, the editor of Fierce Biotech, Shkreli called him a "moron."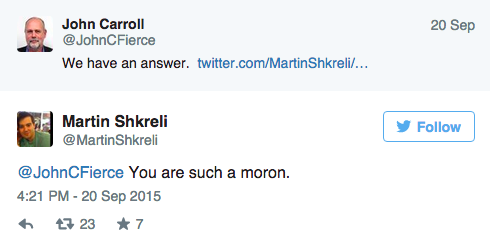 The public outcry has even led to condemnation from Hillary Clinton, who shared the New York Times article and described the move as "outrageous."
Shkreli took to social media to respond to the intense backlash he faced. Undeterred by the criticism, he shared Eminem's "The Way I Am" on Twitter.
Last month, Shkreli was sued by Retrophin, another company he founded, for $65 million after he was accused of using company money to pay back angry investors.
Retrophin also bought and controversially hiked the price of old drugs. When it bought the rights to the treatment for a rare kidney disorder and raised the cost of the treatment more than 20 times its original cost, Shkreli took to Reddit to defend his actions.
"I am not hiding from the fact we are a public company and we're trying to make money," Shkreli wrote. "There is zero doubt about that. It would be misleading and inappropriate to suggest otherwise. We're not here for the lulz."
At the time, he also took to Twitter to respond to criticism, referencing Wu-Tang Clan to state that he was "not the one to fuck with."