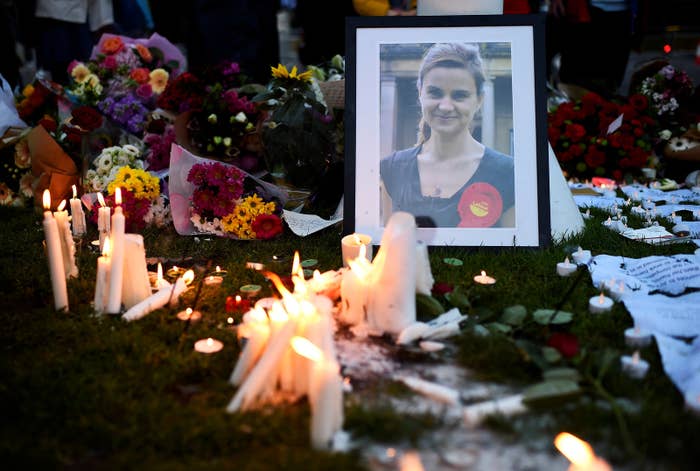 Faith and community leaders in Jo Cox's constituency described Thomas Mair's life sentence for their MP's murder as "inevitable," and praised the Cox family for the "inspirational" strength they displayed throughout the trial.

Mair, a 53-year-old white supremacist whose home was found to be littered with Nazi literature and memorabilia, will spend the rest of his life in prison after being found guilty of murdering the Labour MP. The jury took just over 90 minutes to return the guilty verdicts.

Cox was killed by Mair in the centre of Birstall, West Yorkshire, on 16 June. Since her murder, the community has held multiple events in memory of Cox, who had represented the constituency of Batley and Spen for a year. Elsewhere across the UK, people raised more than £1 million for three of her favourite charities: Hope Not Hate, The White Helmets, and the Royal Voluntary Service.
Reverend Roger Smith met Cox many times in the 10 years he's served as the minister of Birstall Methodist Church. His church is located a five-minute walk from where she was killed.
Smith described her as a "passionate" MP who "brought together local and global issues", and said although he expected a guilty verdict, he and others in his church were shocked by the violent details revealed in the court case.
"The verdict was inevitable," Smith told BuzzFeed News over the phone. "But what the court case has brought out is just how incredibly brutal the attack was, and the sheer horror of it, along with an apparent complete lack of remorse, which was shocking."
Smith said the response from the local community "has been a united one", and continues to "bring out the best in people despite the terrible circumstance".
He also praised the Cox family in light of the verdict, saying: "I think the dignity in which family responded was inspirational, and I hope all of us can live up to the ideals Jo Cox stood up for."
Mohammed Saloo, a centre coordinator for the Indian Muslim Welfare Society, a local Batley volunteer organisation, had worked with Cox numerous times.
He described her as an MP who brought together different faiths and groups, and worked "tirelessly" to try to get to know every person in her constituency.

Saloo said he spoke on behalf of friends and colleagues when he said members of his organisation were "devastated and horrified" when they heard the extent of the violence that was inflicted on Cox, and described her as a "force of good" for the community.
"When people say we're going to miss Jo, that's very much the case," Saloo told BuzzFeed News. "But what I don't think people really understand is just how we're going to miss her.
"In Batley, we've become very strong and united – there was strength there already, but I've noticed that people from different faiths and backgrounds working together has increased in recent months."
The Crown Prosecution Service described Mair's actions as an "act of terrorism". Sue Hemming, its head of special crime and counter terrorism, said: "Mair has offered no explanation for his actions but the prosecution was able to demonstrate that, motivated by hate, his premeditated crimes were nothing less than acts of terrorism designed to advance his twisted ideology."
Saloo said that he also believed the murder was an act of terrorism, and that the political element of the killing "needs to be carefully examined with greater sight".
"The sentence itself is right," he said. "There's only so much we can ask, but we are glad he's been found guilty."
Looking forward, Saloo said his society and other faiths in Cox's community would continue to work together.
"We will keep holding events to support Jo's values," he said, "to remind us that we have more in common than not. We will continue to stand against extremism, bigotry, and hate."
CORRECTION
The total sum of money raised for the three charities Jo Cox supported was more than £1 million. An earlier version of this post stated it was £200,000.