A British-Iranian woman from Shepherd's Bush in West London, who was jailed for trying to watch a men's volleyball game, has gone on a hunger strike to protest the conditions of her detention. After more than 100 days inside Tehran's notorious Evin prison, Ghoncheh Ghavami began a "wet" hunger strike — where she will refuse all food, but take liquid – on Wednesday.
The 25-year-old was was in the country to work for a charity teaching literacy to street children and to visit relatives. She was arrested on June 30 outside Tehran's Azadi Stadium for taking part in a peaceful protest demanding women be allowed inside the venue.
Police responded to the demonstration by beating and arresting the protesters, including Ghoncheh. Iranian officials claim she was "propaganda against the regime," as women are banned from watching a number of different "male" sports events.
The human rights organisation Amnesty International, which is campaigning for her release, says she is a prisoner of conscience who's been detained for her peaceful activities to end discrimination against women.
Amnesty International UK Director Kate Allen said: "The Iranian authorities should release her immediately and unconditionally before she suffers ill-health or worse, and stop putting her in a position where she has to choose between risking her health and remaining deprived of her liberty without due process."
Ghoncheh's brother, Iman Ghavami, started a Change.org petition demanding her release. The petition has collected half a million signatures.
On the petition page, her brother says: "I'm a distressed brother who is fighting to bring her sister home. My sister is a law student in University of London. She should not have been arrested in the first place and does not deserve to be in solitary."
A Facebook campaign page has been set up in support of Ghoncheh's release where thousands of people are sharing messages or support. My daughter, dearer than life, It's been 12 days that I haven't seen you, and a week that I haven't heard your voice. I don't know why last week, they took away our minimal right to see each other.You cannot believe my Ghoncheh, how worried your brother Iman is for you, how he misses you. The same patient and calm Iman, no longer has any peace and calm. You don't know how friends and acquaintances, and even ordinary people everywhere in the world sympathize with me, and how thankful I am to them. Do not worry my sweetheart. Your dad, Iman, and I are with you till the ends of the world. We are right behind you until you return home.
The Iranian president, Hassan Rouhani, who recently tweeted his support of women being a part of Iran's sport scene, has not taken any action.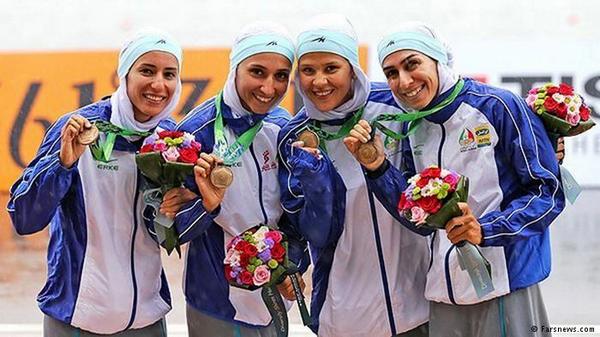 On Christiane Amanpour's CNN show in September, he said: "We never wish for any individuals, Iranian or not Iranian, be it in Iran or in other countries, to be imprisoned or detained or put on trial.
"But naturally as a matter of course individuals can be suspected of something by the judiciary, by the security organisations and they are pursued. As the president it is my goal for the laws to be respected and I hope that regarding every single person you have named in your question … according to our laws they are Iranian citizens only, we do not accept dual-citizenship, but the bottom line is our aim is for the laws to be respected every step of the way."