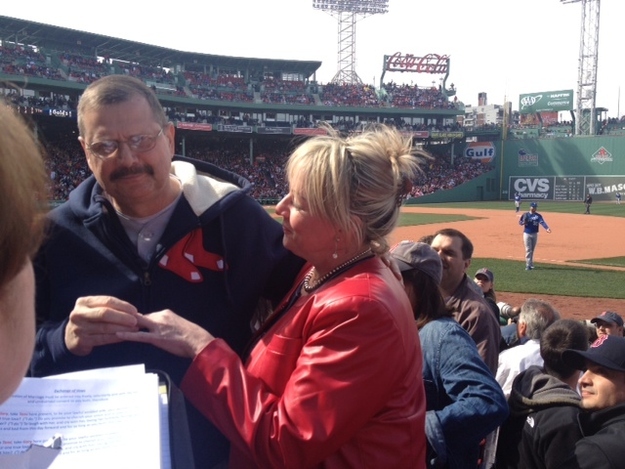 BOSTON — A couple were married in the stands at Fenway Park Saturday as a relieved city celebrated the first Red Sox game after the capture of marathon bombing suspect Dzhokar Tsarnaev on Friday. The Sox won the game by a score of 4-3.
Tammy Larson, from Minnesota, and Greg Lamoureux, of Worcester, Mass., got married a few rows back from the first base line during the seventh inning of the Red Sox game against the Kansas City Royals. Carol Merletti, a Justice of the Peace from Malden, Mass., read them their vows. The bride wore a red leather jacket and Red Sox t-shirt; the groom wore a navy Red Sox sweatshirt.
"It's moving, it's special, it's all about moving forward," Larson said afterward, with tears in her eyes.
Meanwhile, a man in the stands behind them yelled "Sit down! Now you're married, like everybody else."
"That shit would have gone on forever," if he hadn't yelled, the man could be heard saying afterward. "You go to the ball park, a wedding breaks out."
The ball park was the nerve center of Boston on Saturday as the Red Sox held an emotional opening ceremony with first responders on the field, and Neil Diamond himself came out to sing the stadium's anthem, "Sweet Caroline" in the eighth inning. According to Red Sox reporter Jason Mastrodonato, Diamond flew himself to Boston today, and called the Red Sox at 12:30 p.m. to ask if he could come sing at the game.
David Ortiz, back from an injury, took the microphone at the beginning of the game and summed up the feelings of many in the crowd.
"This is our fucking city," Ortiz said, on live television.
He was granted an immediate pass by the Federal Communications Commission, which regulates broadcast decency.
"David Ortiz spoke from the heart at today's Red Sox game," the FCC tweeted Saturday afternoon, attributing the quote to its chairman Julius Genachowski. "I stand with Big Papi and the people of Boston."
Mike McFarlane, of Brookline, and his friend Karen Hill, of Nahant, had been at the game on Monday when the bombs started going off at the marathon.
"I was at Fenway on Monday, me and my friend Mike," Hill said. "And today he said he had tickets, and I said 'I don't know if I can go back."
"But I came and it's been awesome," Hill said. "I'm very grateful for all of Boston."
"We heard there was explosions, and eventually it turned into bombs, and eventually it turned into 'let's get the hell out of here,'" McFarlane said of their experience at the game on Monday.
"I'm happy that it's over, and I'm here for that exact reason," McFarlane said. "To celebrate and move on."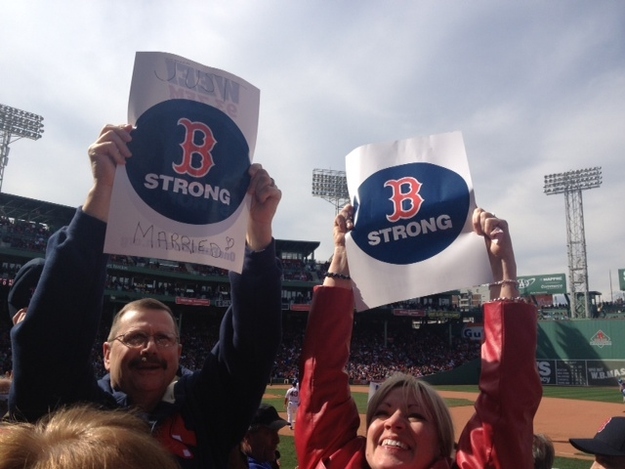 Looks like there are no comments yet.
Be the first to comment!