UK Market Trembles, Steadies, After Trump Wins US Presidency
Traders were braced for a "Brexit-style" fall, but after an initial tumble the FTSE 100 has stablised at 0.5% down.
The UK's financial markets have steadied after initially tumbling in shock to Donald Trump's presidency.
The FTSE 100 opened 2% down at 8am this morning, just under an hour after the most contentious US presidential election in history delivered Donald Trump as president-elect.
Despite investors' fears of a Black Monday or post-Brexit style crash – with many predicting a fall of around 4% – the London Stock Exchange opened with the FTSE 100, the index of leading shares, initially down 141. This shifted back up to stand 58 points at 6786, a drop of 0.8%, before it settled only 0.5% down.
Many of the European markets also opened significantly down, before recovering slightly. The Paris markets opened with the CAC 2.9% down, as the German DAX started the day 2% lower before settling on 1% down. The European Stoxx 600, a broader European index, was down 2.2% but later settled at 1% down.

Analysts admitted they were waiting to see what the long-term consequences of a Trump presidency might be for the global economy.
"It will take a very long time to understand the implications of a potential Trump presidency," a spokesperson for Deutsche Bank, a German global company headquartered in Frankfurt, said in a statement. They continued: "Big picture, it re-enforces the world's shift away from globalization."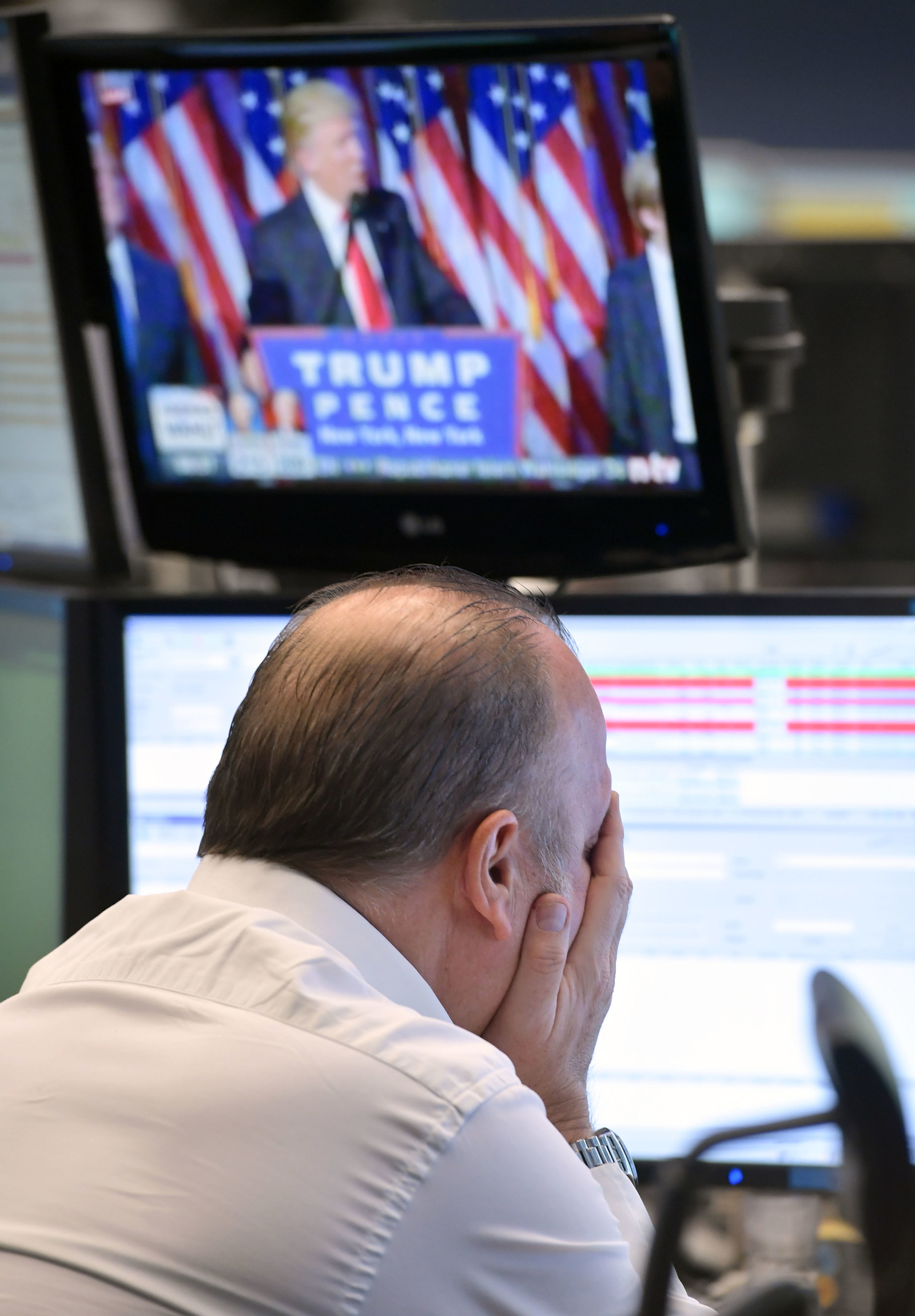 This view was supported by a day of disastrous results for the Asian market. Among the worst affected by the result was the Nikkei 225, an index of large Japanese companies, which closed down 900 points, equivalent to 5.3%.

Masatsugu Asakawa, a deputy minister in the Finance Ministry in charge of monitoring currency, told reporters that they could intervene – as they have done in the past.
Elsewhere, the main Hong Kong index Hang Seng finished down just over 2%. In South Korea, the Kospi – the country's main index – fell 2.3%. Australia's index closed down almost 2%.
"Markets are buckling and will continue to," Richard Dunbar, of Aberdeen Asset Management Senior Investment Strategist, said in a statement to BuzzFeed News. "A lot of this selling will be irrational," Dunbar continued. "Now is the time for cool heads."
As the morning progressed, Brett Diment, of the emerging markets sector of Aberdeen Asset, noted "the reaction from emerging market currencies has actually been remarkably muted so far".

However Jasper Lawler, market analyst at CMC Markets UK, told Sky News that the markets were "freaking out". He continued: "President Trump said his election would be bigger than Brexit - and as far as financial markets are concerned, that is already true."
Global currencies rose in general following the news. The value of the pound has increased against the dollar, however, analysts have pointed out this is less to do with a strengthening UK market – and more to do with a rapidly tumbling dollar.

At 6am – before the UK markets opened – the pound was worth $1.25 to a dollar. Although a one-month high, this is still beneath the value pre-Brexit. After the London markets opened, the sterling's value dropped slight to sterling to $1.2428, a rise of just 0.4%.
In the wider European currency context, the Euro surged against the dollar. By 6am, when many of the American national broadcasters and news outlets had called a Trump presidency, the Euro was up 2% against the US dollar, jumping to $1.126 before settling on $1.1101, up 0.7%. Despite the Nikkei's woes, the Japanese Yen climbed against the dollar by 3%.

Amid the concern, some analysts have sounded notes of calm.
Megan Greene, chief economist of Canadian firm Manulife Asset Management told the BBC's Today Programme that there will be "a bit of a rebound, when people realise this doesn't actually represent Armageddon".
However, she cautioned that a Trump victory had not been priced into consideration by the markets, leading to massive sell-offs aside from "safe-haven" assets such as gold or the Japanese Yen.
The value of gold rose 2.8% to $1,311 an ounce, with silver also up 2.5% to $18.84 an ounce, the Financial Times reported. Pharmaceutical companies also saw stock increases, as investors sought stability.
Much of the concern is founded on Trump's rhetoric during his campaign. The Republican – once considered a rank outsider for president – had promised to "tear up" international free trade agreements.

However, Trump's seemingly conciliatory victory speech – delivered as the London Stock Exchange opened – may have helped to dampen immediate panic.
In his speech, Trump promised the US would "double our growth and have great relationships [with other countries]."