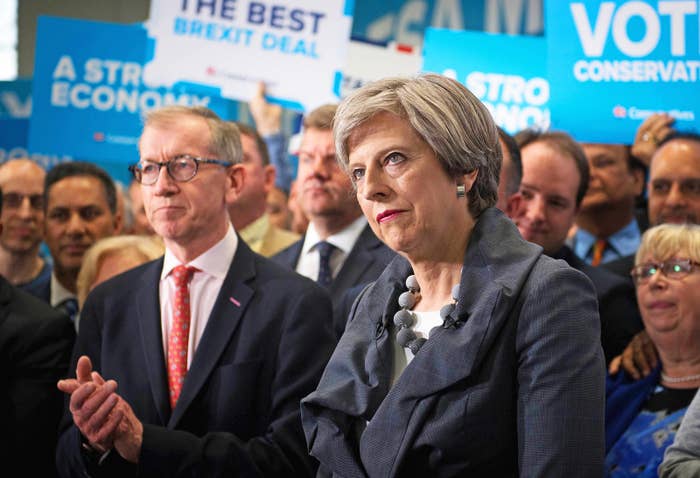 Theresa May has denied making a U-turn on counterterrorism, insisting that she is now revisiting legal restrictions that she rolled back as home secretary because the terrorism threat has changed drastically since then.
May announced on Tuesday night that she was prepared to tear up human rights laws if they got in the way of tackling extremism, in an attempt to head off growing questions about her handling of national security and cuts to police numbers.

The prime minister indicated that she will look at increasing sentences for those convicted of terror offences, make it easier to deport foreigners suspected of involvement of extremism, and give new powers to restrict suspects' movements if there's not enough evidence to prosecute.
But when she was home secretary, May withdrew some of the controversial anti-terror powers that Labour had introduced – including control orders and 28-day detention of suspects without charge. Those powers now appear to be back on the table.
On the final full day of campaigning for Thursday's general election, she continued to face difficult questions from journalists about the government's record on national security in the wake of the killings in Manchester and London.

At a campaign rally in Norwich, May was asked by one journalist if she had threatened to weaken human rights laws in a "desperate attempt to appear tough on terror" and deflect attention from potential failures by the government in protecting public safety.

Another asked the prime minister if she was doing another policy U-turn, now that control orders – a controversial, sweeping legal mechanism that gave the authorities wide authority to detain suspected extremists who couldn't be deported or charged – are seemingly back under consideration.
May eliminated control orders in 2011 and replaced them with a less restrictive measure, Terrorism Prevention and Investigation Measures (TPIMs).
"The reason we did what we did with control orders was that the courts were increasingly knocking those control orders down," the prime minister told the rally. As home secretary, May halved the amount of time that terror suspects could be held without charge to 14 days. In an interview with The Sun on Tuesday, she indicated that she is considering reverting to 28 days after the latest killings.
At the campaign rally, May said she was being pragmatic in the decisions she made as home secretary, responding to what the police and intelligence services asked for, and proportionate to the threat at the time. She was considering going back on some of those decisions now because the terrorism threat has changed.
Three murderous assaults in as many months – Westminster, Manchester, and London Bridge – and five foiled attacks were evidence that the "tempo is increasing", May told the rally.

"We're seeing terrorism breeding terrorism. And we're seeing the type of attack, in terms of the crude method used, evolving," she said. "We need to evolve our response to that."
Labour and the Liberal Democrats have condemned May's proposals. Keir Starmer, Labour's shadow minister for Brexit, said the prime minister's calls for a review of the human rights laws were nothing more than a "diversionary tactic" to draw attention from a lack of funding.
Starmer told Sky News that May "has thrown up the Human Rights Act as if that's the problem. The Human Rights Act didn't cause any problems in those key areas.
"In these three attacks I think it's very important, and we owe it to everyone who has been so seriously affected to take seriously the real problems, which are: Is there an evidence gap? Is there an intelligence gap? Is there anything wrong with the risk assessment, and have the government put the resources where they need to to actually tackle the root of the problem?
"The Human Rights Act has nothing to do with that, and we mustn't be sidetracked."
Labour leader Jeremy Corbyn also condemned the PM's proposals. "We will not defeat terrorism by ripping up our basic rights and democracy," he told BBC Breakfast, "but by our communities, our vigilance and by police action to isolate and detain those who would wish us harm."
---
Labour's Yvette Cooper tweeted that May "always resorts to the same human rights rhetoric when she needs to distract from reality of her security record".
Former Liberal Democrat leader Nick Clegg labelled May's comment's "ludicrous", and said "attacking the principles of human rights legislation is not the right way to keep us safe".
"There is a track record of Theresa May making ludicrous claims about human rights," Clegg told BBC Radio 4's Today programme. He said her "explosive claim" linking security failures around the London Bridge attack to human rights limitations was "free from any evidence" and that attacking such legislation was nothing more than a "cynical" ploy to attract UKIP voters ahead of polling day.
"I think we need to enhance our use of those EU-wide databases which are proving to be the most sophisticated pool of information about would-be criminals," he also said, linking Brexit to the security situation.
Yesterday it emerged that one of the attackers, Zaghba Youssef, had been flagged by Italian security services last year.

Damian Green, the work and pensions minister, defended May's "common sense" proposals on Today.
He said the PM's plans "would potentially give the police more powers to control people who there might not be enough evidence to bring to court". While the Conservatives had promised in their manifesto to remain a part of the European Court of Human Rights, he said "it is possible to have derogations".
Nations can opt out of obligations "to secure certain rights and freedoms under the Convention" in a "temporary, limited and supervised manner" when embroiled in emergency situation, according to a factsheet published by the ECHR today.