UPDATE: Kruger released a short statement on Monday afternoon defending her comments.
"Following the atrocities of last week in Nice where 10 children lost their lives, as a mother, I believe it's vital in a democratic society to be able to discuss these issues without being labelled racist," she said.
Earlier: Television host Sonia Kruger has called for Australia to end Muslim migration, saying there is a correlation between the number of Muslim people in a country and the number of terror attacks.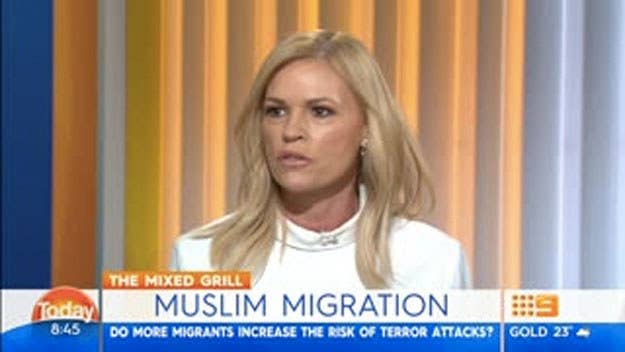 Speaking on Channel 9's Today show, Kruger expressed her support for a column by News Corp's Andrew Bolt, in which he criticised Australia's migration policies.
Kruger said she had Muslim friends who are "beautiful, peace-loving" people, but there are some Muslims who are "fanatics".
"I think Andrew Bolt has a point," Kruger said. "Personally, I would like to see it stopped now for Australia, because I want to feel safe, as all of our citizens do when they go out and celebrate Australia Day. I'd like to see freedom of speech."

Fellow panelist David Campbell, who maintained this facial expression for most of the segment, said Australia celebrates freedom of religion as well as freedom of speech.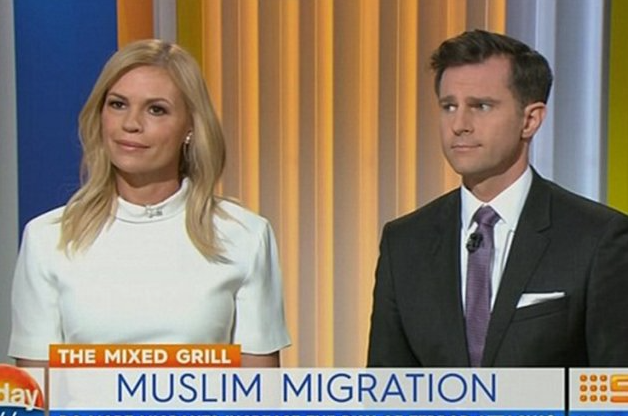 "This breeds hate. This [Andrew Bolt] article breeds hate," he said.
"We're not saying there is no freedom of religion, we are talking about immigration, David," Kruger responded.

Today host Lisa Wilkinson offered Kruger a chance to clear up her comments, asking if she really wanted to see Australia's borders closed to Muslims. "Yes, I would," Kruger replied.
The comments drew a swift reaction on social media.
And all the while, poor old David Campbell just had to sit there and watch it unfold.
In 2007, Kruger's former network, Channel 7, apologised after the host referred to a "sweatshop full of illegal immigrants" working on her Melbourne Cup carnival wardrobe.
Kruger then turned to Malaysian-born Dancing With The Stars musical director Chong Lim, asking, "How's the family, Chong? All right?''