This Paralysed Australian Sportsman Walked The Length Of A Football Pitch To Celebrate The Grand Final
#RiseForAlex
Paralysed rugby league star Alex McKinnon has uploaded video of himself walking with the assistance of a frame and a trainer.
McKinnon was left paralysed from the neck down following a dangerous tackle during a game in 2014. Since then he has been undergoing a very public recovery, writing a book and constantly updating his fans on his progress on social media.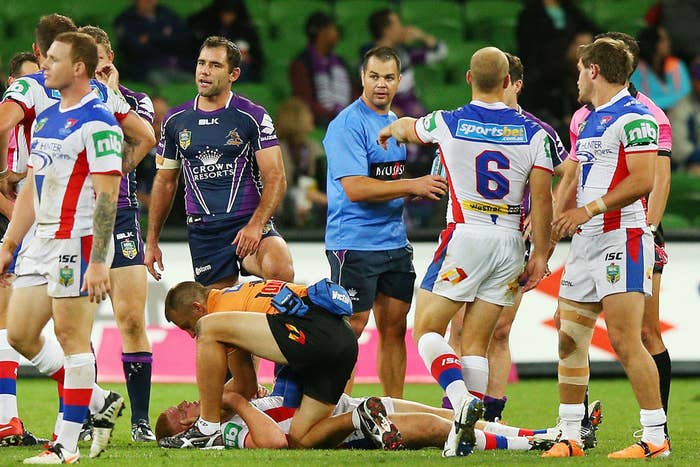 McKinnon says he is now able to walk 80 metres (260ft) without tiring.
"With all the support and care from people all around the world I feel it's important to continue to give people an update of how my progress is going with my Injury," McKinnon wrote on Instagram.
"Update: Anybody that has had an injury be it big or small understands the frustration that comes with rehab and the feeling of it being out of your control. Yet you continue to persist to turn up & push to see a change even though sometimes you think it is so far away."
"This week I had a really good week up on the Gold Coast at @makingstridesau and sore some improvement it the ability to lock out my knees, in this small clip I am in a harness and using a walking frame and the assistants of a trainer to swing my legs through."
"Though the ability of my legs being able to lock out continually over a long period (80 metres) and not tire is a big improvement for me as I couldn't not do this before.
This may seem small though it is an improvement, I'm a very hard marker on myself and to see a change is big for me."
"I do my rehab with not only the main goal of being able to walk again in mind but also to stay as healthy & active as possible and to keep my body in the best shape I can so when one day there is a cure of SCI I will be ready. ...."
"Must be cause it's Grand Final Week, Goodluck." [sic]
Go Alex!