A Young Victim Of The NT Prison Abuse Scandal Has Written A Heartbreaking Letter
The image of Dylan Voller shackled to a chair caused outrage across Australia.
One of the teens at the centre of shocking abuse allegations in Australia's Northern Territory has written a letter thanking the public for its support.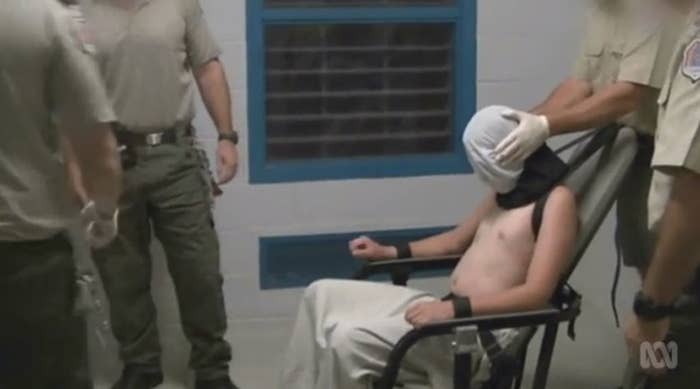 The image of Dylan Voller, shackled to a chair with his head covered in a "spit hood", caused outrage across Australia on Monday evening, prompting prime minister Malcolm Turnbull to call a royal commission into the NT youth justice system.
On Tuesday evening, Voller's lawyer, Peter O'Brien, released a hand-written note from the teen.
The letter reads:
"I would just like to thank the whole Australian community for the support you have showed for us boys as well as our families," Voller wrote.

"I would also like to take the opportunity to apologize to the community for my wrongs and I can't wait to get out and make up for them."

"I would like to thank ABC, Four Corners, and my lawyers, O'Brien solicitors... for helping get the truth out there to the public, and my family for all the support through the hard times."
Voller has been in and out of youth detention, for offences including car theft, assault and robberies, since he was 11.
O'Brien told the ABC on Wednesday morning that Voller had been strapped to a chair on multiple occasions, including in a juvenile detention facility.
O'Brien has called for a "proper" Commonwealth royal commission that can't be influenced by the NT government.

"We cannot let the NT investigate itself. It is absolutely essential that [the commission] be fully independent and run independently by the Commonwealth," he said.
O'Brien said Voller has a shot at rehabilitation if he's given a chance, and called for him to be immediately released from prison, where he doesn't feel safe following the Four Corners exposé.
"He's an extremely brave lad. He's got a lot of fortitude, and you can read from that letter that he's got great prospects if we give him the opportunity. He hasn't had a lot of opportunities. He's been beaten by those who are meant to be looking after him. He's been brutalised by them."