Britain Is Voting To Name Another Gritting Lorry, And "David Plowie" Is Winning
Or will "Gritsy Bitsy Teeny Weeny Yellow Anti-Slip Machiney" finally have its day?
Those of you capable of casting your minds back to the heady days of 2016 may remember Oldham council's attempt to jump on the Boaty McBoatface saltwagon...
The winner was eventually decided. Oldham's new gritter was to be called "Nicole Saltslinger". Which was a travesty, because it meant this entry was cruelly overlooked:
As we once again wake to frost-covered windscreens, it's clearly that time of year again.
And so inevitably, the councils of Britain are back at it again with the yellow vans.
Before voting began, Doncaster council tried to inspire the public with their pre-existing gritters' names, such as Gritney Spears and Usain Salt.
Finally we got underway. The first round included some very one sided fixtures.
The British public quickly decided it was a case of "give me a pun or GTFO". Quite right too.
Match number three proved either, a) there is a groundswell of nationalism sweeping the country, or b) Fern Britton isn't on the TV much these days.
Then came an early favourite:
And to complete the first round we had:
But then...WHAT'S THIS? Gritsy Bitsy Teeny Weeny Yellow Anti-slip Machiney has risen from the ashes to fight another day!
It was actually submitted by the same person as last year. Unsurprisingly she was a little nervous...
Moving on to the semi finals (of which there were four, because two gritters), it would seem democracy has recovered a little since 2016, with correct decisions being made across the board.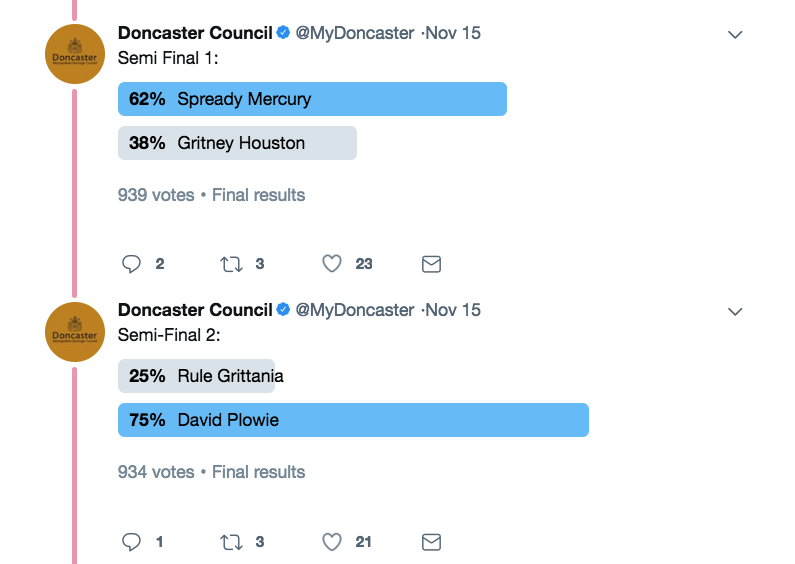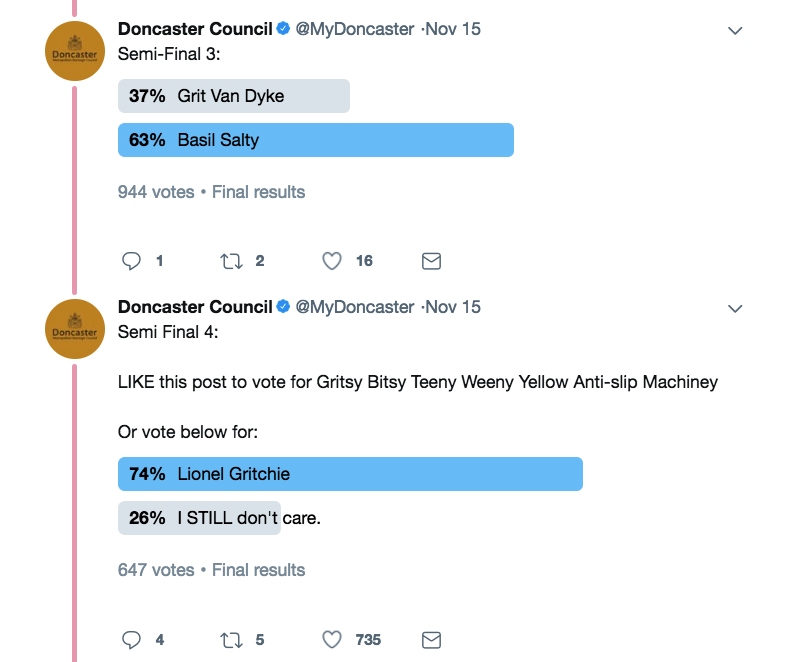 Which brings us to the present – the finals are currently being played out, with just hours of voting to go, and it is CLOSE:
So if you want to take part in history, rather than sit back as decisions are made for you, you know what to do...
UPDATE: The polls have closed. The results have been counted and verified....