I Might Have The Coronavirus, And I Had Contact With An NHS Worker. Why Can't We Get Tested?
Staying home without getting tested takes on a new meaning when you are worried about whether you have exposed someone working for our health care system.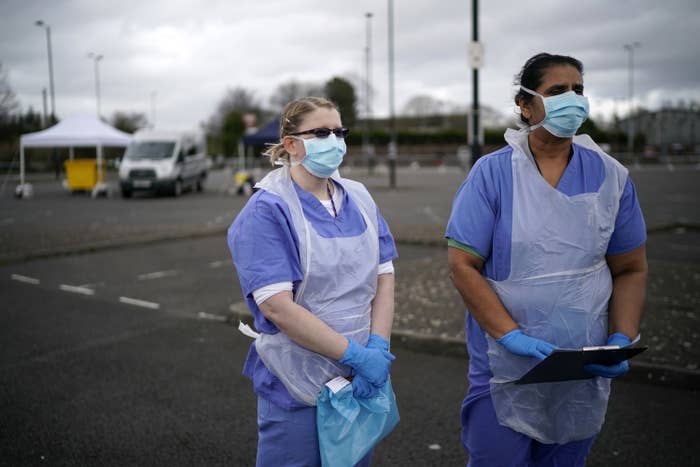 Are you an NHS worker with a story to tell? We'd love to hear from you. Get in touch: tips@buzzfeed.com
On Sunday morning I awoke feeling feverish, with tightness in my chest and a persistent cough. I looked at my phone and saw an email saying that a fellow member of my gym "has been diagnosed with the Covid-19 virus".
I rang around the people I had recently been in contact with — including an NHS worker I had spent a considerable amount of time with at my flat the day before. I explained my symptoms to them. They told me that although I might not have it, I should behave as though I do, and self-isolate. And then they went to work.
Many NHS staffers have been told that they should still come to work even if they have had close contact with someone showing symptoms of COVID-19, the disease caused by the new coronavirus. My NHS contact told me they could stay home only if I test positive or if they start showing symptoms. But I haven't tested positive — because I can't get tested at all.
Despite the World Health Organisation's plea for governments around the world to "test, test, test", the UK has only managed to test between 5,000 and 10,000 people per day. The shortage means that tests are given to those who need them most, while people with mild symptoms are supposed to stay home and hold tight without a test.
I waited out my mild symptoms in my flat with my cat and a fridge full of soup. I tackled the boredom by making video calls with friends, playing plenty of Call of Duty, and tackling all the unread New Yorker magazines I had previously neglected. I became my own amateur doctor, drinking turmeric tea and running up and down the fire escape in my building to test my breaths per minute.
Meanwhile, everyone I was in contact with before I developed symptoms with has had to readjust their lives as if they have been exposed. My employer closed down our offices for a deep clean and sent out an email informing my colleagues, some of whom were asked to self-isolate too. I received sympathetic messages from coworkers who were worried about my wellbeing. I had upturned their working life and filled them with the dread of potentially having the virus or passing it on to someone more vulnerable. And yet I might not have COVID-19 at all.
At least if my colleagues self-isolate, that can still help prevent the spread of the coronavirus regardless of whether or not I have it. But with my NHS contact, the stakes are different — and enormously high. A surge of very sick patients is coming to hospitals around the country, and the UK has fewer intensive-care beds per capita than many other nations — including Italy, where overwhelmed hospitals are making choices about who to help and who to let die. If Italy is any indication, many of our health care workers are about to get sick.
If an NHS worker tests positive, they can stay home and make sure they don't infect the vulnerable people they treat, or other health care workers. If they test negative, they can stay on the front lines where they are so urgently needed, at a time when staffing is so short that retired NHS staffers are being asked to come back, and medical students are being graduated early and fast-tracked to hospitals. That some number of them can't know whether or not they have it must add untold stress at this already-terrifying moment. (The NHS did not respond to a request for comment; it told the Independent that "all NHS staff should be following the government guidance on self-isolating".)

My symptoms have subsided. My NHS contact isn't showing any. Will that change? Without a test, all we can do is hope.