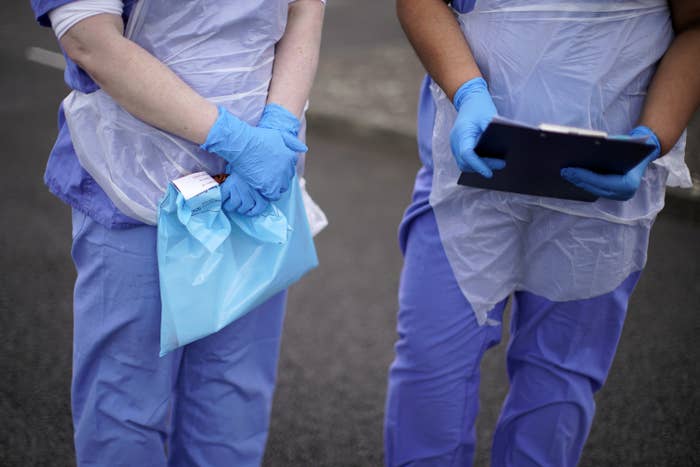 Final-year medical students in the UK are being awarded early graduation this week and fast-tracked to hospitals to help fight the coronavirus pandemic, according to emails from medical schools seen by BuzzFeed News.

The newly graduated students will be able to carry out some hospital tasks such as patient assessments and blood tests, but their responsibilities will be limited and they will not have the full legally defined duties of a doctor.
Final-year students who were close to completing their studies before the virus struck are being given early graduation over the coming days.
The developments come ahead of new emergency legislation to be brought forward by health secretary Matt Hancock tomorrow. A government source said the measures were in line with their plans to get people with skills and expertise to the frontline to help patients.
"There is a particular national imperative to ensure that as many Final Year medical students as possible can progress through to graduation and enter Foundation training, as valued healthcare professionals," an email from one medical school to final-year students said.
A second medical school outlined to its students what their hospital duties would entail, saying they would be expected to carry out "almost" the duties of a first-year foundation doctor.
"You will not be working as an FY1 as you are not able to do the legally defined duties of a doctor, such as prescribing or death certification, nor be responsible for final decision making, such as discharge," the school said in an email.
"However, we expect that you will be using your 'almost FY1' skills - e.g. involved in activities such as patient assessment, note-taking, bloods, forms and provisional treatment plans such as working as part of a medical team."
"We expect you to be medically supervised in your activities and provided with guidance at all times," the email said.
The school said it expected newly graduated students to largely work away from intensive treatment units, and be stationed in other wards so full first-year foundation doctors can be moved to ITUs.
At the weekend, the Medical Schools Council urged the government to allow current students to work as call handlers for the NHS's 111 phone service and in other noncritical roles to relieve frontline pressure.