Los Angeles Glued To Dorner Finale
Stressed and suspicious. Relief at the end of the manhunt, from cops and civilians.
by
,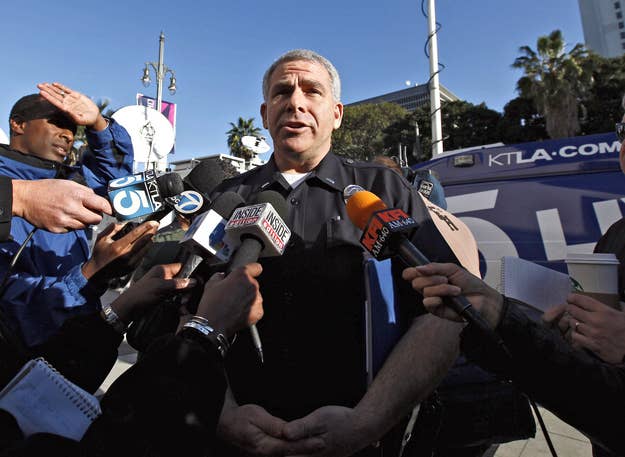 LOS ANGELES — This is not a city easily flustered, but the last hours of the frantic, weeklong hunt for Christopher Dorner transfixed L.A., as tense cops paced around City Hall and Angelenos gathered in front of televisions to watch the final standoff.
At the Starbucks a block from the downtown Police Headquarters, an officer had just heard early news reports that the suspect had died in his flaming cabin.
"I'll feel relieved when I hear from my supervisor that it was him. Right now we're not sure," he said.
"I'm relieved," said another member of the LAPD. "I just wish another officer hadn't had to die. I think everyone feels that way." Both refused to be identified by name, saying they would be reprimanded for speaking without prior approval.
Officers in puffy black Windbreakers were also clustered around a television mounted on the wall of a convenience store wall on the same block. They stood riveted to the television, one eating a popsicle, silently watching smoke billowing from the cabin even as the shop owner began folding up the chairs and bringing in the signs around them. She smiled apologetically, kicking them out so she could close the shop for the evening. "I guess we'll have to wait until tomorrow to see how it ends," the officer eating the popsicle said a few minutes before reports that the manhunt was really over began to come through.
Around the corner of the same block, 1st Street between Spring and Main street has become the official media campground, thick electrical wires snaking from news vans across the sidewalk to camera. Occasionally Commander Andrew Smith Neiman (or at one point, Mayor Antonio Villaraigosa) would appear in front of the klieg lights to give an update or statement.
Meanwhile, civilians — whose trust in the Los Angeles Police Department is, as always, scant — nursed darker ideas about the incident. Following manhunts on TV is a familiar game for L.A.; from the O.J. Bronco chase to the search for Richard Ramirez, "The Night Stalker." But this chase took on, if possible, darker overtones given that the suspect was a former member of the city's police force — a body which has rarely been far from controversy over the years.
Six miles from police headquarters at the Farmer's Market in the Fairfax District, the crowd at a Mardi Gras celebration gathered around the set at B's Bar, glued to the screen as as flames licked at Dorner's cabin. Looking away, patrons expressed a strong and vague consensus that some element of the story wasn't being told.
"Willingness to go down to the death even after having killed innocent people leads me to
 believe there's much more to the story," said a sound editor, who gave his name as Will and said he'd been referring to the suspect as "Rambro."

"Considering about many people are killed in L.A. for them to treat this as such a major event makes me think there's more to it than we're being told. It's not just one guy going postal," Will continued. "This was calculated. He's crazy, but its like an ethical madness, a Dexter thing."
"There's more going on then what we're hearing," said Eric, who was there with his wife, Patti, from Michigan.
"The State of the Union is even more BS than this story we're being fed," she said.