5 Reasons Why Disney's Purchase Of Lucasfilm Is Mostly Good News For The Force
With Star Wars coming to Disney, this could actually mean great things for the Rebel Alliance.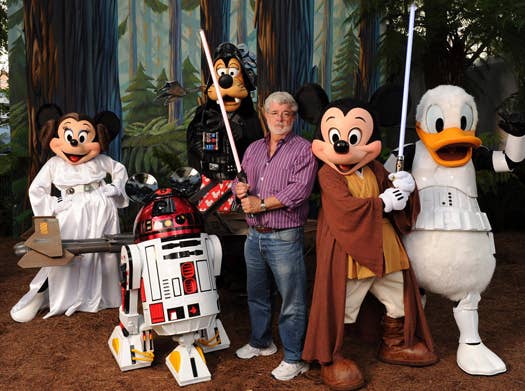 When today's news broke that the Disney Corporation was going to purchase the fabled Lucasfilm for a reported $4.05 billion, Star Wars fans braced themselves for another round of misguided exploitation. The Ewoks, it would seem, are soon to be frogmarched to join Goofy on stage at the Tomorrowland Terrace.
But things might not be all that grim for the faithful. In Disney, Star Wars has an owner with a well-established track record in swallowing outside creations; after all, the Muppets, Pixar, and the Marvel Universe have all in recent years found themselves making a new home in the Magic Kingdom.
Based on their experience, here's what the Jedis can expect.
1.
More, More, and More
Disney is not a company to let a multibillion dollar franchise sit on the shelf. With its Marvel acquisition, Disney has shown a willingness to pour on unlimited coal, making the comic book line the most dependable, year in, year out blockbuster machine in entertainment today. Already the announcement came with the word that the almost mythical episode seven, for which the world had all but given up hope, will soon be going before the cameras.
2.
Quality Control
While Disney Inc of recent years is known more for its ability to market a francise than to weave dreams out of whole cloth, its releases do, by and large, live up to a certain standard of filmmaking. One is not likely to see such an inexplicable misstep as Jar Jar Binks make it to the screen under the Disney banner. While last summer's John Carter proved the rare fiasco for the company, self-indulgent mistakes remain the exception for the company that keeps the Iron Man and Pirates of the Carribean machines pumping.
3.
Television
Disney is, of course, not just a movie studio but the owner of a television network. Lucas has been taking steps to move in that direction since 2005. It seems likely that they will continue that course, particularly if the next film fails to catch fire with a young audience that was barely out of the cradle when Phantom Menace debuted.
4.
Fear Not the Mash-Ups
While the fear of a homogenized, forced together Disney big tent is launching a million GIFs, that is a worry that is largely unfounded based on the company's track record, which, while marketing each brand to the ends of the Earth, has been almost reverential to its legacies. While Muppets do indeed wander the theme parks side by side with Donald Duck, the intermingling has been at arm's length with the separate tribes continuing to live in their separate universes in films, shows, and rides. In fact, Lucas has already been a presence at the Disney parks with the Star Tour rides, which have coexisted for years alongside the others, separate but equal.
5.
Sameness
While a certain level of quality has been assured under the Disney banner, with that has come a certain homogenization. The Marvel films come out every year and deliver as expected, but without that room to fail, rarely do they soar either. So while there may be no more Jar Jar Binks in Star Wars' future, another dark chapter like Empire Strikes Back also seems unlikely.