Read This Student's Letter To The Syrian Refugee Who Told The World His Heartbreaking Tale
The refugee's story spread across the world after he wrote about having to give up his studies.
In October last year a Syrian refugee handed this letter to a United Nations refugee agency (UNHCR) worker at the Za'atari Camp in Jordan.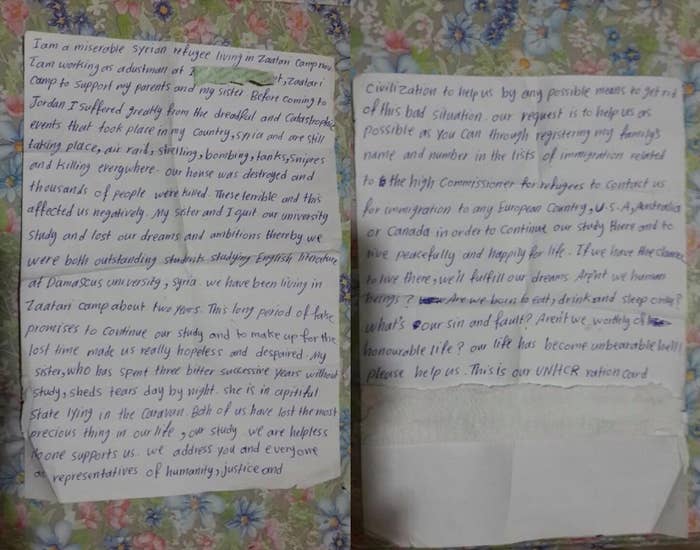 The letter read:
I am a miserable Syrian refugee in Zaatari camp now.
I am working as a dustman at [name redacted], Zaatari camp to support my parents and my sister.
Before coming to Jordan I suffered greatly from the dreadful and catastrophic events that took place in my country, Syria, and are still taking place, air raid, shelling, bombing, tanks, sniper and killing everywhere.
Our house was destroyed and thousands of people were killed. These terrible and this affected us negatively.
My sister and I quit our university study and lost our dreams and ambitions thereby we were both outstanding students studying English literature at Damascus university, Syria.
We have been living in Zaatari camp for two years. This long period of false promises to continue our study and to make up for the lost time made us really hopeless and despaired.
My sister, who has spent three bitter successive years without study, sheds tears day by night. She is a pitiful state lying in the caravan.
Both of us have lost the most precious thing in our life, our study we are helpless… no one supports us.
We address you and everyone as representatives of humanity, justice and civilisation to helps us by any possible means to get ride of this bad situation.
Our request is to help us as possible as you can through registering my family's name and number in the lists of immigration related to the high commissioner for refugees to contact us for immigration to any European country, U.S.A, Australia or Canada in order to continue our study there and to live peacefully and happily for life.
If we have the chance to live there, we'll fulfill our dreams.
Aren't we human beings? Are we born to eat, drink and sleep only?
What's our sin and fault? Aren't we worthy of honourable life?
Our life has become unbearable hell. Please help us.
This is our UNHCR ration card.
The letter went viral and was picked up by news organisations around the world.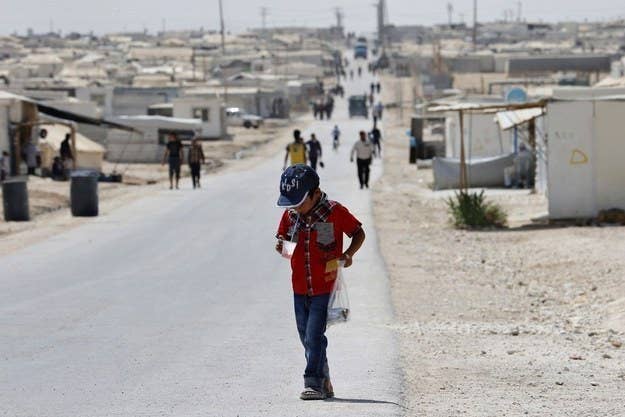 Clare Henley, from Surrey, sent Ahmad this letter and 12 books, including Of Mice and Men, Flowers for Algernon, and titles by Jane Austen and Charles Dickens.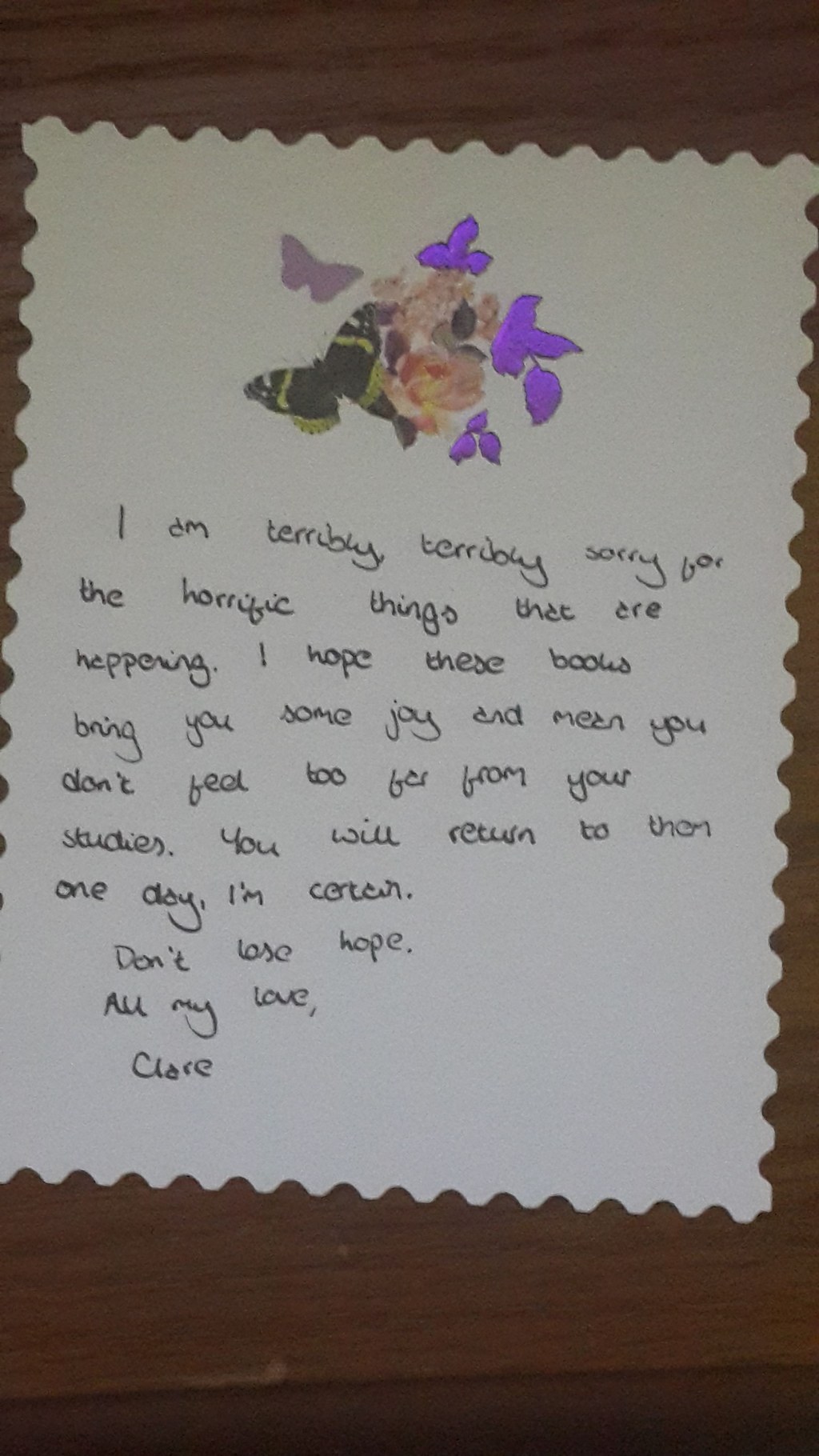 According to the UNCHR, Ahmad responded to the parcel by saying:
I was surprised that someone in the other side of the planet cares about my actual situation, it eased my suffering and brought some joy to me.

My sister has already started with one book, I work most of the time to provide to the family, so I have to organise myself better to start reading, and get into the habit of reading books again, after a rupture of nearly two years.

I would like to thank her for this kind gesture, maybe she has no idea how much happiness she gave me and my sister, maybe thank you is not enough, I am amazed that someone who is not related to me in any way would feel concerned.

She could have just read my story and moved on, instead she chose to react. I wish this person a very nice and peaceful life, it is full of humanity, humility and it is easy to say that she has a beautiful heart, may God bless her.
A UNHCR spokesman told BuzzFeed News last year that Ahmad had actually won a DAFI refugee scholarship to study at a university in Jordan or Lebanon, but had turned it down as he couldn't bring himself to take up the opportunity without his sister.