Last British Resident Held In Guantanamo Bay Shaker Aamer Arrives In UK
Aamer arrived back in Britain Friday after 14 years in detention.
Shaker Aamer, the last British resident held at Guantanamo Bay, has arrived back in the UK after being released.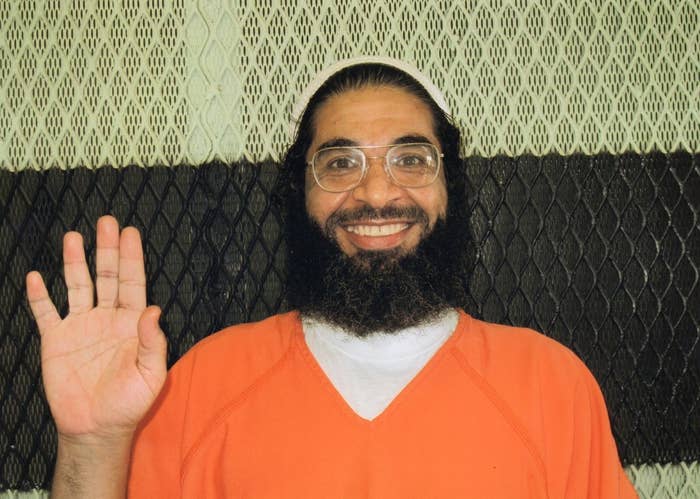 Aamer, a Saudi national, landed at Biggin Hill airport in London shortly before 1pm, the BBC reported.
The 46-year-old had been held at Guantanamo Bay since 2002 but was never charged or put on trial.
He was originally detained in Afghanistan in 2001 and accused of having links to al-Qaeda.
However, the allegations were later dropped and he was cleared for release twice since 2007.
Downing Street said on Friday that Aamer would not be detained upon his return.
"As soon as he is returned to the UK he is no longer in detention. He is free to be reunited with his family," the prime minister's spokeswoman said, ITV News reported.
"The prime minister has been clear that the public should be reassured that everything to ensure public safety is in place."
Responding to the news of Aamer's release earlier, Cori Crider, his US attorney and strategic director at the human rights charity Reprieve, said: "We are, of course, delighted that Shaker is on his way back to his home and his family here in the UK.
"It is long, long past time. Shaker now needs to see a doctor, and then get to spend time alone with his family as soon as possible."
Labour leader Jeremy Corbyn also tweeted his joy at the news on Friday morning.
He later added in a statement:
I am delighted to hear that Shaker Aamer has finally been released after 13 years in Guantanamo Bay. He is the last British resident to be detained there despite never being brought to trial.

I attended an all-party delegation to Washington, in May of this year, which demanded his release. The pressure mounted by the British Parliament contributed to Shaker's freedom.

But we must recognise the crucial role played by the steadfastness of his family and the commitment of all those who campaigned for his release, whether they lobbied their MPs or demonstrated on the streets against this huge injustice.

Now that Shaker has been released, the scandal of the Guantanamo detention camp itself must be brought to an end. I hope that Shaker and his family will now be given the time and space to rebuild their lives.