A graphic designer has claimed his 6-year-old daughter wrote this letter after getting upset that he was always late.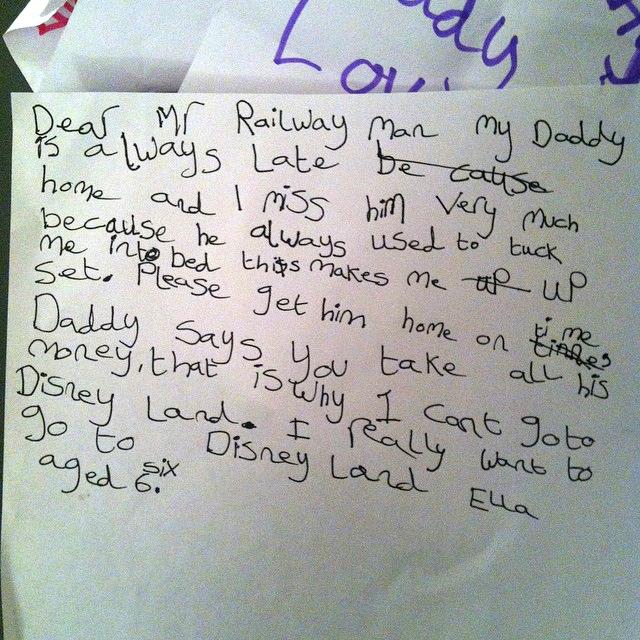 The letter reads:
Dear Mr Railway Man my Daddy is always late home and I miss him very much because he always used to tuck me into bed this makes me up set.

Please get him home on time. Daddy says you take all his money, that is why I can't go to Disneyland. I really want to go to Disneyland.

Ella aged 6.

Neil Porter has repeatedly used his social media accounts to express displeasure at his commute on the Uckfield–London Bridge line.
BuzzFeed News has been unable to confirm the authenticity of the letter, and it could simply be an attempt to get Southern Rail's attention.
We have contacted Porter for more information and will update if we get a reply.
However, Southern did reply to our request for a comment, saying: "We are sorry that Mr Porter has been delayed on his way home and that his daughter misses him.
"Trains to Victoria and London Bridge travel over the most congested part of the whole of Britain's railway network and we are constantly pushing against the boundaries of what is physically possible on the infrastructure to provide as much capacity as possible to and from London.
"London Bridge station is being rebuilt with fewer platforms and tracks for our trains currently, and this has made train performance even more challenging. We and Network Rail are determined to improve the situation and have made some additional changes to the timetable today to help with this."
Porter has now been in touch to say he has been commuting from Uckfield to London for almost two years.
"There's only one train every hour at peak times so canceling a train and delaying the next one means you're going to be a good couple hours late back," he said.
The graphic designer maintained his daughter did indeed write the letter.
"She is always writing down her thoughts and feelings. She must of wrote it about a week ago, the trains were particularly bad last week so I would have been late quite often," he told us.