Animal Rights Activists Were Given Three Lambs After Chaining Themselves To An Abattoir
Protesters in Queensland were given the animals to end an early-morning demonstration that was part of a national day of action.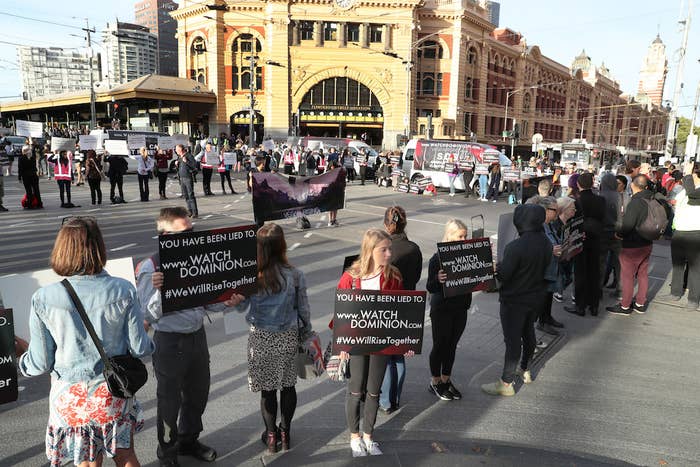 Nine people have been arrested at an abattoir in NSW, protesters chained themselves to abattoir equipment in Queensland, and morning rush hour has been disrupted in Melbourne following demonstrations by animal rights activists.

NSW police said a group of people arrived at the abattoir in Goulburn, and chained themselves to a conveyor.
The owner of the abattoir asked them to leave and they allegedly refused before police cut them free and arrested nine people.
"Three women refused to walk from the abattoir and had to be carried to the police vehicle," police said in a statement. Three men and six women, aged between 21 and 61, were charged at Goulburn Police Station.
In Queensland, a group of protesters were given three lambs to end a protest early on Monday morning at an abattoir in Yangan, Queensland Police told BuzzFeed News.
Some members of the group had chained themselves to equipment but left after receiving the animals.
In Melbourne, a large group of protesters blocked off the intersection of Flinders and Swanston streets. A number chained themselves to vehicles.
Eleven tram routes were affected as a result of the protest on Monday morning, Public Transport Victoria said.
Sky News reported that the last of the protesters was removed from the scene just after 10am.

The protest was part of a national day of action and coincided with the one-year anniversary of the animal rights documentary Dominion, which was produced after crowdfunding campaigns.

Prime minister Scott Morrison told 2GB radio he thought the events were "shameful" and "unAustralian".
"I mean this is just another form of activism that I think runs against the national interest," he said. "And the national interest is people being able to farm their own land."
Chris Delforce, the director of the film, told the Australian: "I think animal cruelty is unAustralian."