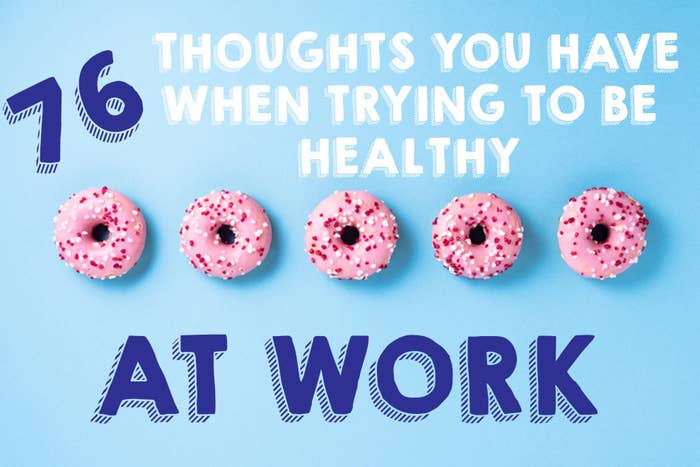 1. OK, you can do this, this breakfast comes highly recommended.
2. Two boiled eggs on whatever this weird bread is.
3. Whose Crunchy Nut is this by the toaster?
4. Do you guys know how much sugar is in cereal?!
5. OPEN YOUR EYES PEOPLE!
6. Calm yourself this is only Day One.
7. Mmm black coffee...what the cool kids drink!
8. Don't cry! Remember real grown ups don't drink vanilla lattes.
9. Oh my god, Carol has an almond croissant.

10. Just eat these bloody eggs and then you'll be too full to be tempted by anything else.
11. Yummy fart-smelling boiled eggs! Yummy dry bread!
12. In a few weeks this will all taste fine, you just need to get used to it.
13. Maybe I'll be dead by then.
14. Either way, you won't have to suffer for long.
15. Right, concentrate on your work, you've got a report due.
16. Wow my head is so clear without all that processed sugar I normally have every day!
17. I mean, sure, it's only been two hours but wow wow wow I just feel so different.
18. I think I have a headache.
19. What is this email from Debra?
20. "Brownies in the kitchen, help yourself :)".
21. Fucking Debra.
22. She's clearly done this on purpose, she's trying to sabotage my new "being healthy forever" lifestyle.
23. It's OK, you don't need the brownies. You're not even hungry.
24. Yes you are.
25. Apparently the brownies have salted caramel in them.
26. Oh this is low Debra, even for you.
27. Only one more hour until lunch and then you can eat your lovely chicken salad.

28. It's got feta in it. That's nice. You like feta.
29. Everyone willl look at it and be so impressed and you'll feel smug again.
30. They'll say "Wow, check you out with your fancy lunch!" as they microwave their sad soups!
31. Another email from Debra.
32. "Still some brownies left ;)"
33. How is that even possible?? The people in this office are bloody piranhas.
34. Oh my god Debra is coming by each desk to flog the leftover brownies.
35. Quick, run to the loo!

36. HAHAHAHA. Not THIS time Debra, you fucking snake!
37. Hmm, what's this on my desk? Why is there a note?
38. "Thought I'd save u one, kno these are your fave! Debs xxx"
39. This bitch.
40. Throw it in the bin.
41. But there are children starving in the world.
42. OK give it to Dave.
43. WHAT DO YOU MEAN YOU DON'T WANT IT DAVE?
44. I've seen you eat three packets of Wotsits in a row, don't give me this "I already had one" shit.
45. GOD HELP ME WILL SOMEONE PLEASE JUST TAKE THIS BROWNIE AWAY FROM ME.
46. Fine. You've forced me to do this. It's going in the bin.
47. R.I.P brownie and HR newsletter.
48. Lunch time! Mmmm yummy salad!
49. Really enjoying all of this raw broccoli! So crunchy!
50. What's that Dave? Why thank you, my salad does look healthy!
51. And I'm loving every bit of it even if my face looks like I've got something painful stuck in my bum.
52. Now for something sweet! A delicious piece of fruit!
53. HAHAHAH THIS IS FINE I LOVE FRUIT.
54. Who am I kidding, fruit is not a dessert and should never be treated as such.
55. Another email from Debra.
56. "BROWNIES ALL GONE :)".
57. Well, that's it. You've fucked it. You've really gone and fucked it.
58. Why did I throw that beautiful brownie in the bin?
59. Mind you, it's only in there with a bit of paper...
60. Brownie looks pretty intact...
61. Just pretend you're taking out the newsletter.
62. HAHAHAHAHA no I'm not eating out of the bin Dave don't be ridiculous!
63. I'm just reading about Harold's triathlon!
64. I fucking hate Dave.
65. 3pm. Usually when I have another latte, seven chocolate biscuits, and bitch about Debra.
66. Instead I'm drinking some funky-smelling tea the guy at the massage place sold me back when I had hope.
67. Email from Dave.
68. "KRISPY KREMES IN THE BREAK ROOM :)."
69. Dave is a snake just like Debra.

70. What if I just eat half a doughnut? That's not that bad.
71. You won't eat half though, will you?

72. OF COURSE I WON'T HAHA LOOK I ALREADY HAVE TWO!
73. Maybe if I get Dave and Debra fired, I'll stand a better chance at this whole healthy eating thing.
74. Might as well not bother until that happens then.
75. Yes Debra, yes I am fishing your brownie out of the bin.
76. Soon Debra. Soon.