SOAK
Tove Lo
Kitty
Say what you will about Kitty — and after the New York Times article about authenticity in rap that put her on the map, plenty have — but there is something completely charming about her on stage. She's a nervous ball of hyper self-consciousness, yet she finds the courage to work through it and say what she needs to say, and do what she needs to do. She also performs barefoot, which, on Saturday night at Main II, was a particularly bold choice — the former Emos indoor stage is caked with decades' worth of sweat and god knows what else.
Kitty has left a lot of the rapping behind. She's singing now, and the new batch of songs she performed are ethereal and poppy, and seems to be an attempt to finally free herself from the "Tumblr-core" albatross that weighs her down. It's working.
A.G. Cook
Tink feat. Timbaland, or Timbaland feat. Tink?
Years & Years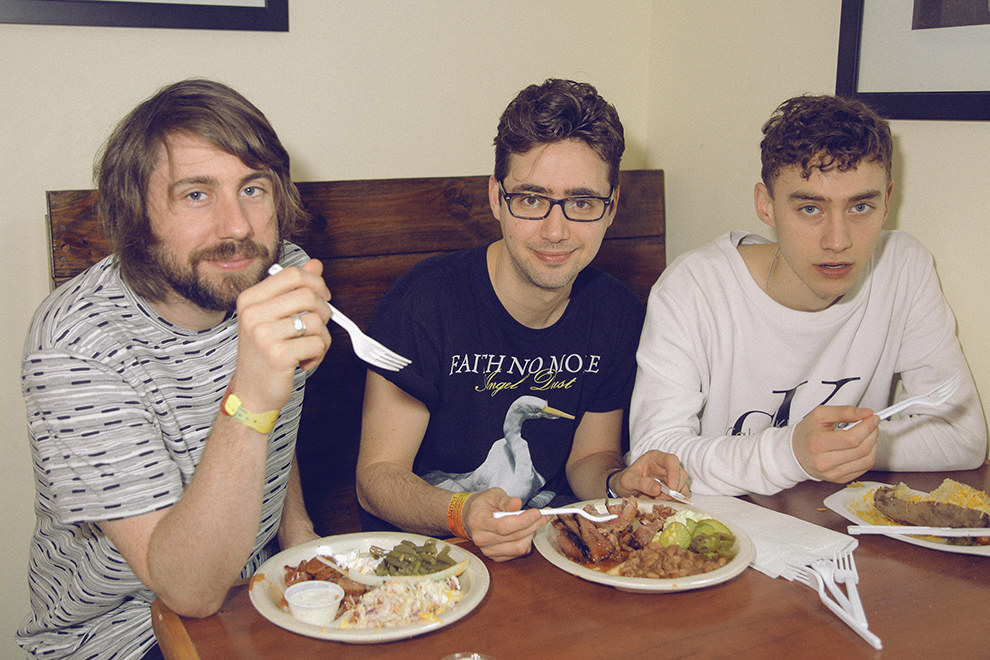 JUCE
JUCE, the retro-glam, disco-influenced girl group from London, rocked the outdoor stage at a party for the trendsetting music booker The Windish Agency. Impressively choreographed dance routines and bright, color-coordinated outfits elevated lively performances of singles "Call You Out" and "Burnin' Up," which instantly put smiles on a crowd that had been dampened by intermittent rain. They may not have much of an audience yet in America, but music with such broad appeal deserves an equally broad audience.
Yonatan Gat
As guitarist in the Tel Aviv based Monotonix, Yonatan Gat had to master the art of shredding while dodging flying objects. The band's shows were notoriously chaotic. Now, based in New York and making music under his own name, Gat is still a swirling mass of energy, only now he doesn't have to bring you hot guitar licks through an obstacle course. His nine shows in three days in Austin saw him on bills with lots of big names — Jad Fair, Surfer Blood, Thee Oh Sees — and, per usual, Gat flattened audiences that didn't know quite what to expect from the opener. His band's latest album, Director, features a mish mash of sounds — everything from Afro-Brazilian soul from Rio de Janero to Arabic scales to Gat singing in Hebrew. It's joyful noise, and Gat's guitar playing is unmatched.
Rae Sremmurd
Marina & The Diamonds
On her new album Froot she's got a new look and new sound, and, as she told BuzzFeed Music over Tex Mex while in Austin, she couldn't be happier. The same could be said of her fans, who remain intensely devoted to her on some One Direction shit. They squeal with delight at her every move, and both her Stubbs performance in the rain Friday and her energetic Saturday show at Empire delivered. Her voice is otherworldly, landing somewhere between Kate Bush and Florence Welch, but with a bit more punch (if you can believe it.) Like diamonds, Marina's music will last forever.
Bun B and J. Cole at The Illmore
SXSW's most exclusive hip-hop party pulled out all the stops in its fifth year, convening a raft of up-and-coming rappers and a few hip-hop icons at a warehouse in South Austin miles from the bustle of downtown. The third night of the event, which went until 4 a.m. and offered free vodka and Redbull, among other attractions (including a pop-up barbershop and hookah lounge), was its strongest, with Bun B and J. Cole among the unannounced performers (rising stars Vince Staples and O.G. Maco also hit the stage). A$AP Rocky and Zoë Kravitz mingled.
Looks like there are no comments yet.
Be the first to comment!