Bad News: Summer, like the impaled remains of a drippy popsicle, is almost over. Good News: your three-day Labor Day weekend is upon us, and we've got the perfect party soundtrack.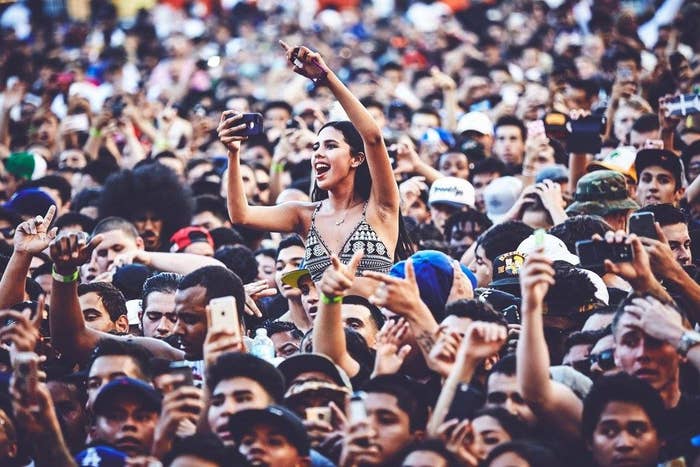 What's the secret ingredient that makes the Day Off parties work?
We're the only festival that meshes hip-hop and electronic music like we do. There's a bunch of EDM festivals out there, obviously. And there's a couple hip-hop festivals. But we have the whole spectrum that I think is really what a generation of people are listening to now. We'll have Travis Scott, Vic Mensa, Action Bronson, Danny Brown. But then we'll bridge that with rappers that we all grew up listening to as well: Kurupt, or The Lox, or DJ Quik in LA. These are people we've brought out. And then we'll throw in a bunch DJs because everyone's listening to electronic music now, too. But it's like, we don't get the full-on EDM guys, we'll get people who make music that you might throw on at the crib or whatever. It's not full-on festival EDM, it's DJ Hoodboi or Milo & Otis, or Flosstradamus, or myself, whose version of electronic music will appeal to hip-hop fans as well.
In a lot of ways, we've kind of come to realize that the Day Off events are one of the best representations of what Fool's Gold literally stands for. No one listens to one genre anymore. It's not the '90s where you had one group of kids who listened to Joy Division, and another group of kids who listened to KRS One and they didn't speak to each other. Everybody listens to everything now. Day Off in a lot of ways is where people can experience that diversity first hand and see how it literally makes sense together. When people talk about cross-cultural millennials and all the silly buzzwords that get passed around in corporate decks or whatever, we have those kids. We have that diversity. And I think it comes from musical diversity.
Meek Mill is headlining the New York date on Labor Day. What did you think of his come-back track against Drake?
I'm not so interested in that beef, personally. I'm a fan of music. In the scope of hip-hop, that wasn't even really a beef in my opinion. Hip-hop beefs on wax used to last months and months, years even. People would go back and forth with records. This was like a quick little thing, but because we live in the meme era, it was sort of blown into a bigger thing.
I think Meek's album is one of the best hip-hop albums of this year. I'm not taking sides — I know Drake, I'm friends with Drake. I don't know Meek as well, but I'm appreciative of him that he accepted to do this show without really knowing me. I just think that, the stage is his, you know what I mean? Because he hasn't really been doing shows since this whole thing happened in front of the type of audience that wants to hear what he has to say. He's been on "The Pinkprint Tour," which is a good look for him business-wise, but at Fool's Gold Day Off he's going to be in front of a New York-Brooklyn, tastemaker, influencer audience. Fans of his catalog. People that are going to know his albums by heart and are curious to hear what he's gonna bring. I wanna see. Is he gonna do a freestyle? New verse? A cappella something? I don't know. I wanna see.
What about Meek's purported revelations regarding Drake's songwriting? Were you surprised by that, or what did you make of it?
I wasn't that surprised and I'm not saying that to knock Drake at all. What I mean is, I think Drake in a lot of ways already, even before this, represents a new paradigm of rappers and musicians. Someone like Drake couldn't have existed 10 years ago in hip-hop, in a lot of ways. And, you know, we're living in an era of songwriting where there's a lot of people involved in making records. And for a long time, people assumed that that didn't bleed into hip-hop and I understand why. I'm a student of hip-hop, I grew up listening to hip-hop, so I understand how specific the craft is and when you think of your Top 5 or Top 10 rappers, people really take to the ones that are known to write everything themselves. So it's a little bit hard to imagine that hip-hop not only is becoming, but has already become, one with the other genres that have lots of people involved with writing songs.
So I was a little surprised, but not that much. And I think there's no doubt that Drake has written a ton of his songs himself. The only thing that was revealed was that there were some songs where he had some help. But if you look at the variety of the songs he makes, the styles that he makes in the first place, it's pretty incredible how much ground he covers in his records within the spectrum of rap and beyond.
For me, I'm fine with it. I'm a fan of art and I'm a fan of music. If that's what it takes for people to make great pieces of music, I'm gonna listen to that music. And then we can have a debate at the barbershop about "Well, can you still pit Drake against maybe another rapper who writes everything themselves? Can you still make those comparisons?" Let's have those debates! Cool, it's interesting, it's a cool conversation. But I still think Drake is an incredible artist and rapper and I listen to all his music.
It seemed like he came out the situation pretty well. People were on his side.
He handled it very cleverly. Props to him for the way that he handled it because the rug was almost swept from under his feet and he was very nimble in the way that he handled it. But we live in an era where the way that you market yourself as an artist is literally as important as your craft itself, and Drake gets that.
You also have Post Malone performing. Keep it 100: Is he for real?
He is so dope. He played at the L.A. show. I've rarely felt a collective emotion like the one that we felt when he was performing at the L.A. show last weekend where you had 5,000 people sharing this, like, kumbaya warmth in their heart because that's the feeling that his music brings. But it's not corny! It's still rough around the edges and gutter. But it just feels good. He's really good; the guy's really talented. It seems so effortless when he does it, too. He just has this knack. He nails it with every song. The guy's really, really good. Live, it's just him on the mic with his DJ FKi, who's a really great DJ out of Atlanta, and there are girls on shoulders in the audience singing along to every word. It's really special.
What's your favorite memory of Day Off over the past six years?
There's a lot, but I would have to say a lot of times it boils down to the surprises. Last year we did Day Off in Atlanta for the first time and it was a smaller venue because the market for this sort of cross-genre thing that we do is a little bit newer in Atlanta. So it was a smaller event, but we picked the room accordingly and packed it out. But then we had the most insane surprise guests. T.I. came out, Young Thug came out, and the thing with Young Thug, which is what I'm trying to tell you about, is I was trying to work with him already and I was having a hard time tracking him down that week. But Travi$ Scott was on the bill and Travi$ was performing right after me. So I'm on stage DJing, Travis is next, and he comes up to me and shows me his phone and he's got FaceTime on and I see Young Thug's face on it. I'm in the middle of mixing, so my attention span is not quite there, but he was telling me that he was talking to Thug and telling him to come through. Fourty five minutes later, Thug shows up, joins Travis onstage, the whole place erupts. It's about creating those little lightning in a bottle moments, and for some reason they just keep happening.
This interview has been edited and condensed.