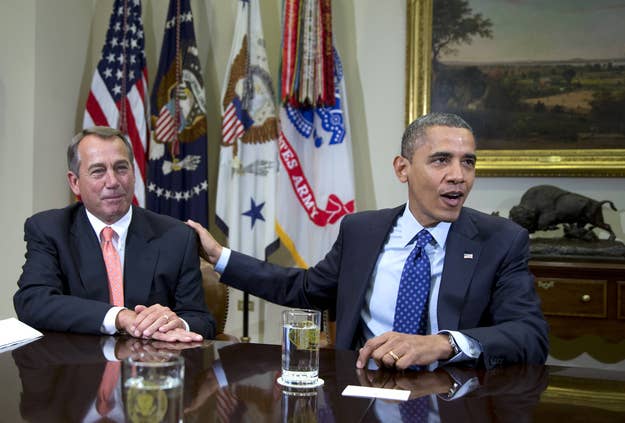 WASHINGTON — For now at least, House Republicans are standing with Speaker John Boehner as he negotiates a massive fiscal cliff measure with the White House, even as the two sides appear to move closer to a deal that could increase tax rates on the wealthy.
"There's unity around the spending side," said Rep. Cathy McMorris Rodgers, the No. 4-ranking House Republican. "But the devil's always in the details."
McMorris Rodgers said she remained "hopeful" that a deal would be reached by the end of the year.
Boehner briefed House Republican leadership Monday on President Obama's latest proposal, which would raise tax rates on income exceeding $400,000, include some stimulus measures, and lift the debt limit for two years.
The plan would also tie Social Security benefits to the Consumer Price Index, which would reduce costs of that program by $130 billion over ten years by cutting payments to seniors by a small amount.
All told, the president's latest offer would cut approximately $930 billion from spending and add $1.3 trillion in new revenue, according to a source familiar with the offer. If the Budget Control Act of 2011 and the savings from the draw-down of wars in Iraq and Afghanistan are included, that would add up to over $4 trillion in deficit reduction.
Although Republicans rejected that plan, McMorris Rodgers and others said the conference is still united behind Boehner and that the shifting positions of both sides the high-stakes negotiations represent progress.
"Any movement away from the unrealistic offers the president has made previously is a step in the right direction, but a proposal that includes $1.3 trillion in revenue for only $930 billion in spending cuts cannot be considered balanced," said Boehner spokesman Brendan Buck. "We hope to continue discussions with the president so we can reach an agreement that is truly balanced and begins to solve our spending problem."
The White House plan would include additional spending for infrastructure and the extension of unemployment benefits. The debt limit would be increased for a two-year stretch, but for periodic symbolic votes, as suggested by Senate Minority Leader Mitch McConnell.
Nevertheless, the two sides remain divided, and aides for both sides said progress has been made since Boehner submitted his latest offer to the White House, a deal is still not imminent.
Republican aides said the next 24 hours will be "critical" to the direction of talks to avert the nation's looming austerity crisis, determining whether Boehner and Obama will reach a grand bargain or punt on most decisions until next year.
The latter option, which would require a simple extension of current law, could be cobbled together quickly and agreed to as late as Christmas Eve with enough time to approve it before Christmas. White House aides have refused to set a timeline on the negotiations.
But a sweeping compromise would require more time before a vote: Congressional leaders would need to craft a denser piece of legislation, and securing the votes to pass a major compromise would be a more intensive process. Such a package would also include the types of details, such as a tax hikes, that would be unpalatable to some Republicans and could carve fault lines within the conference.
In the absence of a framework for an agreement, the talk of exact deadlines has been scant.
"We aren't setting any deadlines," said Michael Steel, Boehner's press secretary. "For the sake of our economy and American jobs, the sooner the better."
House Majority Leader Eric Cantor and Senate Majority Leader Harry Reid have both indicated that their respective chambers will be in session during the week between Christmas and New Year's Eve if a deal is not reached by then.