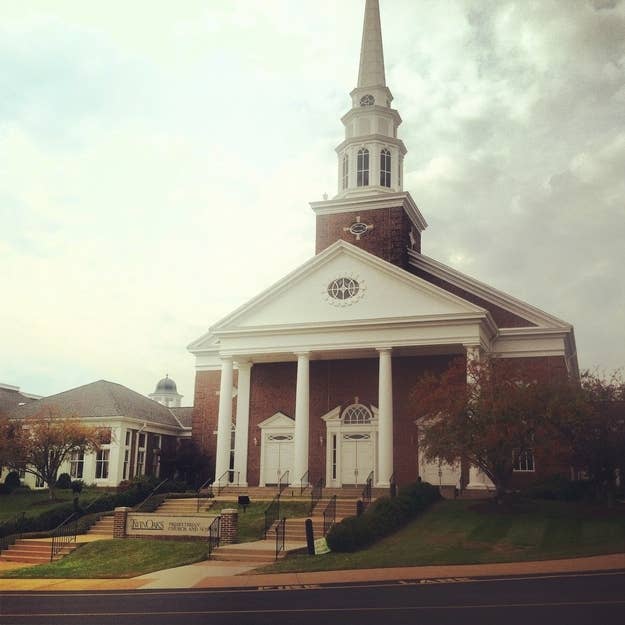 BALLWIN, Mo. — On a clear, quiet autumn morning roughly half an hour outside of St. Louis, a handful of men and one woman gathered Saturday morning to protest at a Planned Parenthood clinic.
Holding signs that read, "THE PILL KILLS," "Planned Parenthood Kills Children" and — in honor of baseball season — "Support the Cards and unborn babies," the small gaggle of protestors was nearly indistinguishable from those that post up at Planned Parenthood clinics nationwide.
But this protest offers a particular glimpse into one of the key stories in American politics this year. Three of the protestors had come on behalf of Twin Oaks Presbyterian Church, where Rep. Todd Akin — the embattled, conservative candidate for Senate here, who has turned an easy win for Republicans into an almost sure loser with comments on abortion and rape — and his family are among the congregants, and have known Akin for years. Akin, they said, has been a regular at their protests for years, and their memories offered a glimpse at the political roots of a man who burst onto the national stage as a pure caricature — the man who popularized the phrase "legitimate rape" and made clear that even members of Congress can have views of the human reproductive system that are at odds with modern science.
Here is the countervailing view of Akin: A devoted leader of the anti-abortion movement whose allies are more than willing to forgive him the occasional misstep.
"He's a humble, gentle, caring family man," said Kerry Brown, 52, who said he met Akin through church, where Akin at one time served among a select group of elders in the roughly 500-person congregation. "He's gospel-driven, that's the bottom line. And he's not afraid to speak his mind."
Just behind Brown, the church's steeple jutted out above lower-profile buildings, separated by just a small highway from the strip mall that houses Ballwin's Planned Parenthood clinic. The clinic, which does not perform abortions, isn't visible from the church steps, but the church can be seen from Planned Parenthood's front door. So the protestors weren't entirely in enemy territory.
Within a few minutes of each other, two drivers honked and waved affably. "Thank you!" one yelled out his car window.
The church's "Life Team" gathers here once a month, for an hour or so, to protest and to speak with those people coming and going from the clinic.
Akin hasn't joined in the monthly protests, the church congregants said, but has religiously attended the church's annual anti-abortion "Life Chain" events — until the one this year, roughly one week ago.
Rod Cunningham, one among the protesters, said he met Akin at the first Life Chain event at their previous church, Covenant Presbyterian Church, roughly 18 years ago, when Akin's youngest daughter "was still in the womb."
"This last week was the first time he hasn't been to Life Chain," Cunningham, 57, said of Akin," because of concerns for his safety and the safety of his family."
Those threats have come largely in response to Akin's remark that women's bodies can "shut down" a pregnancy in the case of "legitimate rape."
Kerry Brown said that comment was certainly a misstatement by Akin. "I know he wasn't intending to hurt anyone," Brown said. "That's just not the way he is."
He added, "He's very intelligent, and he knows what he's talking about."
It was at a protest such as this one, according to public remarks by Akin and his campaign, where Akin was arrested approximately 25 years ago. In a speech in 2011 Akin joked, "Don't tell anybody I'm a jail bird."
Rick Tyler, a spokesman for Akin, told the Associated Press last week that Akin had not been formally charged and the campaign would not be releasing further information about the incident.
Rod Cunningham said he was not aware of that incident, but had known other protestors whom had been arrested when the police had wanted to "make an example."
"The police need to be educated sometimes, too," Cunningham said.
One woman at Saturday's protest, who knows Akin from church but insisted on speaking off the record because she was disheartened by the media's treatment of Akin, had been arrested at a similar event before, Cunningham said. On this day, she was the target of vitriol.
As we conversed, a twenty-something man and his female companion left the clinic.
"You're not doing anything effective," the man shouted at the woman with whom I spoke, and the group at large. "You're just making a stupid point."
As his companion laughed and hopped into their car, the man continued, "You're just going to stand there and take it? Bend over and take it."
The protestors held their signs calmly, quietly, and the pair drove away.