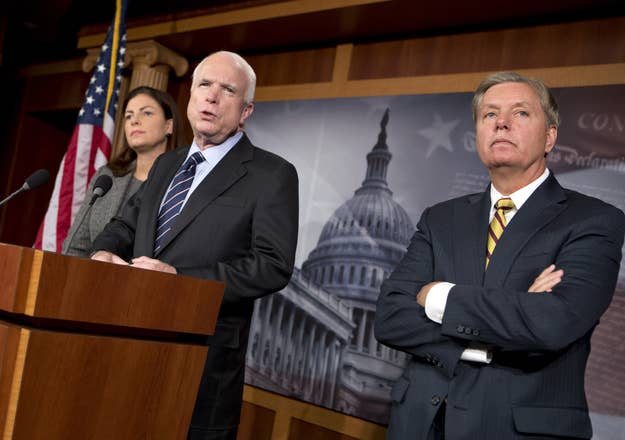 WASHINGTON — A trio of powerful Republican senators said Tuesday that they were not satisfied after a meeting with Ambassador Susan Rice and remain "significantly troubled" by her response to the terrorist attacks in Libya that killed four Americans.
Sens. John McCain, Lindsey Graham, and Kelly Ayotte sat down with Rice in the Capitol after the ambassador, a likely nominee to succeed Hillary Clinton as secretary of state, requested the meeting.
The senators have been publicly critical of Rice for her initial suggestion that the September attacks in Benghazi, Libya, resulted from violent protests against an inflammatory anti-Islam video. Rice has since said that she made the erroneous statement, during an appearance on Meet the Press, based on the best intelligence she had at the time.
But on Tuesday, the three senators said they were dissatisfied with that response and that Rice should have been more critical of the information she received, or should have delayed her public statement until details of the attack had been hashed out.
"The American people got bad information on Sept. 16, bad information from the president after that, and the question is, should they have been given any information at all?" Graham said.
In recent days, McCain has tempered his criticism of Rice, and on Monday told reporters, "The president's the one who's responsible." But on Tuesday, McCain said he remained "significantly troubled" with Rice's response in particular.
After the meeting, which was scheduled at the behest of Rice and lasted for roughly one hour, Ayotte said she still has unanswered questions — and is prepared to put a hold on Rice's nomination until those concerns are addressed.
"Clearly the information given to the American people was wrong, and Ambassador Rice said today that it was wrong," Ayotte told reporters. Ayotte said she thought Rice should have asked more pointed questions about the attack in advance of her television appearance, adding, "When you're ambassador, your job goes beyond the unclassified talking points."
Michael Morrell, the acting director of the CIA, was also present at the meeting on Capitol Hill. Neither Morrell nor Rice appeared before reporters prior to or following the conference.