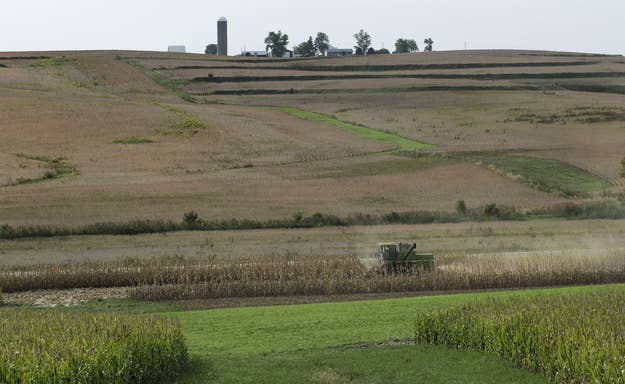 WASHINGTON — Amidst a flurry of fiscal cliff negotiations, the leaders of the House and Senate agriculture committees are hoping to pull off a legislative sleight of hand.
Eager to pass a farm bill, which would set federal spending on agriculture subsidies and food stamps for the next five years, they have been negotiating privately to reach a compromise that could be easily approved as part of a larger fiscal cliff package.
That path to passage would conveniently circumvent the logjam in the House, where disagreements between fiscal conservatives and farm-state Republicans have impeded the bill's progress. And it would satisfy the complex set of constituencies for farm subsidies and a giant anti-poverty program.
Under normal legislative circumstances (if those can still be said to exist), differences between the House and Senate versions of the bill might have been worked out by a conference committee.
But because the House has not brought its agriculture committee's version to a vote, the farm bill never made it that far.
So, instead, Democratic Sen. Debbie Stabenow, who leads the Senate Agriculture Committee, and Republican Rep. Frank Lucas, her House counterpart, have taken it upon themselves to negotiate, people involved with the discussions said.
"The House wouldn't pass their bill and send it to conference, so we're having our own conference," said one Democratic Senate aide.
Stabenow and Lucas are betting that lawmakers looking for spending cuts in fiscal cliff negotiations would integrate a compromise farm bill into their larger deficit reduction plan, the aide said.
The two lawmakers have been speaking daily about how best to find middle ground between the Senate bill, which cuts $23 billion, with a $4 billion cut to food stamps, and the House Agriculture Committee's version, which would save $35 billion, including $16 billion from food stamps.
Either plan, were it to be integrated into legislation to avert the looming austerity crisis, would constitute only a small portion of any deficit reduction deal, which will almost certainly exceed $1 trillion in savings.
But the farm bill legislation, which would set five years-worth of agriculture and nutrition spending policy, is important in part because it allows farmers to begin planning for future harvests and brings greater certainty to that industry.
The most recent five-year farm bill expired in October, and agriculture interests are eager to see a new one signed into law.
Amid persistent disagreements about the bill, however, prospects for passage before the end of the year have dimmed.
In the House, Republican leaders have been reticent to bring the measure to the floor because of intra-party squabbling about spending on farm subsidies: Fiscal conservatives have called for more drastic cuts, while farm-state Republicans have balked at such a notion. Meanwhile, some House Democrats have been hesitant to support the bill's steep cuts to federal food stamps.
Because those issues, deeply rooted in ideology, aren't likely to subside, a low-profile path to passage might be the the key to moving forward. And were the farm bill to be worked out as part of a fiscal cliff deal, combatants in both parties could focus on more clearly partisan issues, such as tax rates and cuts to programs such as Medicare.