In South Carolina, Republican Congressional Candidates Eye Second Place
Losing in the wider primary often translates to a runoff win. Whether people actively vote against Sanford will matter.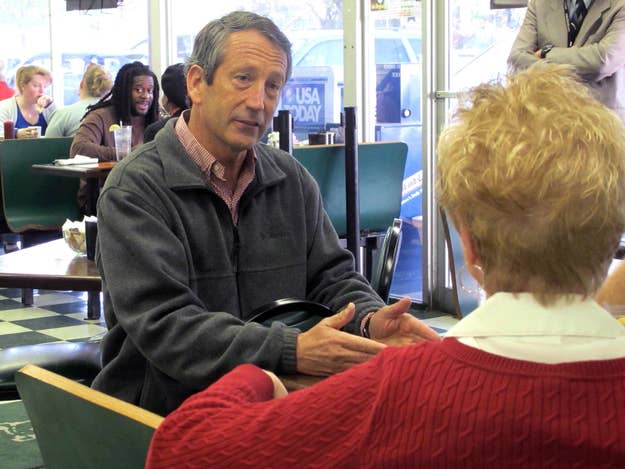 WASHINGTON — In the primary vote Tuesday for South Carolina's open congressional seat, Republican candidates aren't gunning to win. They're playing for second place.
Former Gov. Mark Sanford, the clear frontrunner for weeks, is expected to take the largest slice of votes in a 16-person-deep Republican primary field, and he will likely do so by a commanding margin: His share could approach 40 percent, according to the latest internal polls conducted by two competitors.
But with anything less than 50 percent of the vote, Sanford will be thrown into a two-week-long runoff race with the candidate who earned the next-greatest share of votes.
And the second-place primary finisher holds a special place in South Carolina politics lore.
Indeed, Sanford himself started his career in national politics in second place, in the 1994 Republican primary race for the same congressional seat. In the runoff contest two weeks later, Sanford turned around to best the former frontrunner, Van Hipp Jr., by four points.
More recently, in 2012, former South Carolina Lt. Gov. Andre Bauer bested a deep Republican primary field in the primary for the seventh congressional district, but he didn't take 50 percent of the vote. That left an opening for then-Horry County Council Chairman Tom Rice, who took second place in the first vote, to burnish his standing and win the runoff — and, ultimately, a seat in Congress.
Bauer's flameout was attributed in part to his high unfavorables among voters, who spread out their opposition during the wider primary, but were then able to channel it into support for Rice in the runoff.
Sanford could face a similar problem.
"In this case, there might be some anti-Mark Sanford votes based on what he did, and those votes, they're not going to turn around and go to a runoff poll and vote for Mark Sanford when they voted against him before," said Rep. Jeff Duncan, a South Carolina Republican.
Duncan would know: He posted an unlikely victory in a Republican primary race in 2010, when he turned a second-place finish in the first vote into victory in the subsequent runoff.
"A lot of the times, the person who comes in second ends up winning," Duncan said as he stood on the steps of the Capitol after a House vote Tuesday. "I'm an example of that. And I'm glad to be here."