House Republicans Avoid Voting To Replace Automatic Spending Cuts
"Passing these sort of things has never helped us in the press in the past," a House Republican aide says. Efforts to maintain a fragile conference equilibrium.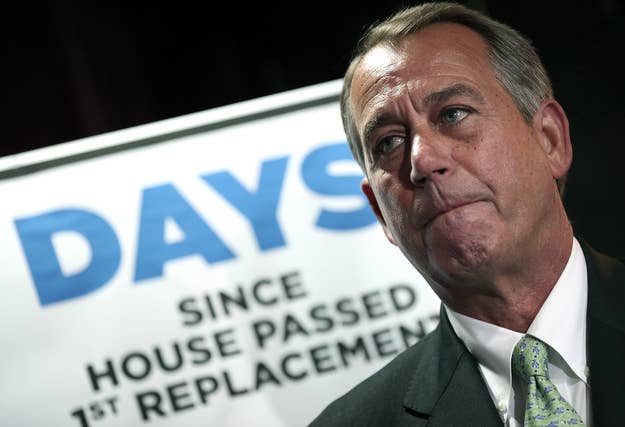 WASHINGTON — As the date nears when a rash of automatic federal spending cuts known as "sequestration" will go into effect, House Republicans have continued to repeat a familiar message: The Senate must act first.
If it seems like House Republicans are avoiding the fray, it's because they are.
Having at least temporarily reached a state of superficial intraparty equilibrium, House Republican leaders have tried to avoid stirring conflict among the members of their conference — as a vote on a sequestration replacement measure almost surely would.
"Passing these sort of things has never helped us in the press in the past," one House Republican aide noted. The aide added, "I think they could have the votes for a replacement. But why do it? The last two didn't go anywhere."
Instead, House GOP leaders have repeatedly cited bills passed previously to adjust the cuts — and have stopped short of pitching anything new.
"You know, Republicans have voted twice to replace the sequester," House Speaker John Boehner noted during a press conference Tuesday morning, echoing what he has said for weeks.
However, those two sequestration replacement measures were approved during the last Congress — and died along with it. Neither the Senate nor the House has approved a measure to replace the sequester that could viably become law.
Democrats have picked up on that inconsistency and attacked Republicans for it.
"We have failed to see a single piece of legislation put forth by the majority," House Minority Whip Steny Hoyer told reporters later Tuesday. "Not a single piece of legislation. And when asked why, they say, 'Well, we passed something last year.' I think that's the case, frankly, because Republican leadership has decided the sequester is the policy their caucus supports."
House Republican leaders, Hoyer added, are "constrained by fear of the Tea Party."
Whenever they are asked about why they have not passed a bill, House GOP leaders and their staff demur.
"The focus needs to continue to be on the president and Senate Democrats – no one seriously thinks that House Republicans are the holdup here," said Michael Steel, a spokesperson for Boehner.
The Senate will consider two plans this week that would replace the sequester, Senate Majority Leader Harry Reid confirmed Monday. Neither proposal is expected to make it to the president's desk.
Speaking to reporters Tuesday, Reid insisted House Republicans have refused to negotiate or pass their own bill because of their own fragile conference dynamics.
"The reason (Boehner)'s not bringing something up over there is, he can't pass it," Reid said. "He can't get his caucus to agree on anything."
Indeed, Boehner has been on tenuous footing since the House Republican retreat last month, when the conference leaders agreed not to allow any revenue as part of a deal to avert the sequester — upon which Democrats have insisted. Conservative members of the conference have pledged to hold Boehner to his word.
In an interview with Fox News this week, Republican Sen. Ron Johnson speculated that a wrong move could put Boehner in jeopardy. "I think he would lose his speakership," Johnson said.
Nevertheless, House Republican leaders are holding fast to their stance: That the bills approved in the last Congress are legitimate, if only for their role as symbols of House Republican opposition to sequestration.
"Why does the House have to pass a third bill before the Senate passes one?" Cathy McMorris-Rodgers, the fourth-ranking House Republican, told BuzzFeed. "The House acted nearly 300 days ago to show a better way."
Asked whether she thinks House Republicans would be able to approve another sequester replacement bill at this time, McMorris-Rodgers responded, "I think we'd have the votes."