House Backs Historic Domestic Violence Protections For Immigrants, LGBT Women
The Senate's version of the measure passes with mostly Democratic support. First major policy bill in years heads to Obama's desk.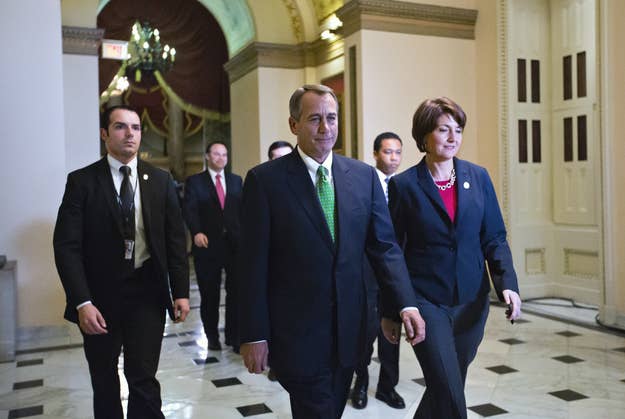 WASHINGTON — The House on Thursday agreed to a Violence Against Women Act reauthorization including sweeping new protections for undocumented workers and LGBT victims.
The bill, which also includes expanded authority for tribal governments to pursue cases against non-members of the tribe, represents a significant win for Senate Democrats, who easily passed the bill last year and again this month.
In the end, lacking the support from their conference for any alternative, House Republicans begrudgingly brought the Senate bill to the floor, and with it protections for LGBT, Native American and undocumented immigrant women.
A minority of Republicans, 87, including House Majority Whip Kevin McCarthy and Republican Conference Chair Cathy McMorris-Rodgers, supported the measure. The final vote was 286-138.
President Barack Obama heralded the vote as an "important step" toward reducing domestic violence. "I was pleased to see the House of Representatives come together and vote to reauthorize and strengthen the Violence Against Women Act," Obama said in a statement.
House Minority Leader Nancy Pelosi, who has long backed the Senate proposal, reacted with equivalent excitement. "The Violence Against Women Act has long ensured that no woman would ever be forced to suffer in silence in the face of domestic violence and abuse," she said. "Democrats were committed to keeping that promise — that's why we led the charge to enact the strong, bipartisan Senate bill and secure a victory for all women, no matter their background or community."
Of particular controversy to House Republicans were provisions in the act that would explicitly provide legal protections for women living on tribal lands, who identify as LGBT, or who are undocumented immigrants. Disputes over those provisions prevented VAWA from being reauthorized during the last Congress, and held up passage during the past few weeks.
When it became clear to Republicans that they did not have the support to approve a version of VAWA without those protections, they decided to proceed with the broader iteration.
"It's tremendous that both Republican and Democratic leaders came together to ensure that all domestic violence victims, including those who are LGBT, will not face discrimination when they seek services," Human Rights Campaign President Chad Griffin reacted Thursday. "There need not be a partisan divide on LGBT issues, and this vote shows that we can come together to find common-sense solutions to issues facing our community."