This post has not been vetted or endorsed by BuzzFeed's editorial staff. BuzzFeed Community is a place where anyone can create a post or quiz.
Try making your own!
5 Reasons Why You Need To Tune In To The Sing-Off Holiday Special
The Sing-Off is back for a two hour special airing on NBC next Wednesday (December 17, check your local listings). And though it's not a full season like we had hoped, two hours is infinitely better than zero hours. The math doesn't lie.
Now for those of you new to The Sing-Off realm (welcome), here's a quick summary of the show's premise...
The Sing-Off is a reality singing competition in which various a cappella groups compete for a recording contract, cash prize, and title of SING-OFF SUPREME OVERLORDS *ahem* Where were we? Oh yes, a cappella. Voices only. No instruments. *insert appropriate ooohing and ahhhing*
Okay, so now that we're all on the same page, here are five things to be excited about for next week's Sing-Off holiday spectacular!
1.
The Judges
We knew early on, shortly after the show had it's eleventh hour renewal, that long time judge and a cappella royalty, Ben Folds, would not be returning due to his touring schedule. Though we were devastated, we were also left wondering who would fill the void left by Ben on the judging panel. So when it was announced that Fall Out Boy front-man, Patrick Stump, would be taking the vacant seat alongside returning judges, Jewel and Shawn Stockman, we were pretty excited. And while we're going to miss Ben's effervescent charm and wit, we're stoked to see what Patrick will bring to the judges' table.
acafanbase.wordpress.com
Six talented groups will be competing this year for the coveted title of Sing-Off Champion and the aca-mazing folks over at AcaFanBase have your guide to all six groups: a.squared, The Exchange, Vanderbilt University's Melodores, SanFran6, Timothy's Gift, and Traces. So read up and you can be the most informed person at your Sing-Off viewing party.
Meet the contestants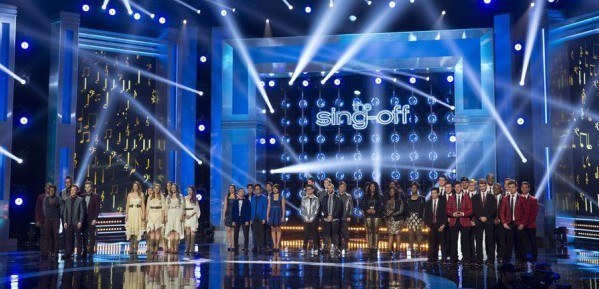 3.
The Special Guest Perfomances
Since the show has been shortened from a typical full season to just two hours, the producers decided to bring back not one but two former Sing-Off champions (to sweeten the deal for us die-hard fans, of course). Season 3's Pentatonix (who recently just crossed the 7 million YouTube subscribers milestone) and Season 4's Home Free (who from our sources, will be performing with all three of the aforementioned esteemed judges). Bonus! Both groups have released holiday albums this year that you must check out titled "That's Christmas To Me" and "Full Of Cheer" respectively. Double bonus! They've also released music videos for both of the title tracks for our viewing pleasure.
singofftour.com
Season 2 runner-ups, Street Corner Symphony, and Season 4 alum, VoicePlay, will be hitting the road starting in Verona, NY on February 17, 2015!!! But which group from the Season 5 contestants will be joining them? Strong possibility it will be headlined by the newly minted champions. Tickets are already available for sale. Go get 'em while you still can!
5.
The Magic Of A Cappella
You read that right. There is nothing more magical than a cappella. Yes, we realize that we are biased because we're aca-nerds, but how else can you describe the sound of human voices coming together in perfect harmony? And if there is any hope for a full season next year, the aca-fans of the world have to tune in to show the execs at NBC that there is a want and a need for a cappella to be on national television. /endrant
We want to know what *you* are looking forward to the most? Leave a comment below!